For many this period of self-isolation can be difficult, with access to the things we would normally take for granted denied as the world grapples with the coronavirus.
In scenic west Cork, rowers Gary and Paul O'Donovan are in quarantine, making the most of the situation as they strive to stay in shape. That said, it's not too much of a shock to the system, as Paul explained.
"This self-isolation is what we are used to," he revealed.
"It's not too much different from what we are normally doing. When we do our bit of training, we don't see too many people. Not much of a change for us."
The 2016 Olympic medalists were in Spain at the start of March as part of a training camp. They then got word to come home where they went into quarantine for a fortnight.
Again, as older brother Gary pointed out, they ended up doing what was more or less normal for them.
"We locked ourselves into a little house and stayed away from everyone for a fortnight and that fortnight has turned into over a month," he said.
"What we've really noticed is how sheltered our lives are. We're not out in public that much at all but for a lot of people it's a real challenge, their lives have changed drastically. In normal times we don't go very far, just out to the rowing club and back, and to the grocery store twice a week. 
"If someone had told you six months ago that the Olympics was going to be postponed because of a virus, you'd have said they were stone mad. Bu now you watch the news, keep an eye on what the WHO, HSE and government are saying and try and follow the best guidelines."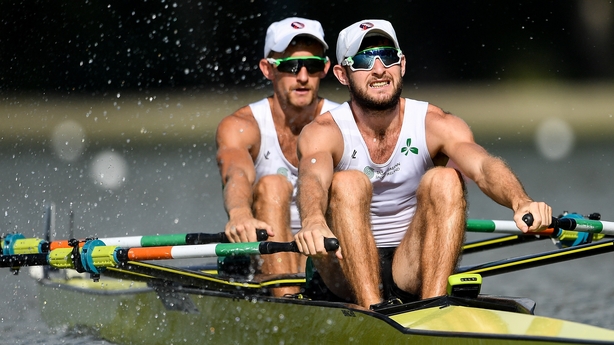 On 24 March, news came through that this year's summer Olympics would be postponed for a year. News, that did not come as a surprise and for the Skibbereen siblings a chance to take stock in the prism of a greater context where human life is at stake.
"It gave us a lot of relief when they did postpone the Games," was Gary's initial reaction.
"The priority is not the Olympics, not our own goals, but to follow the health and safety guidelines and to do what's best for all.
"Normally at this time of year, we'd be heading into a lot of travelling, going to different regattas - that's not happening now. Pull the rowing machine outside the door and get a bit of sunshine - that's what's happening now.  
"Out from that, I wander around the house, read a book, listen to podcasts and revise my rowing knowledge. If the weather is good, I'll go for a stroll around the fields, look at the animals and check out some of the scenery. There is some fabulous scenery in west Cork. We have a lot of amenities right at our front door. 
"People talk about getting into a routine and keeping themselves busy. I suppose that makes sense in theory, but it's often very easy to lie around in bed in the morning and be at your leisure and I find there isn't much wrong with that either.
"Doing something small is better than doing nothing at all and even if that is to think about things while you are looking at the lovely scenery we have then that's no bad thing....as long as you're within the two kilometres." 
For Paul, it's a question of being flexible in dealing with what could be an ever-changing set of circumstances in the next while and continuing with his medical studies. 
"You can't be thinking of the day when we were all shaking hands and hugging everybody. You have to say now that I'm the person who stays at home and obeys the rules"
"I think we are lucky in that although our priorities are different, we can more or less do the same thing. We have rowing machines and a bit of weightlifting equipment in the house.
"Trials won't be for another 11 months and a lot can happen in that amount of time.
"You just have to be flexible. FBD were Team Ireland sponsors and they have extended that out to next year. Be prepared for anything, you will have to adapt and get on with it. If you don't get on with it there's not much else you can do.
"You can't be thinking of the day when we were all shaking hands and hugging everybody. You have to say now that I'm the person who stays at home and obeys the rules - that is my objective now - to stop the spread of this virus and stop feeling sorry for yourself. I suppose that's easy for me to say because I don't like talking to people anyway." 
"I had sat my exams in December and then I had taken time off to train full time. Since the cancellation I got on to UCC and I can go through all the material with the facilitators and tutors and then sit more exams in August."
We need your consent to load this YouTube contentWe use YouTube to manage extra content that can set cookies on your device and collect data about your activity. Please review their details and accept them to load the content.Manage Preferences
Perhaps now in this period where one is restricted in their movements, a time of self-assessment is fitting and for the O'Donovan brothers it a case of many things learnt since that brilliant day in Rio four years ago.
"2016 was our first year winning an international medal at senior level but we were young and learning and we were still trying to figure it out," Gary revealed.
"In a way we really didn't know what we were doing. We were doing the best we could and making the best decisions we thought at the time. A lot of it was trial and error and we used to say with the knowledge we have now, what will be like in another two or four years time after a lot more competition and a lot more racing?
"We have come a long way and have a much better understanding now of the training - and of our sport."
Paul added: "When people see what we've done they hopefully will take inspiration from that. If they commit and follow a good programme then they too can have success. It can become a bit more tangible for them.
"The Irish team is expanding and because we've also made a few mistakes along the way we can hopefully guide those coming through and fast track them along." 
FBD Brand Ambassadors and Olympic medal-winning rowers Paul & Gary O'Donovan, two of Team Ireland's Olympic hopefuls who FBD are supporting on the road to Tokyo.