By her own admission, it took a wrong turn for Sanita Puspue to realise her meaningful path.
Born in Latvia, Puspure's prowess on the water quickly became evident when she medalled at the World Under-23 Championships in 2003, and the following year at the World Student Games.
We need your consent to load this SoundCloud contentWe use SoundCloud to manage extra content that can set cookies on your device and collect data about your activity. Please review their details and accept them to load the content.Manage Preferences
Rowing however was put on the back burner, or so it appeared when she moved to Ireland with her husband Kaspar.
The intention was to stay for a year, learn the language and return home.
"I'm still here, it turned out a little differently to what we planned," she told RTÉ Sport's Darren Frehill.
Puspure decided to go to Dublin Zoo with her friends, but took a wrong turn and ended up on Islandbridge.
Overlooking the Liffey, the sight of rowers being put through their paces had a profound impact.
"We saw all the boats on the water. When the rowing is in you, as soon as you see it, the switch was flicked."
A return to the sport wasn't immediate – she was pregnant at the time – but soon targets were set. Qualifying for the 2012 Olympic Games was the dream.
The 'retired' mother of two duly became the only Irish rowing representative in London.
"It's pretty amazing to think that I could go to the Olympics four years after having two kids.
"If I look back now, it's like how did I get there? I have no idea because, with what I know now, I don't know how I achieved that in four years. But we did. It's crazy."
Four years later and the 34-year-old suffered heartbreak in Rio when she missed out on a place in the single sculls semi-finals by 0.65 of a second.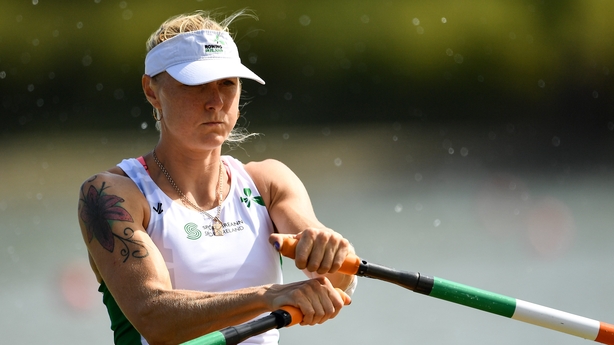 To rub salt in the wounds, her time would have been good enough to progress in the three other heats
"It didn't work out the way I wanted," she says.
"After that disappointment, I feel like I have to make amends with the Olympics. I couldn't possibly leave the sport with such a bitter feeling.
"Fingers crossed everything goes well in Tokyo."
Preparations for an assault on an Olympic medal are certainly going in the right direction.
In September, the rower retained her World Championship gold medal, adding to her European gold earlier in the year.
That performance in Lucerne was somewhat of a surprise to Puspure, but concedes it was a invaluable learning experience.
"It showed me how that even if the whole regatta doesn't go to plan, we can still change things around for the race. It gave me confidence."
'I hope my sister is proud of me, watching from above' - double world champion @sanitapuspure chats to @davidgillick as a difficult year for her produces another gold medal #RTEsport pic.twitter.com/NiUNZfLtok

— RTÉ Sport (@RTEsport) September 1, 2019
It hasn't been all plain sailing however in 2019. Puspure's sister Inese, who was diagnosed with cancer in 2017, passed away shortly before her world gold medal exploits and says she is still coping with the loss.
"It's still hard. During the summer it was really hard and fresh, and I had to focus on qualifying for the Olympics.
"It was really difficult to be away [from family] and train alone. I didn't know how it would affect me at the start line at the World Championships. It was a bit scary, but I'm glad how it worked out.
I'm feeling good, scared, excited...there are a lot of feelings in the mix
"Coming away with the win was really good."
Now a third Olympics beckons for the the rower. After the delight in making it to London and the subsequent disappointment in Brazil, how is she feeling with Tokyo on the horizon?
"I'm feeling good, scared, excited...there are a lot of feelings in the mix. Excited most of the time."