Sanita Puspure felt conflicted in the build-up to the World Rowing Championships where she defended her women's singles title.
There was a comfortable distance between her and the chasing pack as she breezed across the finish line, but the path to retaining her crown didn't follow a straight line. Swings, roundabouts and some incredibly difficult bumps tested her along the way.
Just three days on from that success, Puspure cuts a relaxed figure in her Ireland gear as she comes in to greet members of the media. The 37-year-old concedes that she's still catching up on her sleep but despite the fatigue, she takes the time to give a considered response to every question.
"Very hard," she replies when asked how difficult this summer has been for the Lavian-born rower.
Prior to the Worlds in Austria, Puspure picked up a gold medal in the single sculls event at the European Championships. The World Cup was on the horizon, but Puspure excused herself from that tournament. She was needed at home.
Her sister Inese was diagnosed with cancer in 2017 and after some two years of battling the condition, her health began to deteriorate. Her time was drawing near.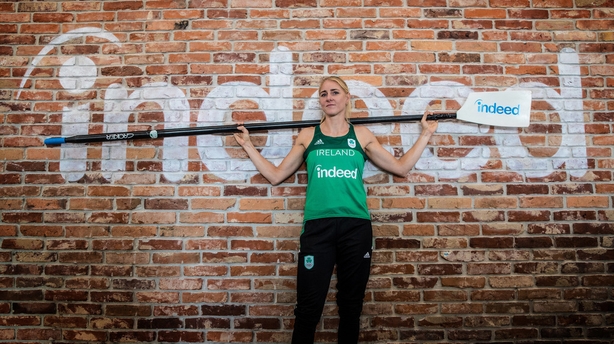 Puspure returned to Latvia to be by her sister's side for those final days, but thoughts about her preparations for the upcoming World Championships kept forcing a way into her mind.
"She was getting worse rapidly so I went over for a few days and then I was home for a little bit," Puspure recalls. "And then I was in Latvia for three weeks and she passed away the same week the World Cup was on.
"It was scary because I had very mixed emotions. I thought I should be at home training but at the same time, I wanted to spend some quality time with my sister because I knew she was going to pass away soon.
"It was really hard being so conflicted within myself and not knowing what to do. Because of that, the medal has very high value. And we just needed something nice to happen."
Considering the grief she was experiencing, a question is put to Puspure about whether she contemplated skipping the World Championships at any point.
She pauses briefly before speaking about her relationship with renowned sports psychologist Kate Kirby, and the conversations they had about what her body could give during that difficult period.
'I hope my sister is proud of me, watching from above' - double world champion @sanitapuspure chats to @davidgillick as a difficult year for her produces another gold medal #RTEsport pic.twitter.com/NiUNZfLtok

— RTÉ Sport (@RTEsport) September 1, 2019
Puspure was also fitting in some training around spending time with her sister. And while the sessions weren't at the same tempo as what her team-mates were getting, she did what she could with the equipment that was available to her.
"I trained indoors a lot on the rowing machine," Puspure begins. "I even roped one of my previous competitors into doing the same program as me.
"She was regretting at times but it was great to have company," she laughs. "Just did as much as I could. Was training in the morning and then went back to my sister and then I'd train another session in the evening."
All that uncertainty about her form culminated in a winning performance in the final. She wanted to give her family something to smile about and she delivered with a blistering finish.
Indeed, the two-time Olympian got off to a slow start, but she patiently rallied from third to first over the final stretch to take out the Great Britain and New Zealand boats on the way to victory.
After the race, she paid tribute to her sister's memory by saying, "I hope my sister is proud of me as well, watching from above."
With the World Championships in the bank, Puspure is in full recovery mode now. Her semi-final victory at that tournament sees her qualify for the 2020 Olympics and preparations will begin in two weeks.
However, there's a slight glitch. Puspure smiles as she explains the subtle technicality that is unlikely to stop her from boarding the plane to Japan next year.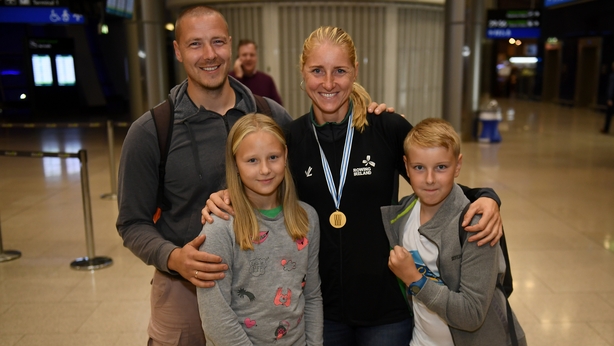 "Technically, the boat has qualified but if someone wants to take it, they will have to fight me for it. Bring it on!" she laughs.
"The biggest benefit I'll get out of qualifying [for Tokyo] early is that I get to prepare for Olympics properly this time. The first two I had to qualify in May and had to race Olympics in July so I only had a few months of switching over to focus on the Olympics.
"Now I have 10 months to focus on actually thinking about Olympics."
Puspure will have a real target on her back as the wait for Tokyo gets shorter. She's a back-to-back World Champion although the status doesn't sit easy on her shoulders.
Self-confidence has always been an issue for her, but she chooses to channel that sense of doubt into positive energy and believes that it keeps her sharper for competitions.
Her support network is key for keeping her grounded too. Her children missed a few days of school to watch their mother's charge to victory in Austria, while her husband Kaspars keeps home life ticking over while Puspure chases her dream.
'I will do everything I can to be faster next year' @SanitaPuspure has her sights on @Tokyo2020 #rtesport pic.twitter.com/wKjsuSMYJq

— RTÉ Sport (@RTEsport) September 4, 2019
She's needed them more than ever over the last two years.
"I wouldn't be able to do anything without them. Of course, my husband, he is taking up many jobs that I can't do. I will say okay, I am going to cook now for two weeks and then, it is down to him again. That is yours now for another year.
"Small things. Picking up kids, dropping them off. Making their lunches because I am gone before they are up for school. But that is only small things.
"Also the mental support I need as well and I have noticed since I got a few medals, he has got a lot happier as well. So, pleased. Justified all the work that he is doing for me. No more pressure in that regard."