Ireland's Olympic medallists Gary and Paul O'Donovan have won the gold medal at the World Rowing Cup in Lucerne, while Sanita Puspure secured silver at the same event.
Racing in the lightweight men's double sculls A final, the Cork brothers found themselves in third place at the 500-metre mark, behind Denmark and Belgium, before taking control in the middle part of the race.
The Irish pair moved into the lead at the 1000m, half-way mark, and then held off the strong Belgian outfit, leading by over one second at the 1500m stage.
Belgium pushed the Skibbereen rowers over the final 500 metres, however, the Rio Games silver medallists held on to win in a time of 6:28.500, 0.8 seconds clear of the silver medallists, while early leaders Denmark had to settle for bronze.
That moment before hearing if you won 🥇 pic.twitter.com/tz0pvEItSA

— World Rowing (@WorldRowing) July 15, 2018
Speaking to WorldRowing.com after the race, Gary O'Donovan said: "It was a pretty good race, Denmark took over for a while but then we swapped. We managed to throw ourselves over the finish line in first.
"We like to take the opportunity to race so we've been quite busy recently."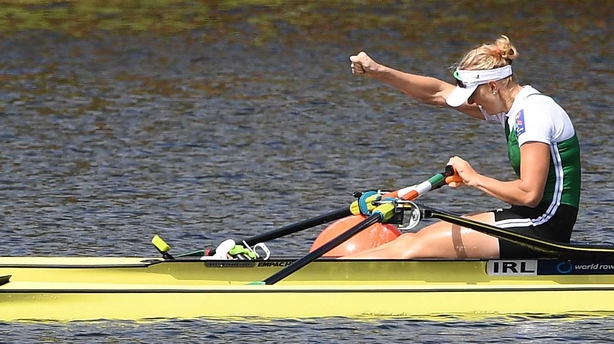 And Puspure added to the Irish success in Lucerne as she took the silver medal in the single sculls A final.
The Old Collegians rower started fastest in the final and led at the 500m mark but was overtaken by eventual winner Jeannine Gmelin of Switzerland midway through the two-kilometre race.
Yet Puspure maintained a strong challenge on the winner throughout the final 1000 metres was just edged out at the finish line, losing by 0.23 of a second.
Puspure had almost one second to spare on the bronze medallist Carling Zeeman from Canada at the finish.
"That was a tough race, really physical out there but the conditions were really good," said Puspure.
"I always enjoy racing here. I'm not sure if I'll do the Europeans, I might just focus on the World Rowing Championships."
These three ladies left it all out on the water during the W1x A-Final pic.twitter.com/olHvvqVQlm

— World Rowing (@WorldRowing) July 15, 2018
Earlier, Shane O'Driscoll and Mark O'Donovan finished third in the B final of the men's pair.
Our World Rowing Cup III winners, Gold medalists in the lightweight men's double sculls, Gary & Paul O'Donovan and Silver medalist in the Women's single sculls, Sanita Puspure. Fantastic results & huge congratulations from all of us at the #IrishRowChamp2018 🥇🥈 pic.twitter.com/3gjiQwNS0R

— Rowing Ireland (@RowingIreland) July 15, 2018