Michael O'Sullivan produced an ice-cool ride aboard Marine Nationale to register a famous victory for trainer Barry Connell in the Sky Bet Supreme Novices' Hurdle at the Cheltenham Festival.
O'Sullivan was still in college when Constitution Hill was winning the Festival opener 12 months ago, while his only previous taste of the Prestbury Park showpiece was an uneventful spin on an outsider in the Kim Muir in 2022.
The young Irishman pounced late to secure the Royal Bond earlier in the season and followed a similar script here, riding the unbeaten six-year-old with ultimate confidence.
As 9-4 favourite Facile Vega forced his way to the front in the hands of Paul Townend two out and then lengthened for home, O'Sullivan was motionless aboard Marine Nationale, with a target firmly locked on Facile Vega's tail.
Jumping the last Marine Nationale still had a length to find, but once clearing the final obstacle the result was a formality and O'Sullivan simply had to push the button aboard the 9-2 shot as he sprinted clear for a three-and-a-quarter-length success.
It was also a huge moment in the fledgling training career of owner-trainer Connell, whose colours have been seen in the Cheltenham winner's enclosure before but for the first time with the former amateur rider's name on the training licence.
CHELTENHAM FESTIVAL: DAY 1 UPDATES
O'Sullivan said: "They didn't go a great gallop, but that suited me because my horse is quick.
"I was in a slightly wider position that I would have liked, but I was happy with the room because he doesn't have a lot of experience.
"I was alongside Facile Vega and travelling very well. At the bottom of the hill I was just saving him, Paul had kicked on Facile but I was happy enough that he'd come back to me.
"He had a good look at the last, we went and popped it and he actually won very snuggly in the end, I never got serious on him at all, I gave him a few flicks but that was it.
"We know he's going to be better on better ground, it was an unbelievable performance, he's not even having a blow.
"The ground wasn't as bad as it was when he won the Royal Bond at Fairyhouse, I was just hoping it allowed him to show his true ability."
He added: "His jumping will get better. He didn't really put a foot wrong but he wasn't as quick through the air as you'd like for a two-miler, but I think on better ground he would be, he's an intelligent horse in general and I'm so lucky to be involved in him.
"Barry being confident didn't put pressure on me, but I suppose the punters took it into account and that brings a small bit of pressure but I can only do what I can do. Barry put his neck out and he was right.
"I've been dreaming of this day since I was a kid. It's a bit surreal and it won't sink in yet, this year has been so good it's hard to appreciate it, I don't think it can be topped but I'm just enjoying every minute of it."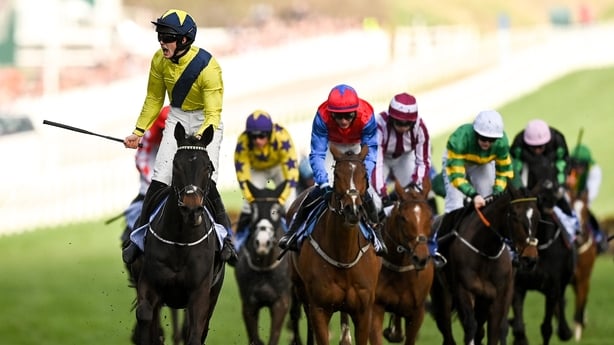 A jubilant Connell said: "It's the best feeling of all time.
"I put a lot of pressure on myself saying he was the best horse in the race, but I genuinely felt he's the best horse I've ever had.
"I came over on the boat and I told every Irish person on there to back the two horses (Marine Nationale and Good Land, who runs on Wednesday). I said they were the best two novices in Ireland, so at least I'm off the hook partially after today! I'd have had to go back in disguise if we'd got beat.
"This horse is unlike any horse I've had before as the previous Grade One horses were mainly stayers. This is a quick horse who is probably a Group One horse on the Flat – and we might get around to that at some stage.
"Today was his day. He's had five runs and won all five runs, his jockey is a superstar and my staff are the best staff anywhere in the world.
"We're absolutely blessed to have found the next superstar of the weighing room in Michael O'Sullivan, you mark his name. Have you ever seen a cooler ride in Cheltenham? Unbelievable. If you gave me any jockey riding I wouldn't swap him."
He went on: "I said beforehand if you want to win a Grade One in Cheltenham you need a horse with five attributes – you need a quick horse who can hold their position, you want to be a very good jumper, you want a brilliant temperament and guts and stamina to be able to stay up the hill.
"I rode into the winner's enclosure twice here as a rider at the November meeting, but it pales into insignificance compared to doing it as an owner and a trainer – this is unreal.
"I enjoy of the process of getting out of the car in the morning and just being with the horses, being out on the gallops and talking to the staff. The whole process really energises me.
"I hope we're only beginning the journey now."
Connell envisages Marine Nationale embarking on a career over fences next season.
He said: "This lad will probably come back for the Arkle next year – unless Constitution Hill keels over between now and then!
"My initial thoughts at this point of time would be Arkle, but we'll see. He'll have an entry in Punchestown and then will be out in the field. Today is for enjoying."