Young jockey Jack de Bromhead had "captured the hearts of not just a parish, but of a nation, and far beyond," mourners at his funeral heard today.
Hundreds of people gathered in Waterford for the funeral mass of the 13-year-old, who lost his life in a pony-racing accident at the weekend.
They have been paying their respects to Jack's family, including his sisters Mia and Georgia and parents Heather and the leading racehorse trainer Henry de Bromhead.
"One of the greatest comforts Heather and I have in his passing is that we know how much we loved him," Mr de Bromhead said towards the end of the mass.
"All our kids, they just know how much we love them and we know how much he loved us. I just ask any of you, whoever you love, make sure to tell them.
"If something like this happens to you, something so tragic happens to you, it's a great comfort. If you could take that away with you, we would really appreciate it."
We need your consent to load this rte-player contentWe use rte-player to manage extra content that can set cookies on your device and collect data about your activity. Please review their details and accept them to load the content.Manage Preferences
He and Heather told mourners, together, that Jack used to say every night to them, "'night Mum, 'night Dad, love you".
Jack's younger sister Georgia paid tribute to her brother during the ceremony, saying he "was the kindest, most caring big brother I could ever ask for".
She added: "He was never scared to stand up for people and was always there for you no matter what."
His twin sister Mia said in a heartfelt tribute: "Jack, you were the best brother ever, I got so lucky when you were born with me.
"I will miss your cheeky smile that made all my friends fall in love with you."
Jack's grandmother Sally de Bromhead read an extract from the author and illustrator Charlie Mackesy.
Among those who attended today were schoolmates from Kilkenny College, where Jack had just started second year, and also from his former schools Newtown School Waterford and Scoil Mhuire in Butlerstown, as well as people from the racing world and other sporting communities.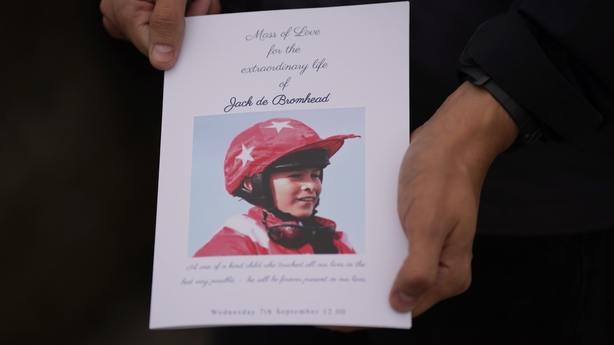 Parish priest Fr Pat Fitzgerald said that Jack "captured the hearts of not just a parish but of a nation, and far beyond".
"We feel his unthinkable loss most acutely as we watch repeated showings of Jack's beguiling interview with Brian Gleeson, when he answered questions like a veteran about Honeysuckle's upcoming race." Fr Fitzgerald said they were joining a family who had scaled the heights of jubilation, "and which now has to plumb the deepest depths of sorrow - and we must walk with them".
He referred to the "joyful exuberance of Jack's short life," and said Jack was full of the joy of living.
"He reveled in the life and the opportunities that surrounded him - in his home, on the farm and in the stables, and in the community. He loved the tractor, the cattle, the ponies and the horses."
According to Fr Fitzgerald, Jack was "into race riding, rugby, Gaelic, swimming, diving, and especially driving. Every day for him [was] a joyous adventure in living. The all-embracing experience of his life can be expressed in one word - 'love'."
The funeral was attended by the aides-de-camp to the President and the Taoiseach.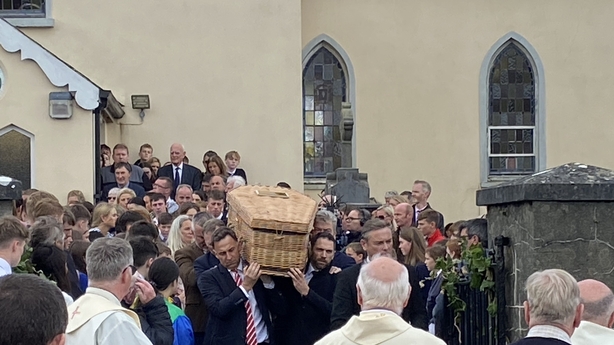 A private cremation ceremony will be held following the funeral mass which is being led by local parish priest Fr Pat Fitzgerald.
In a statement, Jack's family said he was "not only the perfect, funny, loving son but also an incredible, loving brother to our beautiful daughters, his twin sister Mia and his little sister, Georgia".
The de Bromhead family run their training stables at Knockeen in Co Waterford, where the current stable jockey is Rachael Blackmore.
Henry de Bromhead took over the stables from his father Harry and has been a very successful trainer and was a Grand National winner in 2021, and the winner of two Cheltenham Gold Cups at the festivals there in 2021 and 2022.
Additional reporting: PA