Ted Walsh was one of the trainers with horses present at the premises raided by Department of Agriculture officials on Tuesday.
The RTÉ pundit had a three-year-old horse tested by the Irish Horseracing Regulatory Board's head of anti-doping, admitting he was in 'the wrong place at the wrong time' when he drove into the stud farm near Monasterevin.
The 71-year-old denies any wrongdoing, saying he was bringing the as yet unnamed horse for treatment on a damaged tendon by a therapist from Britain, who had treated a number of his horses previously, most notably Grand National runner-up Seabass.
Animal remedies that are banned for use in racehorses were seized following the raid led by Department of Agriculture, Food and the Marine [DAFM] officials acting on their own investigations and information received.
They were supported by Gardaí as well as Irish Horseracing Regulatory Board authorised officers, including head of anti-doping Lynn Hillyer.
Walsh said he expects a visit to his yard from the department now - though he has not been notified of one - and would welcome it. He denies ever administering a prohibited substance to a horse or requesting anyone else to do so.
In an exclusive interview with RTÉ Sport, the trainer of past champions such as Papillon and Comanche Court, and father of acclaimed former jockeys, Ruby and Katie, gives his account of what happened on Tuesday after he drove into the yard with one horse in his box after the raid had taken place.
"It's a bad old thing for racing. I'm sorry that someone as high profile as me in racing was even there. To cast a shadow on the game. I can't do anything about that now. I drove in, I was there," said Walsh.
"I rang the man in question a week or 10 days ago to ask the man when he was coming to Ireland again and he said he'll be there the next Tuesday, in the usual place.
"I drove down Tuesday. The horse had a slight tendon injury and he had done similar job on horses for me before, most notably Seabass, who was second in the National, who got a tear on a tendon. That normally means rest, a lot of rest, but if you want to get a horse back a bit quicker… this guy scanned it and lasered it and got him back in six months rather than 12 months."
When Walsh drove into the yard he saw 5-6 men standing around a car. After parking his box in the second yard, a detective sergeant from Kildare came and spoke to Walsh in his horsebox.
"I asked him what's the problem, and he said this place is under warrant and he explained to me that they had been notified there was contraband here and the Department of Agriculture are doing an inspection."
After waiting for approximately 90 minutes, Walsh says Hillyer arrived and told him his horse - along with all the other horses on the premises - would have to undergo blood and hair tests.
"I took him up to a stable and she took four bloods off him and a hair sample," recalls Walsh.
"I put him back in the box and came home. I knew, as the fella says, 'wrong place, wrong time'. I knew there was plenty of action going on. It would have been a lot easier if I wasn't there…. You're always half guilty by association if you're in somewhere, aren't you?"
Why did Walsh not ask for the tendon therapy to be carried out at his own yard?
"He is based down there and he has 5-6 (horses) there together. He comes from England and uses that as a base.
"I didn't ask any questions why, that's where you go. The doctor could give you something at home, or you could meet him at the clinic. It was handier," explains Walsh. "I might been bring horses to veterinarian clinics around to get an X-ray done quickly rather than waiting on them to come. It's a handy run down."
Walsh says he would not always be present when the procedure is taking place.
"It doesn't take that long. Like any physio, depends on how much he needs to laser. I might be there or I mightn't be there. I wasn't going to be there for this fella anyway because I was going to do another job and I was going to come back and collect him."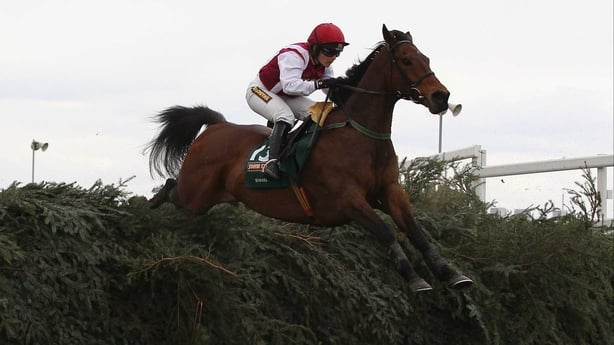 The raid took place on foot of information gathered by authorities. Walsh is a well-connected figure in the racing industry, had he never heard any rumours about the individual in question?
"I wouldn't have had a lot of contact but no one ever said to me, 'you'd want to be careful of him'. Usually in the game someone would. I never heard any bad words about him.
"He had a strong reputation with this," said Walsh.
Walsh has had several inspections from the IHRB down through the years but never the Department of Agriculture.
He says he expects to receive one now. However he has not been formally notified that there will be any further investigation of his own string.
"They're more than welcome to come, we've had Turf Club inspections over the years," he says. "I think that's a good thing. Keeps everyone on their toes."
Walsh insists he has nothing to hide. When asked if he has ever administered restricted substances to a horse or asked a third party to do so, he says no.
"I am 71 years of age and, I haven't had that many winners but we've had plenty of old winners and we have had winners in England and here or there. And I have never in my life, nor my father before me, had a horse come up positive for anything.
"We're old fashioned a bit that way. I often wish I had something to make them go f***ing quicker. Slow horses are slow horses."
The raid took place on the same day as the report of the Oireachtas Agriculture Committee into the IRHB's anti-doping regulations was released, in which it was determined that the regulations did not fall below international standards.
The committee met originally on the back of allegations by respected trainer-breeder Jim Bolger that there was a considerable doping issue in Irish racing.
What did Walsh make of Bolger's assertions?
"I know Jim well, a big admirer of him. We talk regularly. I thought he was a little over the top. I think the Lance Armstrong thing was a bit strong.
"I'm not asleep, I know there are people in every walk of sport and life that take shortcuts and do things and I'm sure they're in racing as well. I'm well sure of that. I'm not an eejit. I know bloody well that goes on, but that goes on in all walks of life. Whatever game you're in there are people who take shortcuts and racing is no different."