Chief Executive of Horse Racing Ireland (HRI) Brian Kavanagh has acknowledged the absence of CCTV at 23 out of Ireland's 25 racecourses represents a "very poor return".
Kavanagh appeared before the Dail's Public Accounts Committee earlier today following an eventful start to 2021 for the sport.
The hearing was arranged to discuss the semi-state body's 2019 annual accounts, but TDs probed Kavanagh and other senior officials on concerns around integrity, governance and the resumption of point-to-point racing.
Here are some of the take-aways from the hearing.
CCTV
Brian Kavanagh faced sharp criticism from several TDs over the lack of CCTV cameras in racecourse stable yards following the high-profile Viking Hoard case - where the Charles-Byrnes runner was 'nobbled' with a high degree of sedative before a race in Tramore in 2018.
There are no allegations Byrnes was involved in the administration of the drug to the horse.
HRI received €64m in Exchequer funding in 2018 and provided €9m to the Irish Horse Racing Regulatory Board (IHRB). This allocation included provision for "CCTV installation at a number of racecourse stable yards".
However, the money was never spent on CCTV and Mr. Kavanagh confirmed this occurred at the behest of the IHRB.
"The funding for CCTV was approved in 2018 and they came to us during the course of that year to say they would prefer for the funding to be reallocated to a different integrity project - an online trainers licensing system. We agreed. It's their call", he explained.
Independent TD for Wexford Verona Murphy asked, "What was the money spent on [if not on CCTV]?", to which Mr. Kavanagh replied, "It was reallocated at the IHRB's request to IT costs relating to the online trainers licensing system".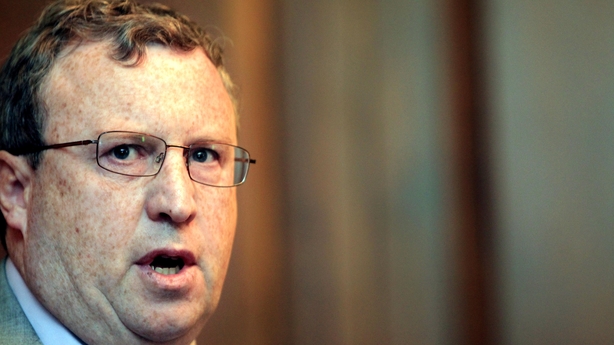 Kavanagh also confirmed to the committee how HRI could have insisted the allocation to the IHRB was spent on CCTV as intended in 2018, but failed to do so.
"The decision was made that it would be addresses in the budget the following year but the IHRB didn't come with it in their budget the following year', outlined Mr. Kavanagh of the 2018 decision.
"You took the eye off the ball...the foot off the pedal. You could have intervened, but you didn't", responded Sinn Fein TD for Louth, Imelda Munster.
Mr. Kavanagh consistently insisted the provision of CCTV in stableyards was '100%' a matter for the IHRB - however, TDs expressed dissatisfaction at this response.
He also acknowledged the fact there is no CCTV at 23 out of Ireland's 25 racecourses represents a "very poor return".
One More Term?
Kavanagh said it's up to the board of HRI to discuss whether he should serve an unprecedented fourth term as Chief Executive of the agency.
Mr Kavanagh, who became HRI CEO in 2001, was re-appointed for a third term in 2016 despite Government guidelines on chief executives of semi-State bodies stating they should serve no more than one seven-year term.
At the time, now Agriculture Minister but then opposition spokesperson Charlie McConalogue said it was an "unprecedented decision" and that the position should have been advertised.
"That's a matter for the board to discuss", replied Mr Kavanagh when asked by committee chair Brian Stanley whether he'd seek a fourth term when his current tenure expires later this year.
He referenced a previous commitment not to continue as Chief Executive beyond the completion of his third term, but demurred from offering any firmer commitments.
"I gave a commitment to that effect the last time I was appointed', replied Mr Kavanagh when asked a second time whether he'd seek a fourth term, "but I'm committed to dealing with the issues. There are significant issues facing racing in the coming months and that's my primary focus at this time".
Cash-in-Transit Loss
Kavanagh confirmed the Garda Fraud Unit is investigating the liquidation of a cash transit firm that cost HRI almost €400,000
Senaca was hired by HRI in September 2017 to transfer and lodge cash taken from race courses around the country. However, HRI lost €389,000 when the Senaca Group went into liquidation in July 2019.
"The matter is being investigated by the Garda National and Economic Crime Bureau and by the Office of the Director of Corporate Enforcement", said Mr. Kavanagh.
The HRI CEO explained how the agency is 'building up controls' and examining insurance options on the movement of cash from racecourses in light of ' a very unfortunate event from our point of view'.
In a briefing note to TDs, HRI outlined how it raised concerns with Senaca in June 2019 when it noticed there were delays in cash being lodged into their bank account.
The following month, as problems persisted, HRI requested an urgent meeting with Senaca. However, the company went into liquidation on the day of the scheduled meeting.
Remuneration
The PAC heard how HRI doesn't publically disclose remuneration bands for its employees as per other state bodies after receiving a derogation from the Department of Agriculture.
Mr. Kavanagh explained this was for commercial sensitivities and to avoid workplace scenarios where one person's salary would be readily identifiable.
However, Labour TD Sean Sherlock said this wasn't in keeping with the expectations of state agencies.
"We live in an era now where there is an expectation that if you're serving on a state body, are a member of a board or hold an executive position that there's an expectation - because of the significant amount of taxpayer monies involved - that the least we should except is notification of remuneration package.
"I don't think it's fair to say it's commercially sensitive as you are running a de facto monopoly in respect of horse racing industry in Ireland", he added.
Mr. Kavanagh said he would be more than happy to get information on salaries to the committee in whatever way was possible.
However, Green Party TD Neassa Hourigan said this wasn't good enough.
"There is an expectation of transparency in this day and age and I'm perplexed that a group in receipt of significant public funds would suggest that information be made available to the committee - that should be made available to the wider public. I think that would be best practice.
Following the hearing, the Green Party TD Neassa Hourigan tweeted: 'Between the implementation of CCTV, CEO tenure, the board and remuneration reporting, it was quite an eye opener of a session'.
Point-to-Point
HRI says it's in daily contact with the Department of Agriculture about the resumption of point-to-point racing, but is unable to provide a date as to when it might return.
Last month, the Government removed point-to-points from an exemption on Level 5 coronavirus restrictions that allows elite and professional sports to continue behind closed doors. Several rural TDs, including Government backbenchers, insist the sector should be allowed resume immediately for economic reasons.
Kavanagh said he hoped the sector can return to action as quickly as possible, although couldn't give any date.
"We're in constant contact with the Department of Agriculture - including a written submission last Wednesday - about the resumption of point-to-points at the earliest possible date. They could be turned around with 10 days notice...once we get the go ahead," he said.
"There's a lot of focus on 5 March in everyone's calendar", he added. However it's unclear yet as to whether point-to-points will receive any derogation in Tuesday's Government announcement.
Independent Wexford TD Verona Murphy expressed her dismay at the lack of a proposed resumption date. "we're running out of time...[and] .what you're saying is there isn't a resolution on offer," she said.
The Whistling Roof
The €81m revamp of the Curragh has been blighted by a mysterious screeching noise emanating from the roof of the new Aga Khan Grandstand.
The piercing whistling noise - compared to a train arriving at a station - has been evident since the project was unveiled in 2019 and is particularly prevalent with a south-westerly wind. The noise was described "as bad as I've ever heard it' by new Curragh CEO Pat Keogh during the 2020 flat season with the acoustics clearly audible on television coverage of big races.
However, HRI insists a solution is at hand.
Mr. Kavanagh told TDs contractors are "working through it" and have "the basis of a solution".
HRI's 2019 financial statement showed a €2.1m loss for the year in relation to its share in the Curragh racecourse. However, Mr. Kavanagh told TDs the track was profitable in 2020.
Committee chair Brian Stanley queried whether the investment in the Curragh racecourse represented value for public money given HRI 'put forward 49% of the funding but ended up with a one third share'.
Sinn Fein's Agriculture Spokesperson Matt Carthy questioned why the Curragh project was €10.7m over budget.
Mr. Kavanagh outlined a number of issues for the cost overrun - including building inflation, a new stable yard and the nature of the contract with contractor.
Gambling Advertising
The Government insists it will introduce a long-awaited gambling regulator by the summer, which could see measures to curb advertising.
The Committee heard how HRI is carrying out a risk assessment on what impact a possible ban on gambling advertising might have on Irish Racing.