Horse Racing Ireland has revealed the degree to which attendances, on-course betting turnover and prize money dropped by last year as the coronavirus pandemic took hold, but the number of horses in training increased for the fourth time in five years. 
The 2020 Irish Thoroughbred Racing Industry Statistics report confirmed that total attendances fell from 1.315 million people to just 117,000, with tracks operating behind closed doors since racing resumed last June, aside from a small number of fixtures where owners were permitted to attend under Government guidelines at that time.
Total on-course betting turnover dropped by almost 90% from €78.9m to €8.6m. 
Total prize money fell from €66.06m to €50.58m, a decrease of 23.4%.
Bloodstock sales figures also suffered, with a number of major sales severely disrupted or held overseas.
There was encouragement to be taken from the number of horses returned to training in Ireland, with an increase of 3.3% from 8,949 to 9,248 recorded during the most challenging of years.
However, figures for future years may yet tell a different story on the ultimate impact the pandemic has wrought. 
The total number of active owners has increased to 4,080, a rise of 0.5%. There was a modest increase in the number of sole owners/partnerships and syndicates; the number of companies registered as owners remains the same as in 2020; while the number of racing clubs has risen by 6%. Owner retention is at 73.6%, a decrease of 1.5% on the previous year.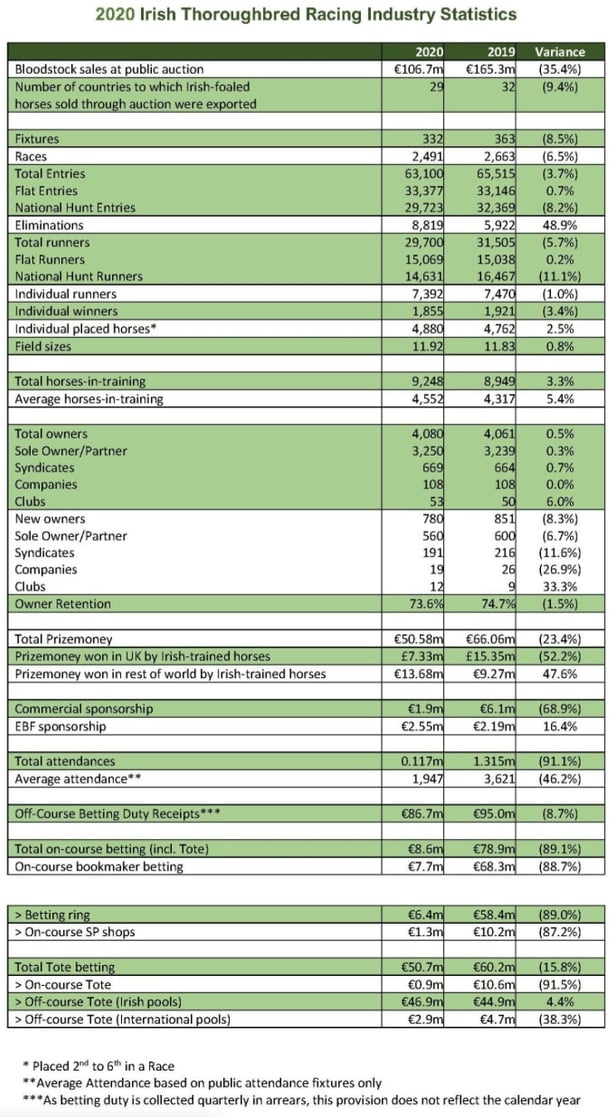 Reacting to the statistics, HRI chief executive Brian Kavanagh said: "The figures for the numbers of horses in training continued to grow year-on-year and this says so much about those involved in racehorse ownership.
"It is a testament to their resilience in the face of very challenging circumstances that they continue to stand by the industry, and we look forward to a time when we can safely welcome owners – and obviously racegoers – back to our racetracks.

"Owners' ongoing support is felt across the board and the numbers of horses in racing yards directly reflects on employment levels within the industry and on widespread economic activity in rural Ireland."