David Mullins has opened up on the reasons behind his decision to retire as a jockey at the age of 24, admitting he had ultimately lost his "hunger" for the game.
In 2016, Mullins won the Grand National aged just 19, steering Rule The World to victory. He clocked up nine Grade One victories, riding mostly for his champion trainer uncle Willie and father Tom.
He looked destined to carve out a long and successful career, but Mullins told RTÉ's Saturday Sport that he has zero regrets and no intention of reversing his call to walk away.
Having fallen into the sport as a teenager, he admitted he didn't quite have the same passion for riding as other jockeys.
"There's plenty of challenges," he said. "I think the fear of not being good enough is probably the biggest one. That's what drives you on the most. I think every jockey has that. It's a very competitive sport.
"I decided to leave school. I wasn't putting in the effort and I just became attached to horses, through my father who was training and producing them. When you're 16, you don't have much else to do because I'd made the decision to leave school. The obvious thing to do was to ride horses.
"You see plenty of videos on Facebook and Twitter of jockeys' kids beating the back of the couches with Racing TV on or RTÉ Sport on in the background. I was never one of those kids.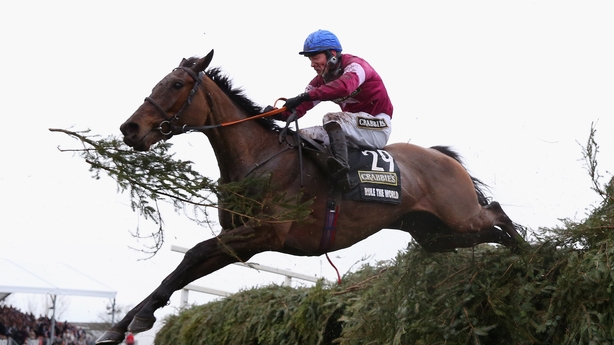 "I was out with a hurl or going away show jumping for the weekend. There were horses in the background, that was basically it. It just became the natural thing for me to do when I did leave school with my father being a trainer and my uncle being a champion trainer. That was the path I was going to go down."
Mullins also detailed the unique pressures of being a rider in a world where the hard work never stops.
"I went to Galway one year, I was there six days out of the seven. I didn't stay one night. It's busy, and it probably didn't pay your diesel to be getting the one ride.
"Now obviously I had more rides on a few of the days but there's jockeys that do it, up and down the road every day. They're journeymen, and hard-working men.
"I always felt that if I didn't want to do that I was considered lazy in the sport. If you didn't want to do that there'd be five lads lining up behind you do to do it. It makes you look lazy - and you feel like it, because everybody else does it in the sport.
"Those lads are hungry, eager and wanting to win. I was that lad at one stage myself. I'm just not at the minute."
"This sport owes me nothing. I've had some amazing days out of it."
Reflecting on that glorious day at Aintree almost five years ago, when he rode Rule The World to the Grand National, Mullins highlighted just how quickly the limelight can fade even after the sweetest successes.
"I think 600 million people watch the Grand National. My next ride was the following Friday at half eight at night in Ballinrobe. I think he was 25-1. He pulled up.
"I don't think there were too many people watching that. You're not competing at the same level the whole time. You're only seeing the good days, the big days. Ballinrobe at half eight in a low-grade handicap chase, there's not as much pressure on you when you're that price.
"I remember my instructions that day were to try and get the horse to run a race because he'd been in terrible form! It's a funny game.
"I didn't have the hunger for it and there were a lot more jockeys lined up behind me that would lose a limb just to try and get into the position I was in. I'm very grateful. This sport owes me nothing. I've had some amazing days out of it.
"I still love racing. I'm going to be a part of it for the rest of my life. I'm just not going to be getting the leg up in the parade ring anymore."