Barry Geraghty says winning the Aintree Grand National was the highlight of his career.
The Meath-man called time on his career on Saturday after admitting that injuries were becoming more and more difficult to come back from, and saying he wanted to go out on his own terms.
Speaking on RTÉ Radio 1's Sunday Sport programme, the two-time Irish champion jockey placed his 2003 victory on board Monty's Pass as the pinnacle of what he had achieved.
"The Aintree Grand National is the one that you want more than any, really", he said when asked to pick his stand out moment.
"To get it... was a big ticking of a box, if you like. It's the one race as a kid that you grow-up longing, you dream of winning a race like that, or even riding in it.
"To have won it is brilliant."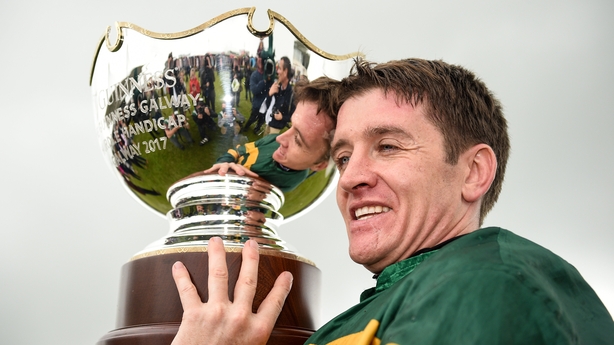 Despite all of the injuries he's suffered over the last five years, including two broken arms, two broken legs, eight broken ribs and a punctured lung, Geraghty told host Jacqui Hurley that he always felt that he could come back.
Did the thought of an injury-ending career cross his mind in the last few seasons?
"No I didn't, because I love it. I still love it (but) going through all of that has made me see the other side, if you like. That really made me take stock and appreciate that now was the time (to retire).
"But even through those injuries, the rumours would fly around that it would be the end of him, but no, it was always a case of get back and do what you love.
"It made me appreciate it, and want to get out on my own terms, as I've done. It's probably something I wouldn't have given much thought to before."
And while Geraghty is stepping out of the saddle, he says he'll be trying to stay involved in horse-racing as much as he can.
"My life has revolved around it, and it'll stay that way," he added.
"I've always dabbled away with a few young horses, and enjoyed that. I'd 'Bobs Worth' here as a youngster and we sold him on before he went on to do all he did.
"I've had lots of nice horses through the place, and that's something that I will continue to do. I've always enjoyed a bit of TV work, and different blogs and stuff, so there's plenty to keep me busy.
"There's no major plan, but I'll definitely stay involved in racing."