Epsom Derby winning jockey Emmet McNamara revealed just how he masterminded victory one of the biggest races of the year, when he wasn't even sure he would ride in it until two days before.
McNamara steered Serpentine to a shock 25-1 victory in the showpiece race, leading from the front and building up a huge advantage by Tattenham Corner before galloping all the way home for a five-and-a-half-length victory.
It was McNamara's first win since last October and while he went close in the Irish Derby aboard Tiger Moth, he had only days to come up with a plan for the race.
Speaking on 2fm's Game On, McNamara revealed that while the idea of him riding Serpentine was first mooted last Tuesday, it wasn't until Thursday morning that Aidan O'Brien gave him the nod and he knew he would be going in the Derby.
He said: "I think it was Tuesday evening, Aidan gave me a shout and just mentioned that he was thinking about sending the six horses that he ended up sending over and he just basically asked me would it be something that I might to do.
"I nearly jumped down the phone when I was offered the chance and am delighted that I took it.
"There was no concrete plan as such at that time it was just a case of 'this is what we think we're going to do and possibly onto France on Sunday.
"So when it was confirmed on Thursday morning I was obviously delighted but I had an inkling on Tuesday."
When it came to formulating a plan for the race, McNamara had little time and he turned to O'Brien and jockey Wayne Lordan, who had steered Serpentine to a maiden victory only a week before at the Curragh.
"It was probably from Tuesday evening I was starting to think about it really because Aidan, when he was speaking to me at that point, said it was probably Serpentine that I was going more than likely going to ride.
"He had won in the Curragh only a few days previously having made the running and [Aidan O'Brien] told me to look back at that race, give Wayne Lordan a ring and make sure I was going to be able to do the same things that Wayne had done on him and just ask him did he think it was a good idea to ride him that way.
"So it was kind of from Tuesday evening we were formulating it and thinking that was the way we were going to ride. Aidan was well aware and thinking about things even before the declarations were done."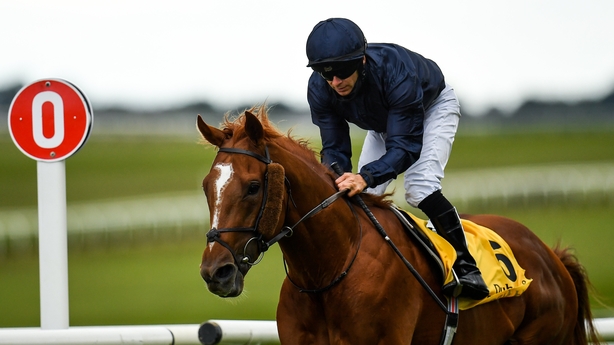 Those conversations with Lordan paid dividends as McNamara gave Serpentine a remarkably similar ride as Lordan's Curragh victory, with the horse storming into a commanding early lead before driving for home.
McNamara explained: "I was at least a couple of lengths clear for most of the way, so I couldn't hear much, all I could hear was the horse breathing underneath me and doing things right.
"Usually at Epsom the field is packed out but it was an eerie silence and then when you swing down into the straight you don't have anyone in the grandstand either so I could hear the silence and it was a little bit deafening around me.
"I was only just thinking to myself 'am I going too fast?' because that's the first thing you're thinking when you're well clear. You initial reaction is 'am I going too fast?' and you ask yourself that question then say 'no I don't think I am' and then you just hope you're right.
"I had a fair idea when I swung down the hill, when I filled up from that six to the five and I just started to let him lengthen again, even from there the way he was starting to pick up and lengthen, I thought 'maybe I didn't go too quick because this horse feels like he has plenty left in him.
"Then from the four to the three, you're thinking 'I still have a little bit more' and you're lengthening and thinking 'it will still take a good one to get by me'.
"So from a long way out I was hoping that the whole thing had gone right but it's only when you go past the winning line that you're 100% sure it has."