Faraway hills are greener as a young French woman aspiring to make it as a jockey in this country has discovered.
Eighteen-year-old Emilie Maudet has been based in the Curragh ever since packing up her little white car last summer to leave her home near Toulouse to hone her skills and follow in the footsteps of her heroines in the equine world.
We need your consent to load this rte-player contentWe use rte-player to manage extra content that can set cookies on your device and collect data about your activity. Please review their details and accept them to load the content.Manage Preferences
"Sometimes you have to follow your instincts," she explained of her decision to come to Ireland.
Under the wings of former Kildare footballer and now horse trainer Willie McCreery, she has found her spiritual home on the plains of Kildare.
"Ireland is a world class place to be, like an amazing place to be. You will see some wonderful horses and some very good trainers, jockeys and everyone so this is a place you will learn from," she enthused.
Even the lockdown on the wide open expanse of the Curragh has been no real penance as far as Emilie is concerned.
"With the pandemic I had a choice to come back or stay here, but I found a place in Kildare so I have a place to stay and a job, basically, so there is no reason to go back home," she said.
Changes in weight rules in the racing industry in France has helped pave the way for female jockeys to finally rise to prominence. But for this teenager, the Curragh called.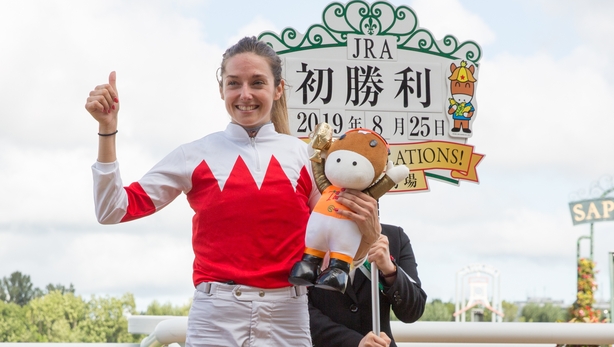 "In France as a female jockey the weight that you carry on the horse will be less than an apprentice jockey and here its different - female and male are the same," she explained.
"I'm getting good support as a women. I don't feel any difference being a female jockey, a female rider. I have the same opportunities," she said of the industry in this country.
"The best thing about being in Kildare is being on the Curragh because that's the main place to train horses. That's just a world-class place to train and you can feel the history, the prestige of this place," she stressed.
"It's the best in the country and maybe the best in Europe along with Newmarket and Chantilly," said Emilie, adding that she feels lucky to be there everyday riding good horses and that she is grateful for the opportunities she has been given.
And perhaps even the horses are learning from Emilie's presence. While learning English was one of the reasons she came here, she often whispers phrases in her native French to soothe her four-legged favourites.
Prominent role models have helped shape her vision for the future.
Mickaëlle Michel, the French sensation who rode more winners in a season in 2018 than any other woman before or since.  
Our own trailblazer Rachael Blackmore is another inspirational figure for Emilie.
"When I see Mickaëlle Micheal, she's done so well all around the world and she improved a lot, she even learned English like me so, yeah, she did so, so much so she's an example to follow - and Racheal Blackmore, she's an amazing woman,' she said.
"They make the thing possible for you. You say 'if she can do it, I can do it'."
After a barren ten-week spell, the Irish racing season is set to resume behind closed doors on Monday. It will be a brave new world for all involved but this teenage hopeful from the South of France has a more philosophical response.
"I'm so happy here, I'm so happy to be in Ireland, I learn so much," she revealed.
"I enjoy my life and l am happy when I wake up in the morning to do the job I love."