Like so many others, it's a waiting game for Frankie Dettori. Not knowing when exactly he will return to the saddle in pursuit of more Group 1 and Classic success is frustrating.
Yet, that frustration for now is not the overriding emotion for the Italian when thoughts turn to his homeland - a country ravaged by the coronavirus.
Speaking from his home in Newmarket, the gifted jockey told 2fm's Game On: "For me it's quite scary because there is nothing I can do.
"My mother, who lives in Italy, is 75 and has had pneumonia, so if she gets this virus she won't be able to fight it off. She has been in the house for 40 days and will have to stay in for another two months which is frustrating for her. I'm calling her every day and thankfully she has no symptoms.
"My dad spends the winter in Morocco, where they have less cases but he told me that their health system is not as good as Europe so he is scared. If something happens to him he may not be able to get out of the place. It's scary times for all of Italy. For the last week, there are 700, 800, 900 people dying every day. It's just relentless. When is this going to stop?
"And now the same thing is happening here in the UK. I hope it doesn't get as bad as Italy or Spain. When you see those in hospitals on corridors coughing their heads off, that is a frightening scene, a scene you would see in the movies. It's very tough for everyone.
"There is a proper lockdown in Italy, with police and army on the streets. You have to have a certificate to say where you are going. People are trying to stay positive but it's almost been a month and that's tough."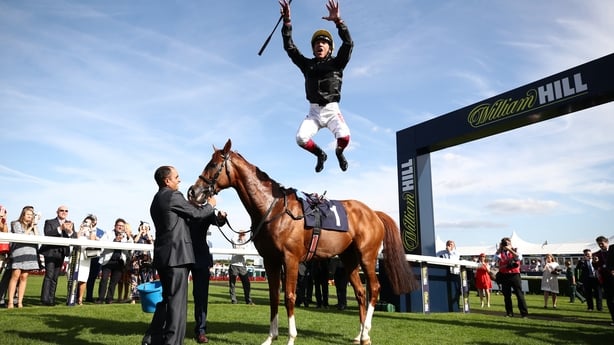 So how is the jockey, who has 250 Group 1 winners to his name, spending the days at the headquarters of British racing?
"We have plenty of open spaces in what is now a quiet Newmarket, so we are able to keep our distance," he said.
"Seventy percent of the town is involved in racing so we still have horses to take out. We have to feed them and look after them. It gives people a sense of purpose to get out and do something productive."
With his sister's cooking to blame, Dettori hopped on the scales recently to find out he was 9st 3.
"Will Royal Ascot take place behind closed doors? Will the Derby take place after Royal Ascot?"
"It''s the heaviest I have been in two years," he admitted. And for Dettori that is his problem - trying to keep the weight in check ahead of the start of the flat seaso . As things stand, racing in the UK has been suspended until the end of April, but most expect the suspension to last longer.
"It's very easy for things to get out of hand with nice food, but I have to get back to a routine," he added.
"I had a reality check this morning but I'm back on track.
"If we knew we were starting at the end of April or the end of May, you could work backwards and give yourself a routine to get you 100 percent ready. It's frustrating, but we just have to take it one day at a time.
"Will the big races take place this year? Will Royal Ascot be run this year? Will Royal Ascot take place behind closed doors? Will the Derby take place after Royal Ascot?
"The start up of sport again will be a gradual thing and maybe football will be first to come back?
"There are more important things than racing at the moment and that is the health of the nation."