Cheltenham chief Ian Renton admitted his relief after an "interesting" Cheltenham Festival drew to a close on Friday.
The four-day fixture went ahead despite the backdrop of the coronavirus outbreak, with a total of 251,684 people making the trip to Prestbury Park.
While holding up well, that figure was unsurprisingly down on a record total attendance of 266,557 in 2019, with Friday's Gold Cup card drawing 68,859 racegoers, which was 2,734 less than last year's record for the day.
Renton, who is regional director Cheltenham and the South West for Jockey Club Racecourses, felt the meeting was never "in any real doubt" of going ahead, despite other countries banning mass gatherings in recent days.
He said: "I'm relieved as it has been an interesting week with everything going on around the racing, but it is fantastic the day's racing we have had today - to see probably one of the best Magners Gold Cups I can recall.
"There have been some fantastic results and at the end of the day, that is what it is all about.
"The crowd here have enjoyed four great days of sport in what is probably a slightly surreal atmosphere, with what was going on in the country.
"I think, for us, what has been incredibly helpful is the really consistent guidelines we have had from the Government now for a fortnight.
"I've never been in any real doubt that was has happened over these four days wasn't going to happen."
The Irish Government said racegoers returning from the Festival would be given a list of symptoms to watch out for, like all travelling through airports, but would not be asked to self-isolate as the UK was not considered to be an area as badly affected as Italy or Spain.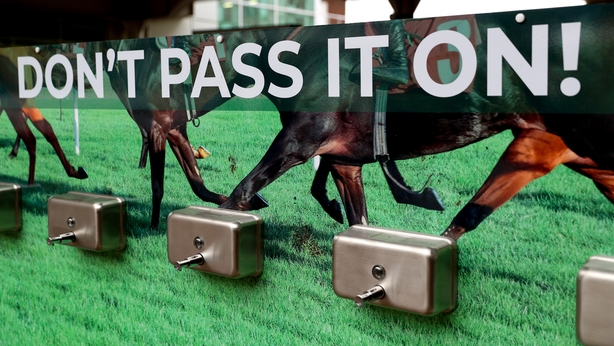 Renton felt extra hygiene measures at the track, including banks of hand sanitiser dispensers and increased hand-washing facilities, had given racegoers confidence to attend the Festival.
He added: "The team here have done a fantastic job introducing extra measures to ensure racegoers and participants coming here feel it is the right environment to come to.
"At the end of the day, what the meeting will be remembered for is the racing, and seeing such fantastic results and racing today is fantastic for everyone.
"It is wonderful the crowds have held up. We have encouraged all that were planning to come that if they didn't meet the Government guidelines, they should stay at home and stay away and quite a number have, which has seen reduced crowds, but we have still had some good crowds to enjoy the Festival.
"I think everybody has behaved incredibly responsibly - they have used the extra measures we have put in place and that has appeared to work well.
"We did bring in some temporary additional supplies of water, which shows the effort the team are prepared to go to knowing we would have a slightly larger crowd today, just to ensure that hot water remained constant throughout the meeting."