Four days can be an awfully long time in horse racing - a point admirably highlighted by the complete turnaround in fortunes experienced by Willie Mullins and Paul Townend at this year's Cheltenham Festival.
Cork native Townend came in for some criticism on Tuesday following his ride on Benie Des Dieux in the Mares' Hurdle behind Honeysuckle, with Ruby Walsh one of those voicing an opinion.
Townend, of course, replaced Walsh upon his retirement, and a bit like taking over from Alex Ferguson at Manchester United, following in those footsteps was going to be an almost impossible job.
But Mullins has never doubted his man and after an incredible Friday which saw the Closutton maestro win the first four races on the card and have the second in the fifth -  including another Magners Gold Cup with Al Boum Photo - Cheltenham punters now have a new darling.
Townend has certainly learned from the best and the irony was lost on no one when Walsh presented the leading rider award to his successor in what was an emotional moment. 
When asked how he felt about Walsh's criticism, Townend said: "I haven't watched it. Ruby has his job to do on TV and I have my job to do. Ruby has been such a big help to me all the way through my career."
And though he may have held his one-time understudy to high standards, Walsh choked up in the wake of his Gold Cup victory, telling ITV Sport: "He's a great fella. He came to Willie's when he was 15 or 16. A great worker, very dedicated, quiet."
Townend showcased several different attributes on his winners, needing to be at his strongest on Monkfish in the Albert Bartlett, nursing around the inexperienced Burning Victory to fortuitously win the Triumph before getting the tactics spot on in the big one.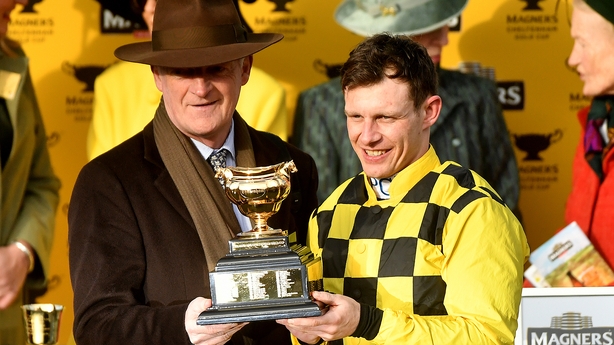 Mullins said: "I'm delighted for my stable jockey. He's put his stamp on Cheltenham as our first jockey. Stepping up from being understudy to Ruby is tough, but Paul has more than risen to it.
"People said Paul was under pressure, but I think he rides better under pressure, he's been incredible today - it's great for him."
"Tuesday seems a long time ago, but I can still remember it! Paul has really stamped his authority in Ireland this season and he's just won a second Gold Cup."
History was against Al Boum Photo - not even the great Kauto Star managed to win his two Gold Cups back-to-back.
The dream for connections now will be to emulate Best Mate, the last to win three in a row. And bearing in mind Mullins has only given his new stable star one run before each of his Gold Cups, a similar campaign would seem a certainty.
"We just decided to follow what happened last year; why change it if it works? Thankfully it paid off," said Mullins.
"I think it was only history against him today. I didn't think the race was as tough as last year, Paul was brave on him and the whole thing came together.
"It's Paul's day today."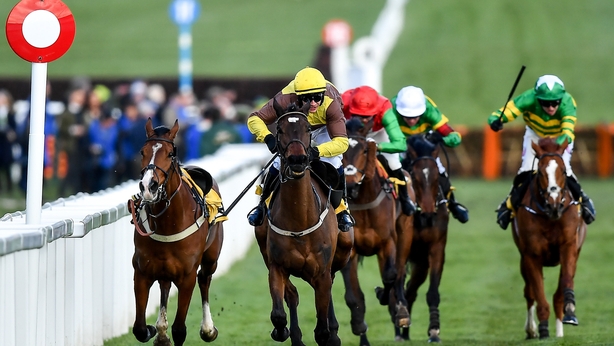 While last year's Gold Cup seem to pass by in a haze for Townend, this time around he was able to appreciate the enormity of his achievement.
"It's amazing for me, there was no added pressure from Willie, that was the most important thing. Riding for Willie means you have better chances," he said.
"At least I finished the week well! This is the main stage, this is the one you want, the icing on the cake.
"I suppose last year was completely surreal. Last year we snuck under the radar a bit, whereas this year all eyes were on us.
"It hasn't really sunk in yet. I thought I'd never get a feeling like last year again, but this year is right up with it.
"It's the weirdest feeling in the world, but the best feeling in the world.
"I wouldn't say I approached the race any differently this year. Last year he was my bullet to fire and the Donnellys' bullet to fire, so you have to take it seriously and I did my homework this year, just as I did last year.
"That's the way I've approached Cheltenham every year, even when I was behind Ruby. My rides were my rides.
"This year there was more pressure, but that meant I possibly had better rides."