"It's Jody Townend. She missed most of the season through injury. You mightn't have heard much of her, you're going to hear an awful lot more."
A 21-year-old rider from Cork had just crossed the finishing line of the Connacht Hotel Handicap at the Galway Races when she looked down at her horse Great White Shark in disbelief.
"Did that just happen?" Townend thought to herself while racing commentator Richard Pugh was making predictions about the future on RTÉ.
This is the greatest moment of the Midleton woman's career so far and she's still trying to acclimatise to her newfound fame. She even had to delay her pub celebrations until last night due to a late arrival home on Monday night.
"I give it a good rattle when I go out," she tells RTÉ Sport. "It was a long night in Leighlinbridge, we kept it local.
"I was on the RTÉ Radio 1 doing an interview on Tuesday and oh God, the amount of Snapchats. I still don't think it's hit me. It's one of the biggest races in the amateur calendar."
Watch Great White Shark (8-1) win the Connacht Hotel Handicap for Jody Townend and Willie Mullins @Galway_Races #rteracing pic.twitter.com/xsXIUcv8UV

— RTÉ Racing (@RTEracing) July 29, 2019
Townend comes from a thoroughbred racing family. Her father trained point-to-point racers and her brother Paul, a renowned jockey, had her up on saddles from before she could walk.
The youngster was "holding on for dear life" while he brought her around on ponies, but the racing bug had already burrowed under her skin and made a nest. 
"There were horses outside my bedroom window. I hadn't much of a choice. You can't get away from it. 
"I haven't actually been down home yet [since the win]. Paul is the only one I've seen and they're giving him a fair slagging over not staying."
Her triumph in Galway came under the tutelage of the incomparable Willie Mullins, a trainer who Townend has been working with for the past year. At the start, she was coming to his yard three days a week and has since pushed her weekly visits to four.
She's enjoying the experience of serving one of the most respected figures in Irish horse racing although he's encouraging her to forget about the jumps and focus on flat courses.
But despite that minor disagreement, she gets a huge psychological boost from sitting on board one of his horses any time she competes. It's almost as if the race is over before it even begins.
It's the same sensation that powered her to victory with the 8/1 shot Great White Shark on Monday evening in Ballybrit.
"Whatever one you ride for Willie, you know you have a chance. He doesn't just run them for the craic. He knows what he's dealing with.  
"I'd never ridden her [Great White Shark] in a race before. I've ridden her at home and knew her from that. Paul had ridden her a good few times and he gave me a bit of advice."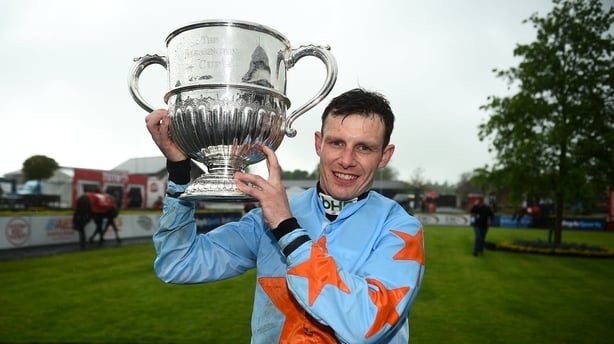 "It can be an awfully messy race. And we went awful slow as well. She [Great White Shark] can be quite free so when we jumped out she wasn't free so I didn't want to light her up by trying to get her to go on a bit. So I just sat and thank God it worked out anyway."
It's well documented that Townend has endured a difficult few months due to a serious back injury. She was sidelined in October after a fall while schooling a French mare, and only made a recent return to action.
The "freak accident," as Townend puts it, left her with a fractured spine, three trips to three different hospitals and three operations.
"She came to a hurdle and stepped a bit," Townend recalls of the incident. 
"She somersaulted and she didn't hit me or anything, it's just the way I landed. There were more horses coming behind me and I leaped up to run away and was like 'uh-oh, there's something wrong here.'"
The infection was living on the metal, so no antibiotics could kill it
Townend underwent the first surgery in the Mater and was released the following week after being stabilised from her T11 to T13 vertebrae. Screws and rods were inserted to assist with that, and her return to racing was earmarked for February.
But a big setback in her recovery left her waiting a little longer. A third surgery was required when an infection was discovered on the metal.
"I was in awful pain the week before my last operation. And the whole thing swelled up and burst out again. I had to get all the metal taken out. The infection was living on the metal, so no antibiotics could kill it.
"The infection was gone into the bone so I was on a drip for six weeks.
"The fracture was stabilised and they said I'd probably have to take it out after a year anyway because if I did get a fall the wrong way, the one above and below it would shatter because it couldn't take the pressure."
Throughout her recovery, Townend was a regular sight around the yard. Her father wasn't overly pleased, fearing what damage she could be doing by something as simple as pushing around a wheelbarrow or lifting a pike.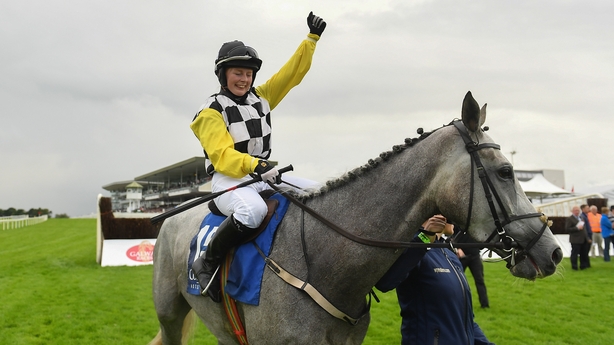 She was giving her surgeon headaches too. Every check-up was seen by her as an opportunity to inquire about when she could get back to racing.
There was no apprehension about the possibility of more dangerous falls on the horizon; Townend simply wanted to get back on the horse.
It was just a freak accident. It could happen to anyone and you could fall down the stairs
"There wasn't for me anyway. 
"It was just a freak accident. It could happen to anyone and you could fall down the stairs, it's the same thing. If you think like that, you wouldn't get out of bed in the morning."  
Townend certainly cut an unburdened figure coming down the final stretch of the Connacht Hotel Handicap; casting aside all those horrors of the last few months with every stride to victory.
There's no further plans for her to race again at this year's Galway Festival, but that could all change in the coming days.
The 21-year-old has so much more she wants to achieve in her racing career. But for now, her next stop is a Ladies Race in Tipperary on Sunday week.
"Hopefully I'll get a nice spin on that. And I'm supposed to go to Windsor for one of those Ladies Challenges. There's an Arabian race for lady riders. And there's people coming from Austria, Croatia and every sort of a place so that should be fun." 
Watch the Galway Races from 2.20pm on RTÉ2.