The industry may have changed massively over the 70 years that Kevin Prendergast has been involved in racing, but winners never go out of fashion and the 87-year-old is targeting a big one at the Curragh this weekend.
Prendergast sends Madhmoon to the Dubai Duty Free Irish Derby, looking for his first winner in the race having gone close before.
Ragapan finished second to Weaver's Hall for Prendergast in 1973 while Northern Treasure and Oscar Schindler were both placed, while his father Paddy 'Darkie' Prendergast famously won the Irish Derby four times.
While the years may have slowed Prendergast down slightly, his love of the sport remains even if there have been big changes since his father's heyday.
"I enjoy it, you have a lot of ups and more downs," he told RTÉ Sport. "Every horse is different and every day is different.
"My dad and my grandfather were all into the horses and it was a natural progression for me to continue.
"You might have stables now with two and three hundred horses in them, in Vincent's days you probably had 50 or 60 horses, the same as my father, they might have has 80 at tops. So it's all changed and I'd say it's gone much more commercial.
"You can't go on the roads now, you'd get skittled. But in those days there was very little traffic and we'd be over there in Dunmurry and you could go around Dunmurry and the only thing you'd see is a donkey and cart."
Madhmoon will be bidding to make it third time lucky in Classic company, having finished fourth in the 2000 Guineas at Newmarket before getting within half a length of Anthony Van Dyck in the Epsom Derby.
That Epsom defeat still rankles with Prendergast, and he views the one that got away, something he'll be hoping to put right in the Curragh.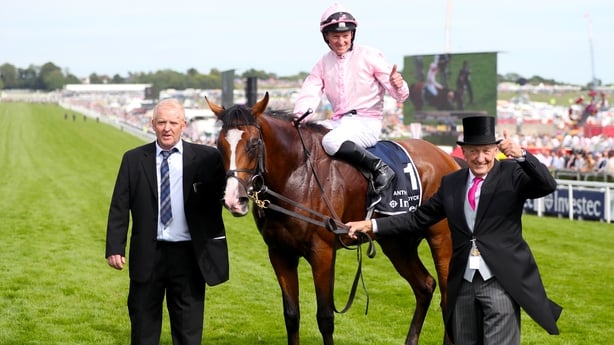 "At Epsom, he just probably got there a shade too soon and slipped before coming into Tattenham Corner and it could have unnerved him a bit," he said.
"He just got there a bit soon and was sort of a pot-shot for the horses around him, but he battled on well. He could have won.
"He came out of Epsom much better than he did Newmarket and he's an agile sort of horse. I think the Curragh could suit him."
Prendergast isn't keen on comparisons between Madhmoon and horses like Ragapan and Northern Treasure, who went close for him in the past, but he does believe his current charge has what it takes to get around at the Curragh.
 "It's very hard to compare horses from yesterday to today but this horse seems to get a mile and a half well and he seems to have good speed, he won twice as a two-year old over a mile.
"He's a very, very solid horse and he's very gross in appearance, a good clean winded horse. An adequate mover, he wouldn't be a daisy cutter but a good mover and a good temperament."
As to how he hopes to beat Anthony Van Dyck, well Prendergast is counting on, what some would say, is an overdue slice of fortune.
"Madhmoon couldn't be better and he's running against the same horses he ran against at Epsom. If he has a bit of luck on his side, he could get the nod.
"I'm not going to say he's better than he was at Epsom - but if he's as good, he should run a good race.
"Whatever way the race is run won't affect our horse. I just hope it happens - and I'd be very happy if it does.
"If you have a bit of luck you'll always find half a length."
Watch live coverage of the Irish Derby Festival on RTÉ2 and the RTÉ Player on Friday, (3pm), and on RTÉ One and the RTÉ Player on Saturday (2.40pm)