Anthony Dan Dyck provided Aidan O'Brien with a record-equalling seventh victory in the Investec Derby at Epsom.
Eighteen years on from his first triumph in the premier Classic with Galileo, the County Tipperary trainer saddled no less than seven of the 13 runners, with the previously unbeaten Sir Dragonet heading the market at 11-4 after being supplemented earlier in the week.
Anthony Van Dyck - a three-time winner as a two-year-old - earned his shot at Derby glory with an impressive comeback victory in the Lingfield Derby Trial three weeks ago and was also prominent in the betting at 13-2, following support in the minutes leading up to the race.
Seamie Heffernan's mount raced in mid-division for much of the way, and still had more horses ahead of him than behind inside the final quarter-mile.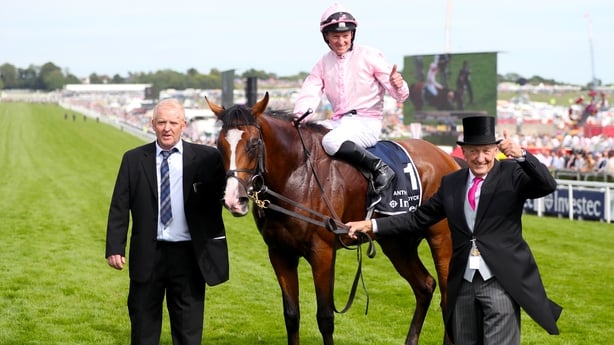 Sir Dragonet and Madhmoon - trained by the 86-year-old Kevin Prendergast - were disputing the lead racing inside the final furlong, but Anthony Dan Dyck darted up the inside of the pair and galloped on strongly against the far rail.
Madhmoon boxed on for second to deny O'Brien a clean sweep, with another Ballydoyle inmate in Japan flying home to finish third, ahead of his stable companions Broome and Sir Dragonet in fourth and fifth respectively.
The 49-year-old said: "We never thought we would be in the position we are in now and that is why we kind of have to pinch ourselves every day - that we are working with the best people and with the most incredible horses with unbelievable pedigrees and physiques and in an incredibly facility.
"We are in a very unique position and we feel very grateful, as we are learning a lot from it, working with the horses and people. It is incredible really.
"All the big races, we train the horses for them and we do our best - sometimes there is a lot of stuff you can't control and sometimes the ducks just fall right for you in a row and it happens.
"That is why you have to be delighted and really appreciate it when it does happen."
Every trainer needs a loyal team to succeed and in Seamie Heffernan, who was celebrating victory in the great race for the first time on his 12th appearance, he has the perfect ally - one he was quick to pay tribute to.
O'Brien added: "Seamus is an unbelievable fellow. He is a world-class jockey and always has been.
"We've known each other a long time, even before we went to Ballydoyle, and he has so many placed horses and big horses in so many races and won so many top races all over the world.
"I can't tell you how delighted we are for him. Day in, day out he puts it all in and is incredibly experienced. As a horseman and jockey, he is second to none."
Celebrating such a success may not have happened for Heffernan, 46, if he had decided to pursue the route in racing he wanted to go - but it was one he can at long last put on a CV which includes three victories in the Irish equivalent.
Heffernan said: "I've been around plenty of Derby winners - I rode his father (Galileo) in his trial and won it. It means a lot to win it.
"I'm always confident riding for Aidan, as anything can happen. It doesn't matter whether they are favourite or a big price, as he trains them all for the big day.
"I got beaten in this race on a favourite one year, then came out and rode one at 100-1 and finished second. There is no other yard in Ireland where I would have got the chance to go round in the Derby 12 times, so I'm just happy to be taking part on very well-bred horses."
He added of his wait for a winner: "It was only a matter of time. I wasn't going to give up until I at least won one. The Derby is the top race. It is the best, maybe then the Arc, then the Breeders' Cup.
"I actually wanted to be a jump jockey, so I'm probably lucky I didn't grow!"