Michael O'Leary's plan to wind up Gigginstown House Stud is a "bombshell" to Irish National Hunt racing, according to Jane Mangan and Ted Walsh.
O'Leary made the shock announcement yesterday that he would buy no more young horses with a view to ending operations in four to five years, which he said would enable him to spend more time with his family.
The Ryanair chief executive has been a dominant figure in the Irish racing scene over the last two decades, and sent 225 horses to tracks last year alone.
"Outside of JP McManus, he's the biggest player in National Hunt Racing," trainer Ted Walsh told RTÉ Radio 1's Morning Ireland.
"It's like a small industry closing down. Indirectly, there will be 100 people out of jobs straight away when he decides to close the doors on it. That's a big blow.
"In the space of 20 years, he's done things people would take two lifetimes to do. He's won three English Nationals. Raymond Guest, the former (US) ambassador to Ireland spent 40 years and he won one.
"He's won four Irish Grand Nationals, two Cheltenham Gold Cups. He's one of the reasons why we've had so much success at Cheltenham.
"It's because people like Michael O'Leary can buy the young stock, and they're not going to England, they're being trained here. He'll be missed big time."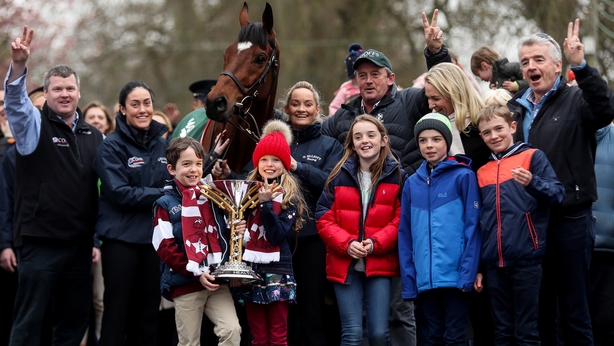 Former jockey Jane Mangan said that it was difficult to predict the extent of the impact on the industry but that it would be damaging.
Gordon Elliott, who has saddled the majority of O'Leary's chief contenders in recent years, admitted yesterday that the decision was "a blow".
"The fact that he's basically saying he won't have runners in this country in five years' time, it's a bombshell," Mangan told 2fm's Game On.
"It's hard to compare it to anything else because it's been such a rapid rise. He first started out with David Wachman back in 2002. Then won the 2006 Gold Cup with (the Mouse Morris-trained) War of Attrition. The numbers just quadrupled in size from there on.
"He wanted to win another Gold Cup, he won it again with Don Cossack in 2016. In less than two decades he's gone from zero to hero.
"It's hard to quantify how much of a difference it will make for all the stakeholders, from breeders to riders, trainers and everybody in between.
"Everybody will feel the shock wave."
Mangan added that Tiger Roll's Cheltenham and Aintree Grand National victories might have obscured the fact that it wasn't a vintage year for Gigginstown but that they were still enjoying considerable success.
"It was notable that he wasn't in Fairyhouse this year for the Irish Grand National, considering he had 12 runners.
"They are massive in terms of quality and quantity but they had a lean Cheltenham, take away Tiger Roll they had a lean Aintree. Punchestown just didn't go to plan either so things haven't been going swimmingly.
"That said, Gigginstown earned their seventh champion owners title in Ireland last month.
"I think if it came down to finance it would be a simple solution of just downsizing the operation rather than weaning out completely."