President Michael D Higgins has led the tributes to retiring jockey Ruby Walsh "on a remarkable and brilliant career".
The Irish jockey bowed out at the top of his game earlier on Wednesday following his victory at the Punchestown Gold Cup on board Kemboy.
The 39-year-old said he was happy to go out on his own terms following a 24-year-career, riding the best horses throughout his glittering career.
President Higgins statement read: "As President of Ireland, may I send my very best wishes to Ruby Walsh on his retirement from racing.
"I have written to Ruby, to congratulate him on a remarkable and brilliant career, and to thank him for his outstanding contributions, not only to racing but also to Ireland's reputation abroad. 

"Since he first came to prominence through his win in the Grand National 19 years ago, Ruby has ridden more horses to victory than any rider in modern history and his track record, a veritable testament to Ruby's talent, skill and determination, will take some time to beat."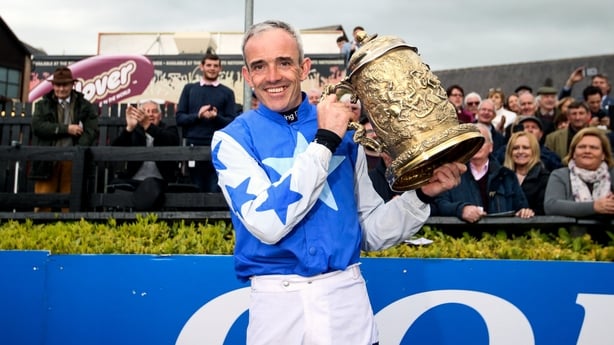 Fellow legendary jockey Tony McCoy likened the retiring Ruby Walsh to Lionel Messi as he paid tribute to his great friend.
The 20-times champion jockey was at Punchestown to witness Walsh win the Gold Cup before immediately bringing his illustrious career to a close.
"It's a sad day for racing that he's not going to be seen any longer on a horse," McCoy told Racing TV.
"He was the best jockey I ever saw or ever rode against. He's like Lionel Messi playing football - you can't teach kids to be like that, he's just different.
Congratulations to my great friend @Ruby_Walsh on an amazing career. He was like Lionel Messi on a horse. What he had is uncoachable unteachable just better than everyone else.

— AP McCoy (@AP_McCoy) May 1, 2019
"He genuinely had no weakness, he had the style and the strength, the temperament, the judge of pace - he had everything you would want in a top-class sports person and that little bit extra, he was different.
"I don't think people will ever get how mentally and physically strong he was to come back from the falls time and again, you have to be a seriously hard person to do what he did.
"He got to go out on his own terms and not everyone is lucky enough to do that.
"The tough thing is he was as good on Kemboy as he was on any horse in his life, so it's a hard thing to walk away from."