Ruby Walsh paid tribute to the great horses he rode throughout his career, but ruled out a future in training after he announced his retirement from racing.
Walsh, 39, announced his decision after his win on Kemboy in the Punchestown Gold Cup.
Walsh is the Cheltenham festival's most successful rider, winning 59 festival races and being crowned top jockey at the leading meeting 11 times.
Walsh won two Cheltenham Gold Cups on Kauto Star in 2007 and 2009, and shares the record for most wins in the Champion Hurdle with four victories and the Stayers' Hurdle with five wins.
Speaking to RTÉ Sport after announcing his decision to retire, Walsh insisted that his success was down to the calibre of horses he partnered.
"I've been so lucky from day one to ride so many incredible horses. I never dreamt I'd get the ride the likes of the equine athletes that I rode and no jockey is any good without the horses.
"From the very beginning from Alexander Banquet, Kauto Star, Big Bucks, Masterminded, Denman, Huricane Fly, Annie Power, Kemboy, you name them, Un De Sceaux, in anybody's lifetime, I rode the best horses."
When asked whether he'd consider going into training now that his career as a jockey is over, he replied: "No, not in this environment, in this country. Horses will always be part of my life I love working for Willie [Mullins] and I'll continue to do so."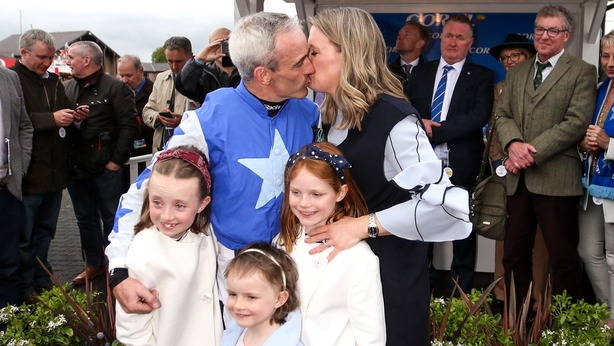 Walsh pointed to his long injury list as a reason to call time on his career now and having broken at least 15 bones in his body, including breaking his right leg three times and a suffering ruptured spleen, he's eager to go out on his own terms.
"Everyone gets their fair share of injuries," he said. "I probably got a fraction more than my fare share but the average is that someone has to have a high average to make up for the lads on the low end, but that's racing.
"To me, I was always taught as a kid that it's all about the big day and that's what it was all about, it was about the big day.
"Being honest, if Rathvinden had won the Grand National I probably would have bowed out then, there's no bigger stage than that, but that didn't happen.
"I talked to [my wife] Gillian a good while ago and there comes a time when you just want to do something else and I've been a jump jockey for 24 years and I'm nearly 40.
"I thought I want to do something else for the next 24 years and I'm lucky enough to have great sponsors and contacts."