In an industry associated with family dynasties and generational ties, Cork youngster Aaron Mackay found racing in a unique way.
He proudly discusses his track record for his age group in go-karting in Cork, set at the beginning of his teenage years.
Prior to that, a more mainstream sport had been the focus of his attention.
The pursuit at the time was, in his words, "for adrenaline".
Racing found him.
"I was very keen on rugby when I was younger," he told RTÉ Sport.
"I played for Sunday's Well. It quickly became obvious that it wasn't the game for me.
"It was the last match that I played where I got thrown around from pillar to post, literally all over the place. I just wasn't able for it with my frame and build. I think I was 12 or so around then.
"I had a big interest in Formula 1 and that led into go-karting. I actually hold the track record at the Watergrass Hill in Cartworld for the KF3 category.
"I'd go there with my father but eventually the costs became too high. We couldn't afford to go further into that sport. It was around time where I was actually watching racing and horses on RTÉ and it just caught my eye.
"I decided to go to Hop Island Equestrian Centre. It had sparked something in me and I originally was looking at showjumping.
"But I was quickly advised that being a jockey suited me and I ended up going to John Joe Murphy and he let me ride out for him.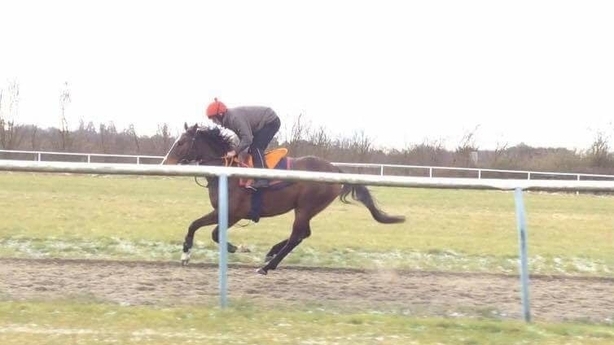 "He taught me everything for two years and I have no words to describe how good he was to me."
There was more good fortune as a friend asked Aaron to ride out on a pony in a chance moment.
It developed into a further education for him, who was also picking up tutelage from jockey coach Warren O'Connor, all the while helping and riding out at Murphy's yard.
"A close friend just asked me to ride out on the pony so I did that, just thinking it could be a handy way to put a euro or two in my pocket. Afterwards, he asked me to ride it in the race that weekend. I just said 'why not?'.
"I think I finished in fourth and before I knew it I was runner-up in the novice championship for the season. It was another great bit of learning for me and by that time the interest was well and truly lit.
"I knew it was the path I wanted to follow and if anything I wanted to put more into it. School was probably the barrier in front of that to an extent.
"I was doing my Junior Cert at this time in Douglas Community School but immediately I felt this passion for racing straight away."
At 15, with the exams complete, Aaron decided to leave education in a classroom behind and pursue a career in racing. Surprisingly, there wasn't too many detractors to forgoing the Leaving Cert.
"I had backing in my decision, my family trusted me in it and encouraged me to pursue this passion that was clearly there and even my vice-principal was really good to me and supportive.
"I was working under John Joe and then doing the pony-racing at the weekends and learning all the time.
"In March 2017 I had the chance to go for my jockey's licence and obviously that was everything I wanted. In hindsight, I wasn't ready.
"My weight wasn't right and I wasn't physically strong enough or fit enough. To sum it up, I wasn't mature enough all around. I didn't get it and rightfully so."
It wasn't going to put the teenager off as he admitted to himself that more work was needed.
He secured a place at the British Racing School at Newmarket, an experience that was the beginning of a passage into a new world in racing.
This was a different education.
"When I got there, I was gobsmacked. The facilities are out of this world. I underwent a four-week training course and it was another unbelievable learning experience.
"The standards at the school were so high. Your attitude, presentation, attention to detail, motivation, it was all factored in. You're being assessed all the time.
"There are only four spaces on the course which is for advanced riders who are on the cusp of stepping up and have a bit under their belt. It only takes place once a year so it was just a massive opportunity. There are people there from Brazil and France and I got this chance so I just grabbed it.
"The plan was I going to go back to John Joe Murphy and get my apprentice licence. I had learned so much from John Joe and now I felt I had even more under my belt after the four weeks."
That roadmap quickly changed as first Andrew Balding took interest in the Cork youngster and then Stan Moore offered him an apprentice opening.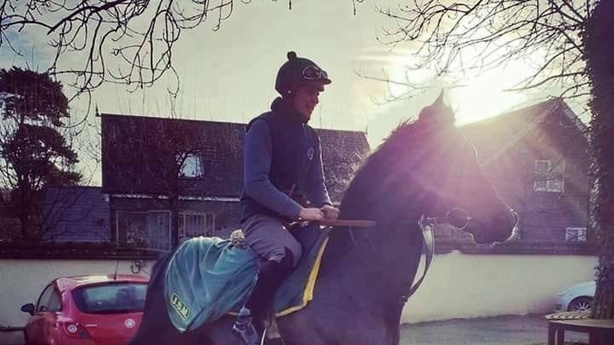 "It's hard to get opportunities in Ireland because the old lads run the show really and it just felt that the better place to be starting off was in England.
"I was offered a start by Andrew Balding. It was tough to leave John because he had been so good to me. He understood I had to take it. It just seemed too good to be true.
"Then Stan Moore made an approach. They had seen me flapping and the confidence in which I was riding and felt I had something to offer.
"I just couldn't believe it where two brilliant trainers were reaching out
"I received my licence on 14 September last year under Stan Moore. This time I was ready. I actually received it with the highest fitness rating overall of the applicants of 93%.
"I've had an incredible time here. Nick Bentley is a jockey coach and Stan's wife Sarah is very much involved and they are all great to deal with.
"My family visit me once a month, I get great support from back home in Cork and I'm just absolutely loving every day here. Life revolves around racing and the yard.
"Stan has had four champion apprentices in recent years, including the likes of Josephine Gordon, and I'm the only apprentice here.
"I've had 15 rides so far, including in a Class 3 at Kempton which was the feature on the card. That is fantastic for someone like me starting off under rules."
"I wanted to drop in and learn a bit but it worked out a whole lot better for me!"

A great interview here with Emma Doyle, the 19-year-old 10lb claimer who's a winner after her first-ever ride this evening at @DundalkStadium pic.twitter.com/W5G1mw5oRs

— Racing TV (@RacingTV) January 4, 2019
Emma Doyle made big headlines for winning one day after receiving her licence in Dundalk two weeks ago.
The Maynooth student was riding for father and trainer Tim, a moment Mackay said he took enjoyment from when seeing it on social media.
He experienced the feeling last Friday at Wolverhampton.
Having spent much of his teenage life learning the game, the Douglas man boarded Warrior Display to victory by a short head in a Class 6 Handicap in just his 15th race.
In six prior runs, the gelding had not even come close to troubling the places but got up at 33/1 as one of the outsiders of the field, with Mackay claiming seven pounds as an apprentice.
"I just started laughing at I was riding down to the enclosure afterwards." he reflects.
"I was trying to convince myself what had just happened. If you watch on television, you might struggle to pick the winner, but I knew I was just ahead of the horse beside me.
"Nathan Evans, who was on the runner-up, congratulated me before it was announced. I was speechless.
"It was a dream world moment and then on the PA system after it was confirmed, they congratulated me on my first win to the entire course. Pinching myself wouldn't do it justice."
The comparisons between Doyle and Mackay are arguably few, but both achievements are admirable.
As Emma goes back to focusing on her studies for now, Aaron has his ambitions set firmly on the sport.
"I will be champion apprentice in 2019," he confidently states.
"I know I have a long way to go but why not be confident? I've worked hard, I'll keep working hard and I'm very grateful to everyone who has helped me so far because I wouldn't be anywhere without all of them.
"I'll be back at Kempton today (Wednesday) and Wolverhampton at the weekend and looking for another winner and I want to be the best apprentice out there."
The track record at Watergrass Hill might not last forever but there are certainly new targets now.