Davy Russell dreamed of winning the Aintree Grand National as a child. When he did it, he said: "Every bit of misfortune that I ever had just drained out of my body".
His moment came last April aboard Tiger Roll, Gordon Elliott's game eight-year-old, who just had enough to edge a thriller across the water.
We need your consent to load this SoundCloud contentWe use SoundCloud to manage extra content that can set cookies on your device and collect data about your activity. Please review their details and accept them to load the content.Manage Preferences
Willie Mullins' Pleasant Company, under David Mullins, made him sweat. But it was Russell's day; an emotional, bittersweet triumph put into perspective by his mother's passing and pre-race Snapchats with his friend Pat Smullen, who was battling pancreatic cancer.
This was a fairytale ending to a story that began in Russell's formative years.
"To watch it as a child, when it was all over the first thing you did was go outside and try to recreate the Grand National," he told RTÉ Sport's Adrian Eames. 
"It was just a bit special; it was different.
"My Dad would tell us, when he was younger they used to pick all the names and put them into a stream and let them flow down the stream. Whichever name came out at the end of the stream first was the horse they backed, they'd have their couple of shillings on it."
Davy Russell has been dreaming of winning the Grand National since he first pulled on a pair of riding boots... 2018 finally made that dream a reality #rtesportawards pic.twitter.com/gnn7fsTgDR

— RTÉ Sport (@RTEsport) December 15, 2018
Russell had fruitless days in the big one. His first outing in 2005, however, gave him a victory of sorts.
"To take part in the race was marvellous. I remember my first ride in it. I'd actually broke a bone in my shoulder a couple of weeks beforehand. It was all about getting back for the Grand National and I rode in it and I thought I might never get another chance.
"The first time I completed was on a horse called Arctic Copper for Noel Meade. The lads that owned him were a good bunch. They said, 'whatever you do, try to complete it, we backed him to complete'.
"Paul Carbery rode one for Paul Nolan that had a chance. My fella was 100/1. I remember jumping five from home and shouting to Paul, 'you picked the wrong one!'.  He was pulling up. I kept going and completed it. Jesus the owners were ecstatic!"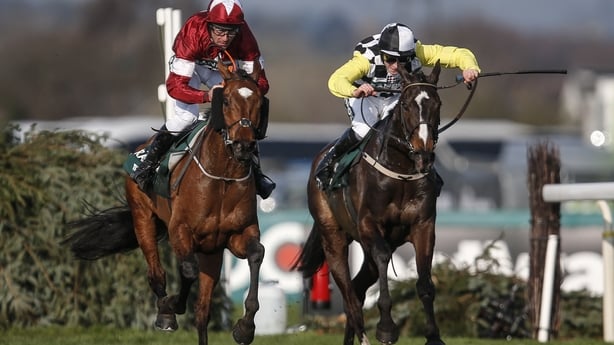 His victory last spring came after a great tussle. An epic marathon climaxed in a desperate sprint. As he crossed the line, Russell thought he'd blown it.
"Every fence is a new game. It all depends on your own horse really. If he has taken to it, there is no better place to be. If he has not taken to it, then there's not much you can do.
"I didn't meet any interference anywhere really. I just kind of stayed where I was. I didn't have to ask him for too much. I was just happy going along. There's not a huge amount of pressure in a Grand National.
"When you line up at the tape no one expects to win it. You're just surviving really, trying to get from A to B. And that it is in the reaction of your horse to the fences really.
"Just after Melling Road I felt that he was going asleep underneath me. I didn't want to go on and kick on and take up the running too soon. I said I'd try and join David [Mullins on Pleasant Company] and get up beside him. As I was doing that, Tiger Roll just came alive.
"I didn't know how far I was gone clear. Off the elbow he was starting to tread water. I knew there was  something coming. I didn't know who it was. I was very, very surprised it was David. I thought I had him done and dusted. 
"Bang on the line I saw this horse flash by me. I said, 'Jesus I'm after getting done'. I thought I'd finished second. I was disgusted but a couple of lads on the ground were sure that I won. You don't know until they call out your name."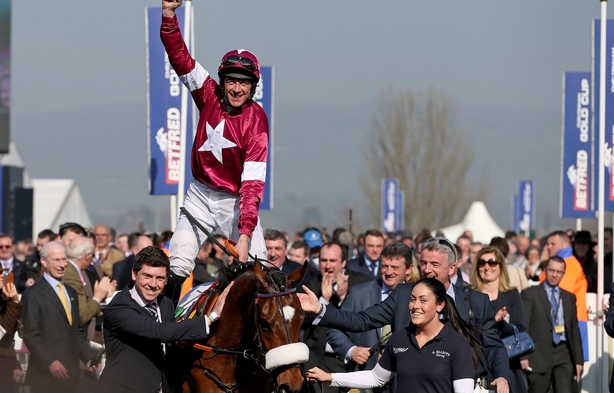 Sure enough, his name was called. Tiger Roll was declared the winner, and Russell was overwhelmed. 
"Every bit of misfortune that I ever had just drained out of my body. This was the one moment that any fella who ever pulled on a pair of riding boots ever wanted. 
"Pat Smullen had Snapchatted that he was starting his journey. I gave him the thumbs up to say I was off to Aintree to jump these big green things!
"And then I thought, 'what have to worry about?' Pat was there, going through a huge thing in his life and I was going out to do something I enjoyed. He was in my thoughts.
"And obviously Mam... she was with me every day, through the good, the bad and the ugly. It's the one day I'd have loved to have her. All my family were crying and so emotional. She wouldn't have said a word, she would have just taken it all in. I know she would."
His name is etched into the history books now. Russell said the day, and his partner in crime, are never far from his thoughts. Tiger Roll is now a Russell.
"I've four kids and one won't go to bed at night until he sees the race. There's pictures of Tiger Roll everywhere. He's nearly a part of the family at this stage.
"It will be with me forever and ever."