Nine-time champion jockey Pat Smullen says he draws strength from the outpouring of goodwill that he has received in the aftermath of his cancer diagnosis.
The Offaly native revealed details of his illness to RTÉ Sport and reiterated his determination to recover as soon as possible.
"From early to the middle of March I started to feel symptoms, pains in my back and stuff like that," said the 41-year-old.
"I thought it was old age, as regards [being] a jockey, and wear and tear. I was getting physiotherapy and plenty of exercise but it wasn't going away.
"Thankfully I went to [Turf Club senior medical officer] Adrian McGoldrick, who is undoubtedly one of the best men I'll ever meet in my life.
"I wish now it was gallstones, which is what we thought might have been an issue but as it turns out I was diagnosed with a tumour on my pancreas.
"So that was a shocking time but we got through that and we're battling away."
Smullen, the stable jockey to the powerful Dermot Weld yard and winner of the Investec Derby and Irish Derby with Harzand in 2016, added: "Once you get over [the shock] I just put my mind to it and said, 'this is the situation that we're in and it's a new challenge'.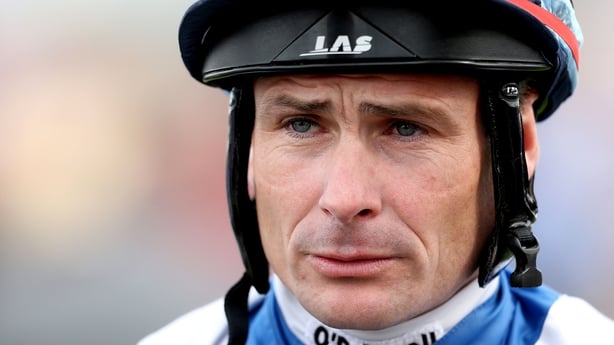 "I focused my mind from day one to fighting this and that's what we're doing. We intend to win this one as well.
"As a jockey you have a great team behind you. Yes, on the day you ride a winner and you take the plaudits but it's a team effort by a lot of people and I really need that team now and they are standing square behind me.
"I'm blessed in that way and I think we're winning the fight.
"It's a tough [chemotherapy] regime but thankfully I'm taking it well.
"I've an unbelievable medical team taking care of me, they have a programme for me and I'm getting through it and hopefully we'll come out the other end.
"You have to be mentally strong. It's not easy as we know, it's a very difficult situation.
"I'm blessed, I can only speak for myself. I'm blessed with a great family that are giving me huge support, standing square behind me.
"The amount of messages I've received from around the world from racing people has been nothing short of overwhelming and that has helped me to focus my mind to fighting this and it has given me great strength.
"Anyone who is out there in the same position, you have to trust your medical team and never give up. You just focus your mind and keep battling forward.
"For me personally anyway, I've a lot to live for."