After suffering a leg break just months away from the Festival, it must surely have crossed your mind that you wouldn't get to this day?
There were times during the four and a half months where I was thinking 'will I or won't I?'. 
I was lucky that it was a straight enough forward fracture. Enda King in the sport surgery clinic in Santry was excellent with managing my rehab. He has timed it right really in how he got me here.
Physically, injuries don't change, they don't get any easier. Mentally, they most certainly don't. As you get older they get harder. I can't imagine I was the nicest person to be living with for the last four months. But we are out the other end and hopefully this week will be a successful one.
What are the mental challenges?
You're sat on the couch with your leg up in front of you - you can't make a cup of tea because you can't carry it from the counter to where you were sitting. That is the mental side; the incapacity. It is difficult and it doesn't change. You're watching horses winning on television that you should be riding. You're useless.
You're sitting at home on the couch watching it on TV. That will never change for sports people. That is the hardest part of being injured for any sport person; watching it.
Does the fact you worked so hard show that the passion is still burning and your desire is as strong as ever?
If you weren't in love with what you were doing, what you want to be getting back to, maybe you wouldn't feel that way. Maybe that does show that the fire is burning and the hunger is still there. I hadn't thought of it that way.
To me, the mental side of it, sitting at home, hanging around; you know you're not in good form but you're trying to put yourself in some good form so the people living with you can, I suppose, then live with you. That is not easy. I wish it was a bit different. I wish I could be a bit happier when I'm hurt but unfortunately I'm not.
Last year, it took over two days for Willie Mulllins to get a winner on the board. How do you see it going this time?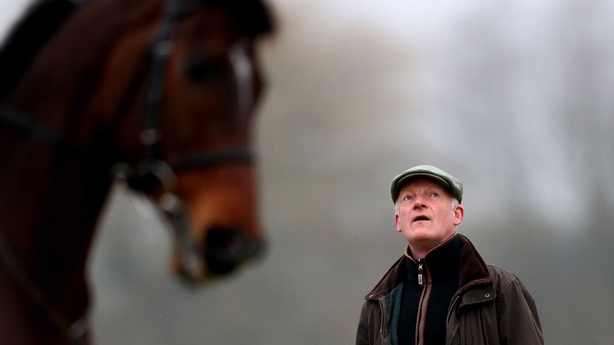 I think it could be slightly different this year. I think we have great chances on the first day. Getabird, Footpad, Willie is well represented in the Champion Hurdle. Obviously we don't have Buveur Dair, so it's going to be a hard race to win.
Benie Des Dieux will have to improve to beat Apple's Jade. Getabird and Footpad are two strong chances in the first two races and it would be nice if one of them could go and win. It eases the expectation a bit on you and makes the rest of the week a little bit more enjoyable.
Faugheen faces a difficult task, trying to recapture form and taking on a star of the Nicky Henderson stable. Willie has made some changes?
We've put cheekpieces on him. I rode him here on this morning (Monday) and he seems to be in good form. His last two runs won't do. His last run where we was second to Supasundae, that will not be good enough to beat Buveur Dair.
He has to come back to the horse he was in November. I don't know if he can or not. I'm certainly hoping he can and we'll certainly give it a go.
What is the latest and how does the change in ground alter things?
The rain-softened ground will certainly be a help and the pace of the races this week will be a bit slower because of the slow ground. It might suit some of the older horses I'm riding. Some might say it will suit the older jockey on their back! But I'm thinking it'll suit the older horses.
It's a different Cheltenham. A Cheltenham on soft ground is different. Racing is different on heavy ground. It becomes far more tactical. The jockey becomes far more relevant on ground like this.  
In the Morgiana, Faugheen was fresh. He hadn't run in 18 months. He was fresh and enthusiastic. Maybe he was too fresh and enthusiastic. Maybe he had too hard a race. But none of that can be changed.
You're trying to reignite the freshness and eagerness. He looked stale to me in Leopardstown, and to Willie obviously. He is the one who has put cheekpieces on him. Through the first mile in Leopardstown, he looked stale.
Cheekpieces is something new. They are not dramatic or drastic but it's something new. Something to try to light that fire.
Douvan v Altior would be a great contest if it did materialise, and the prospect of Min too of course. What do you make of the news from the Henderson camp?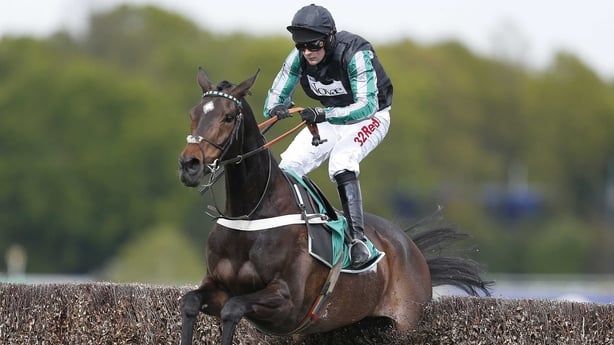 Altior has puss on his foot after a stone bruise. That's very curable. A good farrier that Nicky Henderson will surely have will sort him out. I'd be more optimistic than some people about his chances of running. I've seen lots of horses the morning of races get over that. It would be great for the meeting if he turns up.
Obviously for Ruby Walsh, if Altior is not there, it makes things a bit easier. I've opted for Douvan. There was talk about moving him to the Ryanair. The horse with the potential to beat Altior is Douvan.
I don't think Min has as much chance of beating Altior. Douvan at his very best could.
Is he at his very best? We don't know because we haven't run him this year. He got laid up before the Tingle Creek and it would look like he'd miss the rest of the year. I think he's in good form at home. I like the way he looks, there is plenty of bounce and spark about him.
I always thought he was a talented horse. It would be great if he could bounce out here on Wednesday and go and beat Altior. It won't hold the same merit if Altior doesn't run.
Conditions will suit Un De Sceaux in the Ryanair. The ground is surely going to have a big say?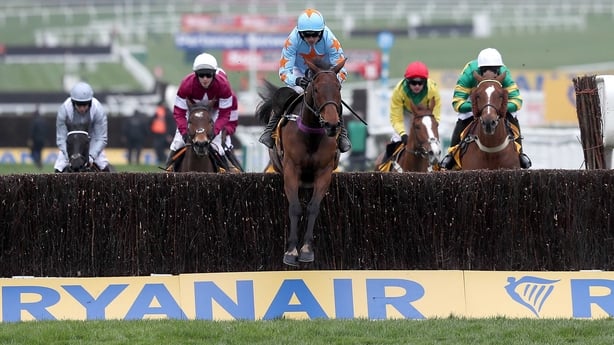 The course is very soggy but Cheltenham dries incredibly well. It will be very dead, holding ground on the opening day.
There's a lot of rain forecast on Wednesday night which will really suit Un De Sceaux. 
On really heavy ground, he's relentless and is able to gallop through it more easily than other horses.
On Friday comes the Gold Cup, have you decided what your ride is? You have a lot of options.
I don't know. Killultagh Vic, Totall Recall and Djakadam won't travel over until Wednesday morning. I'll have to see how they are then.
Is Djakadam perked up? Is Total Recall too perked up? You're trying to split hairs picking between the three of those anyway.
It's a tough choice as to which one to pick. You're trying to pick the right one of Willie's, and it's a 16/1 shot, and hoping a 16/1 shot can go and win the Gold Cup. It's pretty difficult.
I will leave it to the last minute, see how they adopt to the surroundings, and then put three names into the hat and pull one out!
Ultimately, the choice will be ground-related.
If the ground dries out, I'll be leaning towards Total Recall with his speed. If it stays heavy it will suit Killultagh Vic more the way he jumps. He's a bit slow to jump and he will want to race to be run a fraction slower.
Do you think Might Bite is a worthy Gold Cup favourite and the one to beat?
Yes. Might Bite is an incredible athlete. His performance in winning the RSA last year was astounding. 
The speed he went, for him to stop at the back of the last, start again and then to go and win the race, well what more can you say? He has so much natural ability.
What rides of yours stand out of the ones that we haven't mentioned?
Laurina in the Mare's Novice Hurdle on Thursday evening will be very strong.
Invitation Only has a good chance in the JLT. Marie Devie has an each-way chance in the County Hurdle.
They would be the stronger ones. I ride a horse in the bumper called Carefully Selected, who I would have always thought was a bit slow, but maybe on this ground with the way things are going, he could get involved.
We need your consent to load this SoundCloud contentWe use SoundCloud to manage extra content that can set cookies on your device and collect data about your activity. Please review their details and accept them to load the content.Manage Preferences
Follow all the action from Cheltenham with our daily live blog, as well as tips and previews on RTÉ.ie/sport and the News Now App. Listen to every race live on RTÉ Radio 1 Extra. Download the RTE Radio player app to listen on any mobile phone or tablet. Android/Apple