In this extract from Festival Fever: The Irish at Cheltenham, Anne Holland explains how the National Hunt Festival became ingrained in the Irish psyche in the 1980s.
***
Cheltenham Racecourse sits in Prestbury Park, on the outskirts of the gracious spa town, and is guarded over by mighty Cleeve Hill on the edge of the Cotswolds, making the racecourse bowl below resemble an amphitheatre.
For the last twelve months, trainers, jockeys and owners have dreamt the dream of having a runner – or better, a winner – at the Festival; Joe Public will have spent six months following horses that might be Cheltenham-bound, and he, too, will feel a tingle down his spine as he enters the milling throng that abounds inside the racecourse.
The twenty-first century has seen more Irish winners than ever before, but the Irish–English rivalry is nearly as old as the Festival itself. Even before Vincent O'Brien barnstormed the Festival in the late 1940s and early 1950s, there had been a scattering of Irish-trained winners.
To qualify as an Irish win, a horse has to be trained in Ireland; if this were not the case, Ireland throughout the ages would often have topped the table, as so many Irish-bred horses are sold to England and trained there, their victories then going down as English.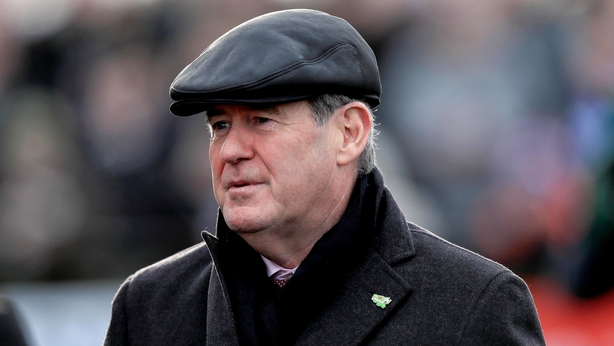 An example would be an Irish-bred horse, owned by JP McManus, ridden by Barry Geraghty and trained by Jonjo O'Neill, all as Irish as they come – but Jonjo trains in England – in fact in the Cotswolds, just a stone's throw from Prestbury Park – and so it goes down as an English winner.
Although it may seem that all the racing fans of Ireland attend the annual National Hunt Festival at Cheltenham, the increase in the last number of decades did not come about entirely by chance or through simple enthusiasm. Sure, there was a healthy Irish–English rivalry, but for a long time it was mainly those connected with runners who came over. Run-of-the-mill racegoers had plenty of Irish tracks to attend themselves.
In 1989, there was no Irish-trained winner at Cheltenham, and only one in each of the previous two years (Galmoy, trained by John Mulhern and ridden by Tommy Carmody, in the Stayers' Hurdle both times). It was then that the Cheltenham executive became concerned, and set about enticing more Irish runners over. One problem identified was the comparative softness of Irish steeplechase fences compared to the much firmer ones at Cheltenham; Irish horses weren't used to them, and found them harder to negotiate.
One practical step was for Cheltenham to take a stand at major Irish meetings, complete with a section of steeplechase fence, with Cheltenham's then chief executive Edward Gillespie undertaking a charm offensive. Irish racecourses began to copy the fences, and, in some measure at least, this led to the turnaround in Irish fortunes at the Festival.
Another problem was the discrepancy in some rules between British and Irish racing, such as in the use of the whip. A rule had been introduced in England limiting the number of strikes a jockey could give with his whip, especially after the last fence.
As Irish jockeys were not used to this, Cheltenham racecourse moved the last fence a little nearer the finishing line, leaving a shorter run-in and therefore less opportunity for jockeys to give too many strikes with the whip. It must be added that the whip itself has today been altered drastically, so that it is little more than a soft pad; a horse may be encouraged but not hurt by it.
This dearth of Irish winners also coincided with the Iran–Iraq war, and that conflict was stealing the headlines. This made it difficult for Peter McNeile, the then marketing manager of Cheltenham, to gain photo opportunities, so he organised a syndicated series about the Festival to newspapers large and small all over Ireland.
The result was that tiny, maybe spurious, titles began applying for and being granted Press accreditation to the Festival, and their reports and photographs in turn stimulated more Irish to come to subsequent Festivals.
Another ruse was to take parties of accredited British newspaper racing journalists over to Ireland. This was in the days when there were dedicated racing desks on all the national newspapers.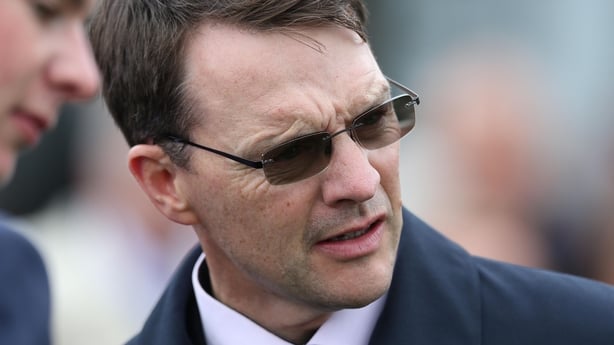 One visit was to Aidan O'Brien's stable when he was training Istabraq, three times winner of the Champion Hurdle, and before Aidan became the big Flat player that he is today.
Such trips enabled both trainers and journalists to get to know and trust each other in quality time, strengthening media relations, which could be valuable should something contentious occur at the Festival.
The Irish press were also invited to these events. One such occasion saw the launch of the Anglo-Irish Bank as sponsors of the Supreme Novices' Hurdle at the Dunraven Arms, a sporting hotel in Adare, County Limerick. This is only a mile or two from trainer Michael Hourigan, who gained his first Cheltenham winner with Doran's Pride in the 1995 Stayers' Hurdle. One memory of the occasion for Peter McNeile was of one of Michael's sons "taking loads of money off the visiting journalists with a three-glass trick".
On another occasion, the party was being entertained to lunch by Michael Smurfit at his world-renowned K Club in Straffan, County Kildare.
This is a magnificent nineteenth-century mansion, set in 550 acres, home to two championship golf courses and bounded on one side by the River Liffey. Michael Smurfit converted it to a five-star hotel in 1991, and in 2006 achieved his dream of hosting the Ryder Cup there. It was about halfway through the meal with the racing press that Peter McNeile noticed their host was being plied with a separate, superior bottle of wine.
"Michael Smurfit was a game-changer for sponsorship," Peter McNeile recalls, "and led to many Irish sponsorships, helped by the Celtic Tiger."
Former Cheltenham chief executive Edward Gillespie agrees, and recalls his own dealings when securing the Smurfit sponsorship for the Champion Hurdle.
He was accompanying the then Cheltenham chairman Lord Vestey, and Michael Smurfit also had the chief executive of his packaging company with him. Lunch was again in the K Club.
In typically Irish fashion, just about every subject under the sun was discussed, except for the main one. Golf, politics, golf again, medical matters, more golf … Every time Edward tried to steer conversation round to the Champion Hurdle, it went off at another tangent – usually golf.
After two-and-a-half hours – Michael Smurfit with his own wine – they reached coffee, and suddenly Michael Smurfit came out with, "What I'd like to do is this: three years of this … and two years of that …"
'Great,' said Sam Vestey, and the two men shook hands; that was that, and Michael Smurfit left. When he had gone, Michael Smurfit's chief asked Edward Gillespie, 'What have we just agreed?' Edward filled him in, and the sponsorship became one of Cheltenham's most successful.
It had a knock-on effect, too. One year, Michael Smurfit and George Ward, whose Grunwick Group sponsored the Bonus Print Stayers' Hurdle, were dining in the Royal Box and chatting about their respective businesses. The upshot was that Smurfit secured the contract for the packaging of Grunwick products.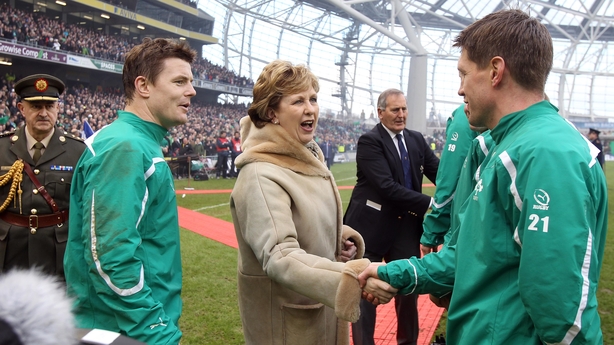 The Festival was attended one year by Mary McAleese when she was President of Ireland, along with half of the Irish Rugby team. They came on the Thursday, prior to playing England at Twickenham on the Saturday.
British-based Irish companies bring not only lots of entertainment to the Festival, but also considerable sponsorship. They love Cheltenham's unique flavour and recognise that uniqueness in promotions.
Most such sponsorship deals have been made in Dublin, with firms like Guinness, the Irish Times, Independent and Star. Peter McNeile remembers the sales rep of the 'Indo', Eugene Fitzsimmons, well, "a charming guy who loved his racing, like so many of them".
Today, Ryanair supports the top two-mile five-furlong steeplechase, and its boss, Michael O'Leary, along with his brother Eddie, have become huge racehorse owners in Ireland under their Gigginstown House Stud banner. In days gone by, the Champion Hurdle was sponsored by the now-defunct Waterford Crystal, and then by Smurfit/Kappa Smurfit.
The Irish Independent was a long-standing sponsor of the Arkle Chase, and Guinness has been a sponsor of the Guinness Enclosure for twenty-five years; this includes a temporary seated grandstand opposite the final fence, and a whole village of assorted trade stands. Some 265,000 pints of Guinness are drunk during each Festival. The Irish Independent now sponsors the Leading Owner award.
Another successful scheme to entice more Irish participation from the 1980s was a free race-card given with the Independent in the UK – a logistical challenge to get cards for the day's Festival inside some 20,000 papers in the early hours.
This was aimed at people watching from home, including many ex-pat Irish. It resulted in scores of them coming to the Festival in person the following year, and this in turn fuelled the Festival's popularity. The Festival made a big impact on circulation, so the 'freebie' brought a tangible return to both parties, a win–win situation.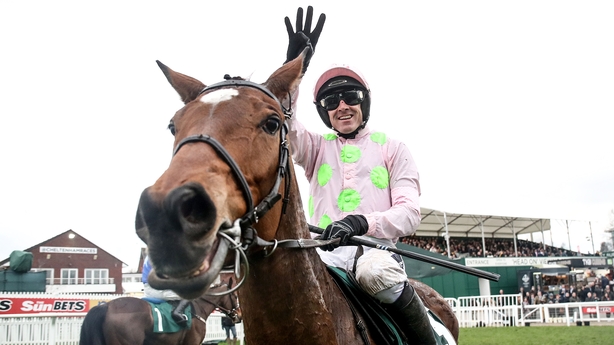 Peter McNeile adds: "All the Irish winners are a great thing for the Festival, including with the English. The Irish love competition, plus the spirit of adventure in coming over here. It is remarkable that such a small country can deliver such a large impact, not just commercially but also emotionally. They embraced the Festival and took it to their hearts. The Irish are also very pleasant to deal with and quite straightforward – but great characters, too."
Another ploy was to offer generous travel grants to the connections of possible Irish runners. This worked like clockwork, bringing the number of Irish runners up to a steady seventy to eighty horses per year, of which approximately ten percent won.
Since the early 2000s, these figures have increased year on year – 2006 was the first time that Irish winners reached double figures, and in 2008, the Irish brought 124 horses, the first time the number topped 100, and they won eight races. With the exception of 2011, when there were ninty-seven Irish horses, the number of Irish runners has consistently been more than 100, the most being in 2015, when 155 Irish runners brought them thirteen wins.
In 2017, the percentage of Irish wins in the twenty-eight races was a fraction under 70%, a phenomenal feat for a tiny nation.
These wins came not only via the bandwagons of Willie Mullins' mighty stable and, increasingly, that of Gordon Elliott, but also included a steady stream of winners from stables that house a bare handful of horses.
Extracted from Festival Fever: The Irish at Cheltenham by Anne Holland
Available in all good bookshops and online. RRP €19.99
http://www.obrien.ie