In this extract from Festival Fever: The Irish at Cheltenham, Anne Holland discusses some of the more famous Irish pilgrims to Cheltenham.
***
For Irish music duo Foster and Allen – popular worldwide for their mix of Irish traditional and folk songs – Cheltenham holds special memories, not only of the runner they had there in the 1992 Stayers' Hurdle, but also for the song they recorded for the Injured Jockeys Fund, and promoted at the Festival a decade later.
Mick Foster and Tony Allen hail from Mullingar and Moate respectively, in County Westmeath, and have been performing on accordion and guitar for forty years. They have regularly toured Australia, New Zealand, South Africa, America and Canada in addition to the UK and Ireland, but when at home, Mick likes nothing more than to ride and care for his horse, and follow the racing.
Mick Foster has been to the Cheltenham Festival many times, and in 1992 he and Tony Allen had a runner in the Stayers' Hurdle. This was a mare by The Parson which the duo bought at the last Derby Sales to be held in Ballsbridge, Dublin, in 1988.
They named her Nancy Myles, after a song written by a friend, Kevin Sheerin. In later years, they discovered a pub in Tralee called the Nancy Myles, and asked the barman how it came to be named. The barman told them 'after a horse owned by Foster and Allen', without realising who he was talking to.
After her purchase, the duo asked Francis Flood at Grangecon, County Wicklow, to train her. She proved every rookie owner's dream, for she won an incredible nineteen races – three on the flat, three 'bumpers', three chases and ten hurdle races, including three at Listed level, between 1989 and 1993.
She was almost always ridden by a member of the Flood family, although Mick Kinane was on board for one of her flat race wins. Her visit to Cheltenham was not so successful, as she finished down the field on what was to be her only venture out of Ireland.
Mick and Tony went on to own a number of horses, most of whom won for them – all except the horse named Foster and Allen. Another mare, the best she could manage was one second placing and three thirds.
Recording a song for the IJF was the brainchild of a friend, Seamus O'Connor, whose father Nicky was travelling head lad to Tom Dreaper during the heady Arkle days. Nicky looked after stars like Straight Fort and Carvills Hill himself, and would depart on the Sunday of Festival week with four or five runners, so Cheltenham was very much part of growing up for Seamus.
He longed to go there himself, and when he was older he became a regular visitor to the Festival. In particular, he remembers standing at the last fence of the 1986 Gold Cup.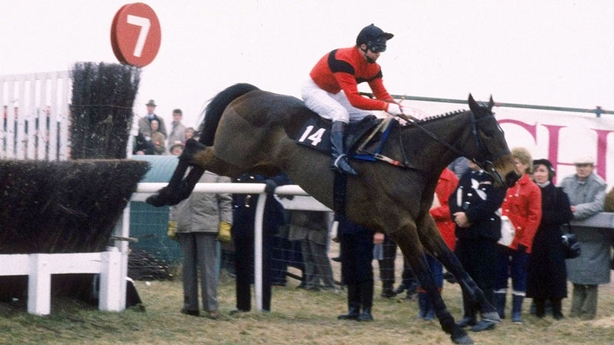 'I thought Dawn Run had no chance of getting up to win from where she was.'
He was not alone; tens of thousands more in the stands and watching on television thought the same thing, and no matter how many times the recording is replayed, you still think 'she can't get up'.
Seamus combines a love of music with the pub trade, and is based in Willesden, northwest London, where he quite often gets asked to recommend a sports star for opening a pub, or similar event.
It was when fellow Irishman Adrian Maguire, one of the most talented of NH jockeys, was forced to retire through serious injury in 2002, that Seamus came up with the idea of making a recording for the Injured Jockeys Fund, specifically to help people like Adrian.
He called in the willing services of Foster and Allen, and roped in a choir made up of top Irish-born jockeys AP (now Sir Anthony) McCoy, Ruby Walsh, Seamus Durak, Mick Fitzgerald, Johnny Kavanaugh, Jimmy McCarthy, Eddie Ahern, Liam Cummins, Micky Fenton, Jimmy Gallagher and Jim Culloty.
A meeting was called at the Blowing Stone pub, Kingston Lisle, close to the Berkshire Downs, where it was decided to sing 'The Fields of Athenry'. This was recorded at O'Neill's in Wardour Street, central London, directed by Richard Willoughby, currently the racing editor of the new ITV 4 Racing; at that time, he was with Racing UK, and it was their crew and cameras that were used for Seamus O'Connor's venture.
The record was promoted widely at the 2003 Cheltenham Festival, and a few weeks later a live broadcast, with the addition of Barry Geraghty in the choir, was made in the weighing room. It was shown on BBC Television at the 2003 Aintree meeting – when victory in the Grand National went to Monty's Pass, ridden by none other than Barry Geraghty, and trained in County Cork by Jimmy Mangan.
Cheltenham used to be associated with shamrocks and priests, but both have dwindled in recent years. There was a time when Irish priests were forbidden from racing, but, come Cheltenham time, it was surprising how many of them 'had to attend a course'.
The best known was Father Sean Breen, who never missed a Festival in 40 years from Arkle's first Gold Cup in 1964; he died in 2009, at the age of 72. His last parish was Ballymore Eustace, County Kildare.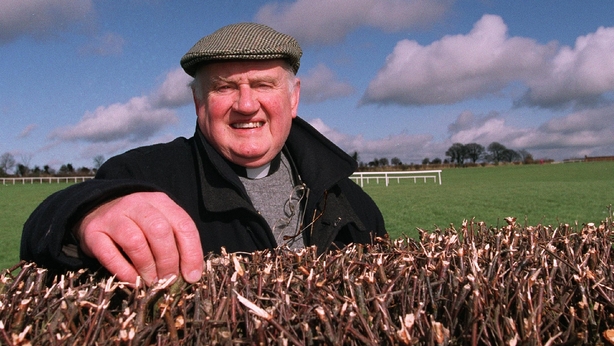 Father Breen – 'the Breener' – is remembered for the well-attended Mass he would give outside a Cheltenham hotel each year before the Festival, as well as for his tips. It was he who, in 2005, blessed Kicking King shortly before that horse won the Gold Cup for trainer Tom Taaffe.
Father Breen was also a successful racehorse owner, and formed the Heavenly Syndicate with two friends. Their flat horse, One Won One, won twelve races, trained by Joanna Morgan, a friend of his (and who has joined the ranks of trainers to give up). Father Breen was also co-owner of Portant Fella, which won fifteen races under NH rules.
Unfortunately, he did not live to see a Joanna Morgan-trained runner at the 2009 Festival called Raise Your Heart. Another horse, trained by Oliver Sherwood, was named after him – The Breener won the Challow Hurdle at Newbury, and finished third in the Supreme Novices' Hurdle at the Festival.
He said part of the fun of Cheltenham was catching up with old friends. He raised many hearts and souls, and is quoted as saying, 'There is nothing in the Bible that says you can't gamble. We have to lighten up a bit.'
For Father Jimmy Browne, priest in residence for Ballyneale and Grangemockler in County Tipperary, the fun with friends is at home around the television for big races like the Gold Cup, with plenty of food and drink on hand. 'It makes a nice finish to the hunting season, and a nice social gathering,' he says.
He adds that he doesn't go to Cheltenham, because he is not good in crowds, 'but I'm okay in a pen of cattle or horses'.
Of priests at Cheltenham, he says, 'That generation has almost died out. The sporting tradition doesn't exist among the younger priests. There's very few sporting clergy left; they don't hunt, shoot, fish or have a dog.'
Extracted from Festival Fever: The Irish at Cheltenham by Anne Holland
Available in all good bookshops and online. RRP €19.99