Former footballer Michael Owen was not ruling out taking to the saddle again after enjoying one of the biggest thrills of his life when finishing second on his race-riding debut at Ascot.
Owen, 37, who also starred for Liverpool, Real Madrid, Newcastle and Manchester United in his playing days, compared the experience to playing in a World Cup after steering the Tom Dascombe-trained Calder Prince to fill the runner-up spot in the Prince's Countryside Trust charity race.
Owen, who was presented with a memento after the race by Prince Charles and the Duchess of Cornwall, said: "The horse was great and I'm really pleased with how it's gone. I can't keep the smile off my face, I loved it.
"It was almost like playing in the World Cup quarter-final against Brazil when your phone goes mental for a day or two with hundreds of texts. I think my phone is cooling down somewhere."
Owen made his move rounding the home turn and briefly joined Golden Wedding for the lead, but the latter asserted in the last of the seven furlongs in the hands of Tom Chatfield-Roberts.
Owen added: "They seemed to go really quick, it was the fastest I've ever been on a horse, but the horse slowed into the back and whipped up on the inside and all of a sudden I was in front - I was thinking 'come on now'. But that was a long way (out) and I got very tired in the last furlong.
"I enjoyed it enough to say I would do it again. It would be a shame to stop riding after that. However, I've got four kids and I don't want to hurt myself. I absolutely loved it and I wouldn't put it past me."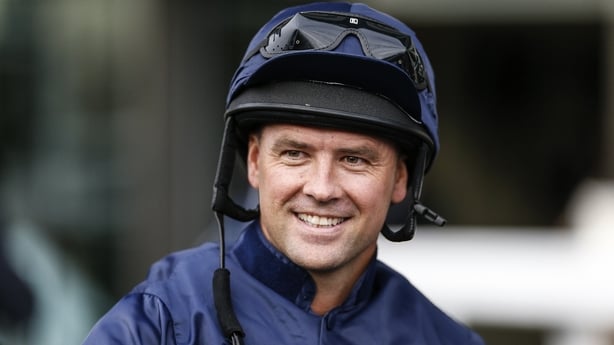 Since hanging up his football boots in 2013, Owen has devoted most of his time to his Manor House Stables in Cheshire and it was a horse trained there that gave him his first taste of race-riding.
Calder Prince, a four-year-old gelding rated 88, had previously won four of his 27 starts.
Owen said: "I'd like to think plenty of good will come out of it, with lots of money raised for charity. We're all home in one piece and I had the time of my life.
"I've been coached brilliantly at home. I've had so many people help me out. Tom Dascombe has been brilliant, as has his assistant Colin (Gorman).
"Closer to the race the likes of Hayley Turner came and rode out and gave me a lesson and so did Richard Kingscote. I've had messages from the likes of Frankie (Dettori), Tony McCoy, Barry Geraghty and Ruby Walsh. Everyone was wishing me well.
"The not eating bit was hard. I've lost 20lb in the last three weeks and that was a killer. I'm going to stop at every service station on the way home and eat everything again."
Dascombe was keen to pay tribute to Owen and expects his competitive streak to lead to him riding again in a bid get his head in front.
He said: "That was brilliant. I'm thrilled.
Michael Owen completes his comeback from these falls to make his riding debut in a charity race at @Ascot ??

Good luck to all the jockeys involved ????

?? The Prince's Countryside Fund pic.twitter.com/XU6FnEnjuR

— Sporting Life (@SportingLife) November 24, 2017