Willie Mullins has hailed the retiring Annie Power as one the best horses he has ever trained and says returning to win the Champion Hurdle a year after falling in the Mares' Hurdle was the five-time Grade One winner's greatest triumph.
"She was one of the best horses we ever had, never mind best mare," he told RTÉ 2FM's Game On.
"I'm glad that she's retired in one piece. And I'm glad that she got a chance to win her Champion Hurdle after falling at the last.
"That was the probably the best day of her career for me."
Owned by Rich Ricci, the nine-year-old has been retired in foal to Camelot after failing to make it to the track last season.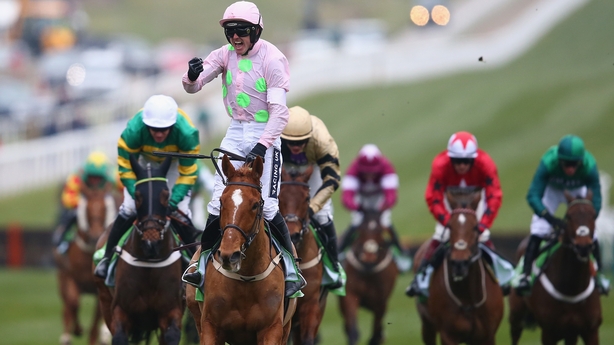 She proved a more than able super-sub when stepping in at late notice to replace injured stablemates Faugheen and Arctic Fire in the 2016 Champion Hurdle, and proceeded to make all the running under Ruby Walsh.
"She was a brilliant mare. We didn't have much luck with her this year, but she's sound and well and retiring to the breeding shed - to me sadness would have been if something happened to her," Walsh told Racing UK.
"She rode out this morning, she's retired and she's in foal and hopefully she might breed something for us.
"Obviously she was well placed by Willie, she won a Grade One as a novice and the following year she started off by beating Zarkandar at Ascot and her first defeat wasn't until More Of That beat her in the World Hurdle, her 11th run. On the day she just didn't settle well enough to win over three miles.
"The twice she got beat was at Cheltenham, behind More Of That and when she fell in the Mares' Hurdle when she would have won.
"That's racing, especially jumps racing, somewhere along the way you are going to have a bit of bad luck.
"She kept coming back, even last year she was dropped in at the 11th hour to win a Champion Hurdle and that was one of the best performances of her career, and after that she pulverised My Tent Or Yours and Nichols Canyon at Aintree.
"It's disappointing we haven't seen her since, but that's the make up of Annie Power."
"She delivered on big days. With Faugheen and Arctic Fire having gone by the wayside she delivered when you needed her."
He added: "We had so much belief in her at home, it was a relief she got to deliver that in the Champion Hurdle. To do it in a championship race against the geldings was great.
"She was always in control, my one worry was if her jumping would hold up at that pace, but she never missed a beat, she was never going to be beaten.
"I've been lucky enough to have her at home the last two summers and she's like a lamb.
"Any horse that wins lots of races is great. She delivered on big days. With Faugheen and Arctic Fire having gone by the wayside she delivered when you needed her.
"She'll take a fair bit of replacing, but it was great to have had her."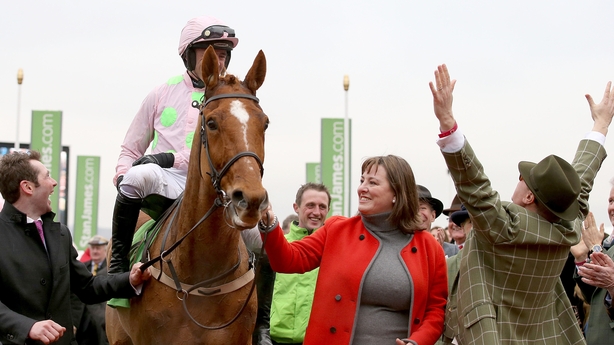 Annie Power's owner Rich Ricci has spoken of the special place in his affections the Champion Hurdle winner will have.
Associated with some of National Hunt racing's biggest names through his link-up with Willie Mullins, Ricci has never been shy of commenting how much Annie Power meant to his wife and family.
The nine-year-old mare is already in foal to Derby winner Camelot, and the charismatic former banker can at least be thankful she exits stage left still in one piece.
Ricci said: "I think of her as a wonderful racemare who produced probably the two most memorable moments in recent Cheltenham history, when she firstly fell at the last in the mares' race and the following year won the Champion Hurdle.
"She will always hold a special place in the affections of myself, Susannah and our family.
"We're lucky that she gets to retire as a Grade One-winning championship mare."