Punchestown has enough in-built excitement without a need for any sub-plots, but this week's five-day jumps extravaganza will also host the dramatic denouement to a thrilling jumps trainers' championship.
Perennial champion Willie Mullins started the season on the back-foot when 60 Gigginstown-owned horses left his County Carlow yard in a fees row with leading owner Michael O'Leary, and the intervening months have offered respite in only fits and spurts.
He has maintained an extraordinary strike rate of a winner in every three runners and remains in the championship race but in the meantime found himself eclipsed at Cheltenham by Gordon Elliott and it is Elliott who has made the best of his way home in the domestic battle too, leading Mullins by almost €400,000 with just five days' racing left in the jumps title race next week.
"It's going to be very hard to catch Gordon," admits Mullins, talking to RTE Sport. "He has a nice lead coming in and with such good place money at Punchestown, even if Gordon was to keep having horses placed, he would stay ahead.
"We're just hoping that we can knock in a few big ones, cut back the deficit early in the week and slog it out. But definitely, we haven't given up, we're still in there - it wouldn't be worth winning unless it was tough."
Mullins has an enviable Punchestown record and while he will go to battle next week without the injured Douvan, he does hope to have Annie Power to welcome back to a team that will also include Cheltenham winners Un De Sceaux and Penhill. The skill of keeping horses fresh from Cheltenham to Punchestown is one he has mastered.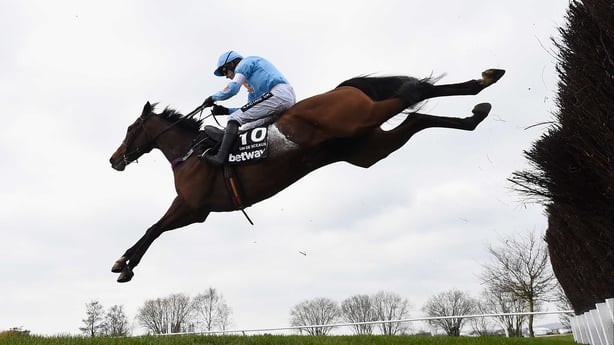 "We don't normally go to Aintree and instead prefer going to Punchestown from Cheltenham," explained Mullins. "Punchestown is a very fair track and we've had lots of luck here. We need easy ground for a festival like this and they'll be watering right up to eve of the festival which is important."
And if Mullins is to snatch an unlikely and dramatic victory, stable jockey Ruby Walsh will likely play a leading role.
"We had a good week in Fairyhouse over Easter, but we didn't get the bounce of the ball and things didn't go as well as we had hoped, but we'll give it a go next week," said Walsh.
"We've plenty of chances, plenty of horses to run. Willie didn't send many to Aintree so we should have enough left in the tank to come and compete well. Melon will be trying to overturn the Cheltenham run with Labaik, Un Des Sceaux is there, Djakadam will be on a recovery mission, Annie Power will hopefully be back and there's Vroum Vroum Mag too…a lot of horses, a lot of big chances.
"Annie Power is in great form and is in numerous races from Thursday on. She could run in the 2miler or the 3miler or the mares. She's in really good form, it'd be great to have her back - and we could need her too."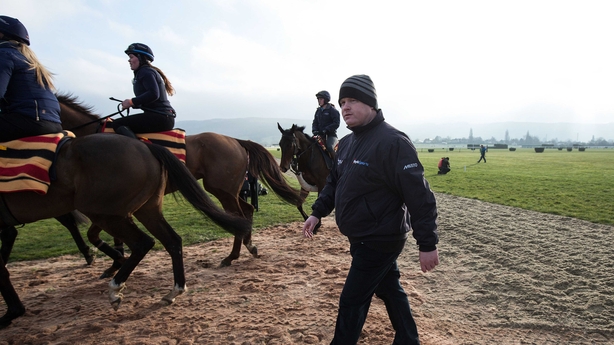 Elliott, for his part, might be the long odds-on favourite with bookmakers to win a first trainers' title, but is taking nothing for granted.
"The ammunition Willie has is unbelievable," said Elliott. "We've a nice bunch of horses that we're really looking forward to but it's by no means over. It'll be a long week."
"To win it next week means you're still training winners and if we had a couple of winners this week would be massive. It would be nice to do it, if it doesn't happen this year we'll be disappointed, but it might happen some time.
"You'd be looking forward to Apple's Jade in whatever race she runs in, Diamond King in a handicap chase, and Labaik in the novice hurdle on day one. Labaik is a good one, but he's a tricky horse who doesn't always jump off."
Watch live coverage of the Punchestown Festival on RTÉ One from 4pm to 6pm, continuing on RTÉ2 from 6pm to 7pm, Tuesday April 25 to Friday 28, and from 2.50pm to 6pm on Saturday 29