Barry Geraghty admits he briefly thought about trying to ride at Cheltenham before realising that broken ribs and a collapsed lung would rule him out.
The Meath jockey suffered serious injuries in a fall on Charli Parcs at Kempton less than two weeks out from the biggest national hunt festival in the world.
Such is the lure of the Cotswolds in March, Geraghty actually thought that he might be able to make it, though sense eventually prevailed and he pulled out.
"I broke three and maybe four ribs in my back, punctured my lung and it collapsed," explained the 37-year-old, speaking to RTÉ Sport.
"Once the lung came right I felt that I could have made Cheltenham. But I know if I turned in in the Supreme Novices' Hurdle on the first day, needing to throw the kitchen sink at it, I'd be in bits and booking the first flight home."
Geraghty went on to reveal that he isn't taking any pain medication despite his injuries, typically playing down their seriousness, and that he would be glued to the television cheering on the JP McManus-owned horses he was scheduled to pilot.
"I'm on none because I'm a better patient when I feel a bit of pain. If I was on painkillers, I'd be flying around doing everything," he noted.
"Ribs in the back, it's funny, aren't as bad as ribs in the chest because they rise and fall every breath, cough, laugh sneeze. I've broken ribs in my chest before and it's much worse.
"I'm gutted to miss out. I was down in the dumps yesterday, I was down in myself and then I went to do a Cheltenham preview for Temple Street and with the staff and kids there, you wouldn't be feeling sorry for yourself in there," he said.."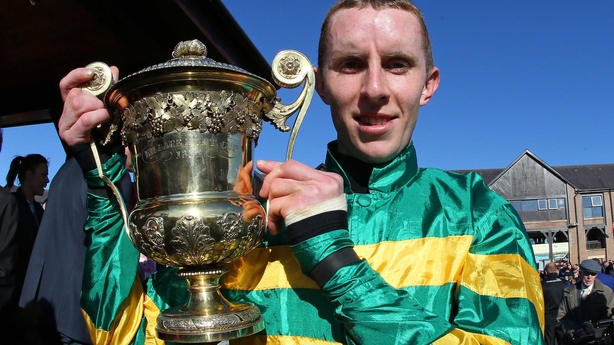 "I'll be glued to it - if I didn't, the time would be longer wondering what's happening. I'll watch everything, but I won't travel over - there'd be no rest or recovery doing that and it would be harder to be out and about.
"I'll be glued to the box. I'll be engrossed in it and watch every minute of, but it'll be a different view from every other year.
"Mark Walsh will ride the bulk of JP's horses and I'll give him any help I can, not that he needs it because he's a top class rider.
"If he wins a Champion Hurdle on Yanworth, it'll be great for him and for the boss as well. It'll be good all round and I won't be at home with the voodoo doll.
"It'll be a hard week, but I'll be delighted to see success for the McManuses and Mark. They're people you'd be happy to see doing well. If I was in Cheltenham they're the people I'd like to see having winners so I won't be torturing myself about that."
Geraghty is hoping to be back time to ride at the Grand National in Aintree on April 8, six weeks after his fall.
For Cheltenham he is tipping Yanworth in the Supreme Novices' Hurdle, Defi de Seuil in the Triumph Hurlde and Uxizandre in the Ryanair Chase.
Speaking about the Ryanair Chase, he said: "Un de Sceaux is the big threat there and that's going to be a hot race. That was the one that was going to give me the big buzz."
*Listen to all the action from Cheltenham live on RTE Radio next week, from 1pm on Radio 1 Extra and LW, and on the Ray D'Arcy Show on Radio One from 3pm.