British Horseracing senior handicapper Phil Smith insists "there is no semblance of any anti-Irish bias" following the publication of the weights for the 10 handicaps at the Cheltenham Festival.
Smith and his team have been criticised in some quarters for handicapping Irish horses running in this country, instead of using performance figures from their homeland.
Michael O'Leary, owner of Irish powerhouse Gigginstown House Stud, has been one of the most vocal opponents and has consequently removed eight horses from the Randox Health Grand National at Aintree in April.
Last month, Gigginstown race manager Eddie O'Leary, brother of Michael, called the weights for the National "a pre-Brexit, post-Brexit handicap".
But Smith said in a statement that the BHA's handicapping approach with Irish horses has provided "greater equality and fairness" after years of what he felt was a "disproportionately high success rate of Irish runners in British handicaps" - most significantly at the Cheltenham Festival.
He said: "This is in no way a comment on our colleagues in Ireland. It is purely for consistency purposes - handicapping will always be subjective and it makes sense for every runner in handicaps in Britain to be assessed by British handicappers using identical methodology.
"Since switching approaches the strike rate of British and Irish runners have levelled out with the Irish strike-rate remaining marginally higher at 11 per cent compared to 10 per cent for British runners.
"We have also monitored success rates at the four major festivals since 2006, where the British strike-rate is 250 winners from 5,199 runners at 4.8 per cent, compared to 154 Irish winners from 2,990 runners at 5.2 per cent.
"The jump handicappers are confident that based on these figures there is no semblance of any anti-Irish bias and that keeping our own Irish performance figures has given our handicaps greater equality and fairness."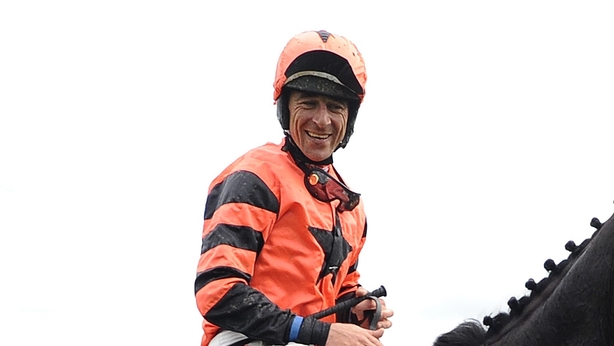 The Pat Kelly-trained Presenting Percy had been one of the favourites for the Pertemps Final after winning on Saturday, but his jockey Davy Russell does not fancy his chances.
He was raised 10lb in the Irish handicap for his win but has also been allotted an extra 6lb in England.
"He's on 146 now, 6lb higher than in Ireland, which is not ideal, obviously," said Russell on At The Races.
"It looks like he's going to carry plenty of weight and I'd be very surprised if he was capable of winning a Pertemps off that sort of weight. That will fairly stall him, I think.
"It can be frustrating (getting different marks) and I don't understand it myself. He's still a novice, he's run in three handicaps but now he has to run with 6lb more here, it's quite confusing.
"I just think there are talented horses in Ireland, races are more competitive and it's less competitive in England, you've more meetings and it's unfortunate you have to suffer at a Festival, it doesn't happen on the Flat and English horses don't get penalised in Ireland."