Highland Reel had to settle for second as Satono Crown caught him just strides from the line in the Longines Hong Kong Vase at Sha Tin.
Aidan O'Brien's charge was attempting to repeat his victory of last year in the 12-furlong Group One heat and Ryan Moore was positive from the off, establishing a definite lead passing the post for the first time.
The Michael Bell-trained Big Orange was initially settled in fifth by Damian Lane, but he decided to kick on around seven furlongs from home and moved up to try to exert some pressure on Highland Reel.
However, Big Orange began to feel the effects of that move around three furlongs from home and he dropped away as a handful of horses prepared to challenge.
Japan's SATONO CROWN hunts down the front-running Highland Reel to win the Vase. Moreira 1 v Moore 0. #HKIR pic.twitter.com/HF0JU4PGN9

— Racing UK (@Racing_UK) December 11, 2016
Moore appeared to have their moves covered though and he had a clear lead with a furlong to run, only for Japanese raider Satono Crown to unleash a telling late charge under Joao Moreira.
The Noriyuki Hori-trained colt passed Highland Reel in the shadow of the post, winning by half a length with over six lengths back to the third, the French runner One Foot In Heaven.
O'Brien was thrilled with Highland Reel's performance, adding: "We had no choice but to make it a test off a very sedate early gallop. I'm delighted with him. He has run his heart out."
Satono Crown's trainer Hori felt the race had worked out in his charge's favour.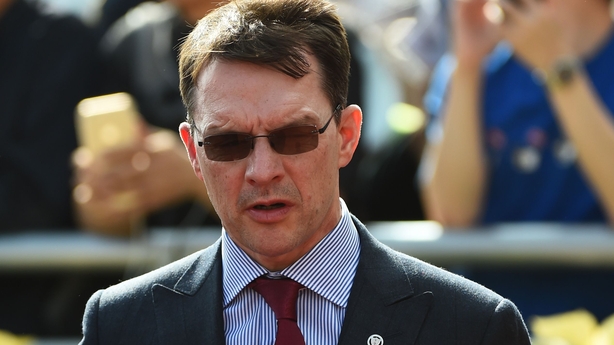 He said: "I'm very happy the race went so well for us. He reminds me of another very good horse I trained called Duramente who was also a very good two-year-old and developed."
Moreira added: "It's a dream come true. I always knew he had it in him to land a very big prize and turning in I had a lot of horse underneath me.
"I was held back a bit by Silverwave at one stage coming round the turn, but when he saw clear daylight he really picked up for me."
The Richard Fahey-trained Growl finished well down the field as Aerovelocity clung on for victory in the Longines Hong Kong Sprint.
Last year's winner Peniaphobia, who was trained in Britain by Fahey in his juvenile days, tried to make all with 2014 race hero Aerovelocity settled just in behind by Zac Purton.
Peniaphobia was still in front with a furlong to run, but Aerovelocity was motoring down the outside for Purton and while local favourite Lucky Bubbles tried to challenge in the final strides, he could not catch the winner.
Graham Lee had to race wide aboard Growl and he never looked like taking a hand in the finish.
Winning trainer Paul O'Sullivan said: "We expected him to be competitive while at the same moment thinking time might have caught up with him. It has taken him a lot longer to come to hand this year.
"We have had a few problems along the way, he had a heart irregularity and when he travelled to Japan, he got colic.
"He certainly is the bravest horse I have ever put a saddle on."
Purton added: "Paul has really pulled one out of his bag of tricks today because this horse is a little bit older.
"I got into the straight and I felt confident, it was just in the final 100 metres that he tried to go in towards the fence as he came under maximum pressure.
"I heard Lucky Bubbles coming but the post came in time."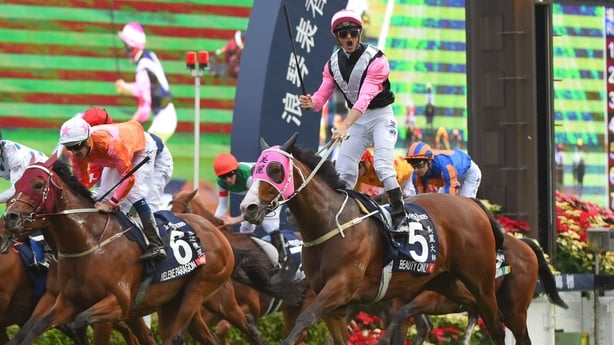 Purton scored his second Group One winner of the day as he steered Beauty Only to victory in the Longines Hong Kong Mile.
All eyes were on 2014 race winner Able Friend who was trying to defy his unfavourable draw in stall 14, but it was Beauty Flame who cut out the early pace.
There were plenty of horses poised to challenge at the top of the straight, although Able Friend was pushed out wide on the final turn and could not really make his presence felt from there.
Meanwhile, Purton seized the initiative inside the final furlong on Beauty Only and he found most for pressure to see off Helene Paragon with Joyful Trinity back in third.
Winning trainer Tony Cruz said: "We will stick to local races at a mile and keep running him on a firm track which suits him.
"His breeding is all European, he is very easy to handle, and when we got him, the people assured me he would not stay 2,000 metres, which has proved to be correct."
Purton added: "I've worked out the way to ride him and he's a horse that can always give you a big sectional.
"I was a bit forced off the fence at the 700-metre pole but when when he got back on an even keel, he showed what a big set of lungs he has.
"He's only a five-year-old and I don't think we have seen the best of him yet."
Moore produced yet another top-class ride as Maurice landed the Longines Hong Kong Cup.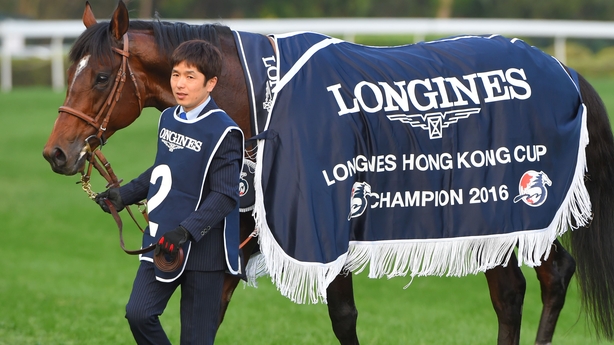 The 10-furlong event featured both the Hori-trained Maurice and fellow Japanese runner A Shin Hikari, who won the race in 2015.
While Maurice was slowly away, A Shin Hikari blazed out of the stalls with jockey Yutaka Take allowing him to stride on and build up a clear-cut lead.
In contrast, Moore bided his time on Maurice, sitting towards the rear of the field as a number of his rivals started to try to reel in the leader.
However, A Shin Hikari began to toil with over a furlong to run, with Moore angling Maurice off the rail to get a perfect run through and the five-year-old found plenty when asked.
Maurice quickly passed A Shin Hikari and stretched away for an impressive verdict over Secret Weapon.
Moore said: "He really quickened. He's a very good racehorse and he's got better with every run.
"Once we got some daylight, he just quickened and put the race to bed."
Moore, who spent several minutes signing autographs after being mobbed by Hong Kong and Japanese fans following the race, was eager to pay tribute to the "brilliant" Maurice.
He added: "I've had a lot of fun riding Maurice. I'm always OK when I'm on him, although today when the gates opened, he made it a bit more difficult for me.
"Fortunately there was a lot of pace and when I found the room I was looking for, he moved into gear and then he just flew and has won easing up.
"He's a brilliant horse. He's very good at a mile, but possibly he's even better at 10 furlongs. He's developed into a big, strong horse and he is a pleasure to ride."
Hori added: "This horse came to Hong Kong as part of a team and that team, which comprises of ourselves and the Hong Kong Jockey Club, have seen everything come to pass.
When asked if that was to be Maurice's last racecourse appearance, Hori added: "That's what I have read in the papers."