Ireland's leading owner of jumps horses, Michael O'Leary, will have no horses in training with Willie Mullins this season after a failure to reach an agreement over training fees.
O'Leary took away all the horses owned by him from Mullins' yard this morning.
The dramatic split between the country's champion trainer and champion owner comes as the National Hunt season prepares to move up a gear and will see a host of top-class horses transferred from Mullins to other trainers.
Up to 60 inmates, including Grade One winners Don Poli, Apple's Jade, Valseur Lido, Sir Des Champs and Blow By Blow left Mullins' base this morning, destined for the yards of Gordon Elliott, Mouse Morris, Henry de Bromhead, Joseph O'Brien and Noel Meade 
Mullins told At The Races: "We're parting company - it's basically over fees, I imagine. I put up my fees for the first time in 10 years and Gigginstown chose not to pay them.
"That's it, we're just parting company. I'm not willing to try to maintain the standards I have [without putting the fees up], so that's the way it is.
"Everyone that comes into my yard is treated the same. I see enough people going to the wall in Ireland all the time.
"We've evolved our methods of training, which obviously costs a lot, and we're not prepared to sacrifice that."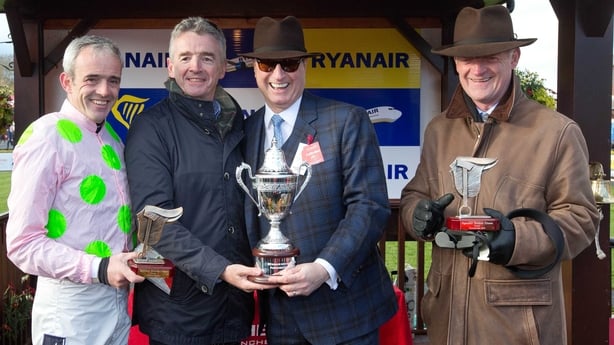 In a statement issued to RTÉ Sport, Gigginstown said the decision had been made with "considerable regret".
"As Gigginstown House Stud has been unable to reach agreement with Willie Mullins on an increase in training fees, we have agreed – with considerable regret – to move the Gigginstown horses to alternative trainers for the coming 2016/17 season," it read.
"Gigginstown wishes to sincerely thank Willie and all the team at Closutton for the many Grade One races we have won together over the past seven years.
"We hope that an agreement can be reached at some time in the future which will allow Willie to resume buying and training more graded winners for us.
"While we part at this time with regret, we wish Willie and all the team at Closutton continued success."
Mullins and the O'Learys enjoyed Cheltenham Festival success with Sir Des Champ and Don Poli in recent years, and the four-year-old filly Apple's Jade was second in last March's Triumph Hurdle before winning Grade One contests at both Aintree and Punchestown.
She is one of a number of young Gigginstown-owned stars expected to feature in the big races this winter.
I'm not willing to try to maintain the standards I have [without putting the fees up], so that's the way it is - Willie Mullins
"They've been very good to us over the years, they've bought some fantastic horses and there's a fantastic team of horses going to whoever is going to get them, I don't know where they are going to go," Mullins added.
"I wish them the best, it's the way it is, we move on. Whoever gets the horses will be a big challenge to me being champion trainer, they are a fantastic team of horses.
"They'll be very hard horses to replace. Even with all the money in the world, lots of people try to buy horses like that, but sometimes they just happen.
"We've put together a fantastic team with Eddie O'Leary and ourselves but that's it. It's there now and the team is there for someone else to train."
The development will come as a blow to Mullins, the perennial champion trainer in Ireland.
Last season he came within a whisker of also winning the British jumps trainers championship, bringing the contest to the final day of the season at Sandown.
However, like the O'Learys, Mullins has other options too, and the yard's leading owner Rich Ricci still owns the greatest portfolio of jumps horses in Europe, with Annie Power, Douvan, Vautour, Vroum Vroum Mag and Djakadam all members of the arsenal trained by Mullins.
The trainer can also call on horses owned by English businessman Graham Wylie, a founder of Sage software. Both Black Hercules and Yorkhill were winners at last March's Cheltenham Festival for Wylie and his wife Andrea.