Paul Nicholls insisted he gained as much pleasure from winning his 10th trainers' championship than any other.
With no apparent stable stars other than Silvinaico Conti, Nicholls considers the title which he claimed on a final day thriller at Sandown is his sweetest.
In previous seasons, a succession of big Saturday winners enabled him to build up a huge advantage heading into the last day of the season.
"Some in the media say there is animosity between us, but that is absolute tripe. We get on well, he's a competitor, I have huge respect for him and vice versa" - Paul Nicholls
This time it was different, with Willie Mullins starting the day a workable £53,592.54 behind, but after Nicholls filled the places in the bet365 Gold Cup with Just A Par (second) and Southfield Theatre (fourth) there was no doubt.
The consolation of winning the final race of the season with McKinley was to be just that for Mullins, who had narrowly missed out earlier with Valseur Lido and was second to the magnificent Sprinter Sacre with Un De Sceaux.
Nicholls - earning a total of £2,439,560.26 for the season to his rival's £2,341,735.22 for victory by £97,825.04 - said: "It is a relief. There is a lot of pressure, because unlike before, it has created a lot of interest.
"Everyone has been willing us on and it was always a little bit Team GB versus Ireland, and Willie has had a magnificent time. Hats off to him for coming over and it has made things more interesting.
"I'm hopeful it has been really good for racing. We have all got stuck in, worked hard and got some great results.
"It thought I had no chance after Aintree to be honest. Vicente (Scottish Grand National) was a big day last week and all the horses have been going really well, just when you think it is over.
"There was a time between January and February when they were not going as we would have liked.
"When you have a chance, like a football team, you are going to try and win it - within reason.
"It has been good for the whole team, I hope it is good for everyone really and I hope it has been really good for racing to create that bit of interest, which I feel it has. Before it hasn't meant that much.
"Some in the media say there is animosity between us, but that is absolute tripe. We get on well, he's a competitor, I have huge respect for him and vice versa. He shook my hand and I shook his, so there is absolutely no truth in those stories at all. He's a very good trainer and does very well.
"This has been the hardest one to win, because we have only had a couple of Grade One winners. Luckily we have some really smart youngsters for the future. Perhaps Willie will keep those Grade One horses in Ireland and keep out the way and make it more open. Anyway, it has been brilliant."
He went on: "It has been tough, to be honest, because we haven't had those top horses, but we won nearly £2.5million in prize-money and you just have to keep maximising what you've got and keep doing it.
"I've been very lucky to have those horses in the past. You almost take them for granted because they win week in week out because they are the best and it is easier.
"But when you have to dig in deep and do different things, it is a lot harder, so it probably is a lot sweeter. It is a fantastic day."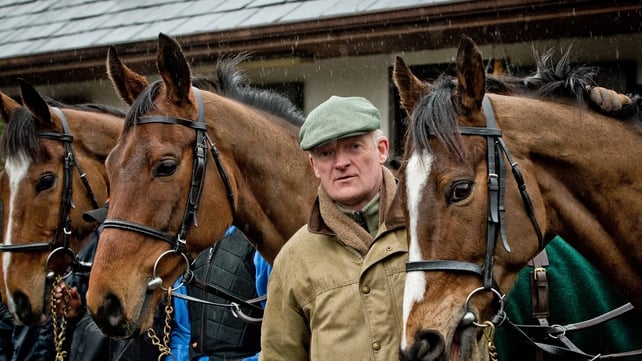 While Mullins - who was left disappointed following a fine of £1,000 by the stewards after he withdrew Vroum Vroum Mag from the Select Hurdle when his title chance had gone - came up short in his quest for a first British trainers' title, he was magnanimous in defeat.
He said: "Of course, this makes me more determined to win the title next year. I'm honoured to be in the position I am today. I thank all my owners and team for putting me in this position. They all, to a man, said, Willie, take whatever horse you need to Sandown', even though they would be missing good prize-money at Punchestown.
"I think that is fantastic. I didn't expect it and didn't ask them. That was the feeling of my owners and I have to thank them for their generosity.
"I think next year it depends on the team we have. You look at football teams - they do go up and down.
"Paul has had a fantastic team this year without Grade One stars and if we can keep our Grade One stars and perform at Cheltenham like we have been the last few years, then it's on.
"But otherwise, unless you win the National or something, it is difficult. They all have to stay sound and get into next season.
"But I would dearly love to come back to Sandown next season with...hopefully a better chance."
He added: "Our rivalry starts when the point-to-pointers are first into the winner's enclosure or who is first over to France to buy one. It starts well before we get to the racecourse.
"It was amazing that Ruby Walsh worked for both of us over the years and I think that shows the respect we both have for each other. We have never had a cross word. That's down to Ruby's diplomacy!"