Willie Mullins hailed his "phenomenal" Timico Cheltenham Gold Cup team as he hosted the press at his County Carlow yard on Monday morning.
Last year's runner-up Djakadam, Vautour, a winner at the last two Festivals, Don Poli and Valseur Lido are all set to line up for the powerhouse stable in the blue riband on 18 March.
And such is the strength in depth at this stage, Ruby Walsh has yet to decide who to ride.
Mullins said: "It's a phenomenal team to have going for a race like the Gold Cup. I just concentrate on my own and not look at the Don Cossacks and Cue Cards of this world.
"We're taking on fantastic opposition and nobody knows what will happen (stamina-wise) when you go past that three-mile marker. It's brought out different qualities in horses over the years.
"Someone told me Don Cossack galloped well on Sunday (after racing at Leopardstown), but I didn't hang around to see him."
"Traditionally our horses wouldn't be as fit at Christmas as they are in March"
In years gone by Mullins has not been swayed by prestige, rather to aim his horses at the race he thinks they have the best chance in, hence Quevega winning five Mares' Hurdles rather than running in a Champion or World Hurdle.
That is set to change with Vautour, though, as the King George runner-up would be a red-hot favourite if he ran in the Ryanair Chase rather than the Gold Cup.
"Strictly speaking if we were to aim our horses for the races they could win, things might be different, but at the moment we're keen to go for the Gold Cup (with Vautour)," said Mullins.
"He did a very nice session in Leopardstown on Sunday and it was just enough as he and others that went there all worked on Saturday.
"He's in the Ryanair and the Gold Cup and at the moment everyone is keen to fire as many bullets as they can at the Gold Cup.
"I think he's enough stamina. We asked a big question in Kempton, going on that far out.
"Traditionally our horses wouldn't be as fit at Christmas as they are in March and I don't think he's ever shone at Christmas, but he's been way better when it comes to Cheltenham."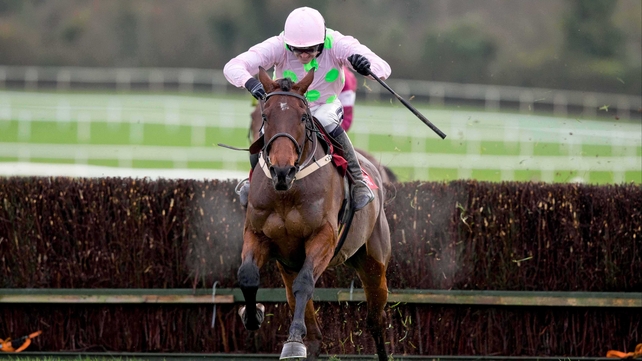 Djakadam fell at Cheltenham in January and needed stitches but made a quick recovery.
"I must compliment the vet in Cheltenham after he got his cut," said Mullins.
"I worried about it at the time. I thought I might not have enough time to get him ready, but the way the stitches healed up, we didn't lose much time and I think I can make it up easily.
"We were able to keep him walking. It was probably about 10 days before we were able to get him back to trot, but he'd have been having a week off anyhow.
"We've got him back doing fast work and I'm not too worried if he jumps (schools) again or not. Basically he's a good jumper.
"He's got a bit more work to do, but I'm happy where I am with him." 
Like the Gordon Elliott-trained Don Cossack, Don Poli runs in the colours of Gigginstown House Stud, as does Valseur Lido, who looked to have the Irish Gold Cup at his mercy only to unseat Walsh at the final fence.
Mullins said: "Don Poli is in good order and jumped well on Sunday.
"He loves Cheltenham and loves that hill. He just makes ground round there all the time.
"I think he has enough speed for a Gold Cup.
"Valseur Lido looks like he's crying out for more distance. Ruby hadn't asked him a question going to the last in the Irish Gold Cup (before unseating Rugby) and an extra two and a half furlongs is going to be right up his street as well. 
"I haven't spoken to Gigginstown yet. There's talk they might prefer to go to the Ryanair, but we'll see."
Mullins added: "We haven't really sat down and discussed what Ruby will ride. It's too early. There's too much water to go under the bridge yet." 
Valseur Lido's mishap was one of a few recent high-profile exits at the final obstacle for Walsh, but a year on from Annie Power crashing out in the Mares' Hurdle, that is nothing Mullins is losing sleep over.
He said: "Ruby gets it right so many times. Annie Power was a year ago and because that was so high profile I think people are just putting them all together.
"I think he rode five winners in a row last week and came down to the last in front something like eight or 10 times in a row.
"He happened to fall on one and people jumped on that."