GALLERY: Tony McCoy's glittering racing career
McCoy in numbers: his career facts and figures
Tony McCoy had to settle for third place on the final ride of his career in the bet365 Handicap Hurdle at Sandown.
McCoy, the 40-year-old who has ridden far more winners over fences than any other jockey, was willed on to a fairytale finish by a capacity crowd of 18,000 at in the London suburbs.
He had two final rides on Mr Mole and, fittingly, his last mount was called Box Office.
Yet even his famed alchemy could not push either to victory in the green and gold silks of his multi-millionaire employer, JP McManus, nor add to his final total of 4,357 victories in Ireland and Britain.
Both horses finished third but there was no sense of anti-climax as one of the racing world's most popular sportsmen bowed out to a demonstration of affection from his competitors and spectators alike that few retiring champions will ever enjoy.
One of the hardest athletes who ever drew breath was reduced to tears on board Box Office as the crowd cheered him.
On the last day of the jumps season, McCoy was given a guard of honour from fellow jockeys and serenaded by the entire grandstand who sang 'For he's a jolly good fellow' before collecting the trophy for champion jockey for an almost unreal 20th consecutive year.
Indeed, organisers let McCoy keep the Cup for good. The crowd, many of them donning paper McCoy masks, roared they approval as he told them: "I've been privileged, doing something I absolutely loved. But retiring's absolutely the right thing to do. If I'd gone on until I wasn't as good as I was, then that wouldn't have been right."
The man from Moneyglass in Co Antrim has made a farewell tour of Ireland and Britain's courses since revealing his decision to retire 11 weeks ago. On his last day as a jockey, he looked for much of the afternoon as cheerful as a dead man walking.
McCoy's career has been as extraordinary for its resilience and fortitude as for its excellence; seemingly indestructible, he's bounced back from 13 broken bones, 14 shattered teeth and, twice, punctured lungs.
No wonder his wife Chanelle, attending with their two young children, looked so relieved. After 17,630 rides, the only thing that mattered was that she had her husband back in one piece.    
A tearful McCoy said: "It's amazing. I've been so lucky all my life. I'll never forget this day."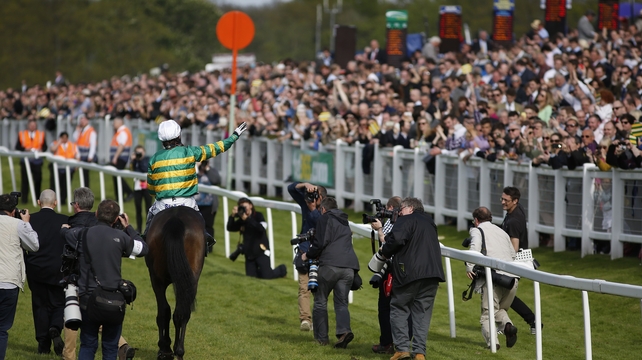 The racing was world quick to pay tribute to the record-breaking champion:
JP McManus, McCoy's patron since 2004
"He's an iron man and a lovely man. I've grown to love him more and more, as my family have. There's something deep and great about him."
Jonjo O'Neill, trainer 
"AP is getting out at the right time, he is on top of his game and everybody will remember him as the greatest jockey. There is a time in everybody's life when you have got to change tune and do something else. He is obsessed, and you can't be that successful without doing the homework."

Dave Roberts, McCoy's agent
"He's changed racing as a jockey. The sport will miss him massively, so that's why I'm hoping people won't forget about him too quickly because there will never be another AP McCoy."
Nicky Henderson, trainer
"He's been a great ally, a great friend and a great competitor. What a lovely guy to work with. He's just the ultimate professional. We are going to miss him and racing is going to miss him. He's put racing on the front page and has brought this crowd here - that tells you everything."
Clare Balding, TV presenter 
"I think it takes a tremendous amount of bravery to step away from something he loves doing when he's still the best at it. I admire him so much, making a decision which clearly hurts him. He has been, and will continue to be, sensational for racing and I hope we see lots more of him. He's set the standard so high, putting himself through the pain barrier. We are never likely to see anyone like him again."
John Francome, former champion jockey
"He has done what he has done by being completely and utterly determined. By and large he likes to make horses' mind up for them and that is what has set him apart from other jockeys."
Paul Nicholls, trainer 
"To think he won't be riding any more is unbelievable. It's tough for everyone, him not being there, but he's done the right thing at the right time."
John Gosden, Flat trainer
"To have seen the sheer determination and the mental strength of AP (McCoy) is staggering in itself. To me I always called him titanium man and that is what I think he is." 
Noel Fehily, jockey
"It's very sad to see him go. We have been very close for the last number of years and it's a sad day for racing." 
Frankie Dettori, Flat jockey 
"His consistency sets him apart from everyone else, and his anger. He is a great sportsmen and we won't see anyone like him for a while."
Graham Lee, Grand National-winning jockey
"His dedication, his stubbornness, his ability to go through the pain threshold - there's nothing more you can add. It's safe to say there'll never be another one like him." 
Martin Pipe, former retained trainer
"We saw him riding in the west country and thought he looked OK so we gave him a few rides, he won on them and we just melted together well. We had great fun together, it really was, winning loads of races and we had great faith in each other. His feedback was enormous, unbelievable. He's the best jockey we've ever seen."
Ruby Walsh, jockey
"It's wonderful for a jump jockey to have ridden for as long as he has and to be able to retire on his own terms. It's incredible. He's been amazing. He's an incredibly tough guy mentally and he's very astute."
Willie Mullins, trainer
"He's a legend. He's an iron man. People are saying, 'Who'll replace him?'. It will take three men to replace him. He's been the best example of any sportsman you can possibly have. He never saw defeat and he'd travel anywhere for a ride. To me, that's a fantastic thing to be able to do."
Jim Bolger, trainer and former mentor
"For Anthony it was good to get it (decision to retire) out there. He was a very young fellow when he came to me and I said all the rearing was done when he came to me. At no stage did he need any, or very little, tutoring. I just taught him how to count his money!"
Ted Walsh, trainer
"Tony McCoy set an example for every other jump jockey coming along. He improved the fitness levels, the dedication, the threshold for pain - everything about him. He's just an icon. We are all privileged to have witnessed him and been in his company. I knew him since he was 13 or 14 with the late Billy Rock and he's never changed a bit."
Barry Geraghty, jockey 
"He's been around since I started and was always champion. I've watched him consistently raise the bar of excellence for our profession. From his day-to-day work ethic up and down the country, his drive and determination plus the physical deprivation of keeping his weight down.
"To ride 200-plus winners a season was a massive achievement which sets him apart. 'Relentless' is the word that always comes to mind. But AP has always been good to the young lads coming up, he always gives them time and never abuses his status."