Tony McCoy insists his impending retirement will not cross his mind when he lines up for his final Cheltenham Festival.
The 19-time champion has unsurprisingly enjoyed his fair share of success at the showpiece meeting over years, although it will come as a shock to many that while he is way out in front on almost every count in National Hunt racing, he has not been the leading Festival jockey since riding five winners in 1998.
There have been plenty of highlights both before and since, of course, with a couple of Cheltenham Gold Cups aboard Mr Mulligan (1997) and Synchronised (2012) rated top of the list by the rider himself.
McCoy has also won the Champion Hurdle three times, with his beautifully judged front-running ride aboard Make A Stand (1997) and his never-say-die effort on the hugely popular Brave Inca nine years later perfectly advertising his wide ranging skills in the saddle.
Who can forget that thrilling Queen Mother Champion Chase of millennium year in which the Ulsterman threw the kitchen sink at Edredon Bleu to get the better of Direct Route? Or Wichita Lineman's victory from nowhere in the 2009 Festival Handicap Chase? The list goes on.
But after shocking the racing world when announcing his intention to call it a day at the end of the season at Newbury last month, this will be the final time McCoy will head to the Cotswolds to experience the high octane action on the front line.
"I never have retirement in my mind when I go out and ride a horse"
It will be business as usual once the tapes have gone up for the Supreme Novices' Hurdle, however.
McCoy said: "Cheltenham is a special place - the atmosphere, the theatre and the setting, it makes it that more special.
"I am going to try and enjoy it best I can. I am pretty good at blanking it [retirement] out. When I get on a horse I don't think about it. I never have retirement in my mind when I go out and ride a horse.
"It will be different than in previous years, but probably the thing I enjoy most about Cheltenham is being on a horse.
"There have been some fantastic highs at Cheltenham and I have been a lot luckier there than most people. The Cheltenham Gold Cup is the pinnacle of our sport and I have been lucky enough to win it twice and I've won the Champion Hurdle three times.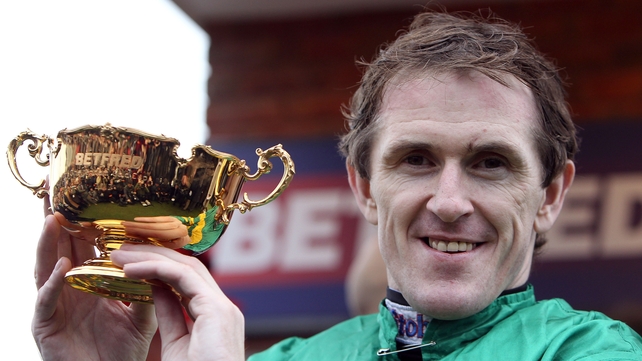 "Synchronised was very much one of the highs because his mum [Mayasta] was the first winner that I rode for JP McManus back in 1996. He was a home-bred horse and with any horse you buy the dream is to try and win the Cheltenham Gold Cup. The fact we were able to breed one at home and I was lucky enough to ride it makes it very special.
"The two-mile races at Cheltenham are the most exciting in terms of adrenalin because they are so quick. Even the Grand Annual is a pretty hair-raising spectacle to watch and to be taking part in it is even more exciting. Those are the things I am going to miss."
With the highs invariably come the lows and the sight of a heartbroken McCoy returning to the weighing room after Valiramix suffered a fatal injury when still hard on the bridle in the 2002 Champion Hurdle is not easily forgotten.
However, nothing shook McCoy anywhere near as much as when leading Irish amateur JT McNamara suffered a terrible fall at the 2013 Festival that left him paralysed from the neck down.
"There is no comparison to the awful low that will always live in my memory, that of JT McNamara's clothes hanging up on the peg knowing that he wasn't coming back," said McCoy.
"In terms of the Cheltenham Festival that's the darkest day I've ever had. Sure there were equine losses like Valiramix and Gloria Victis, they were very tough to take, but they don't compare when you put things in perspective."
McCoy hopes he could yet break new ground at his final Festival, with the World Hurdle and the Triumph Hurdle among the few big prizes missing from his lengthy CV.
"In fact there is about five or six races I've not won but there is still a chance I might win them," he said.
McCoy can certainly head into his final Festival with plenty of optimism he will visit the hallowed winner's enclosure at least one more time.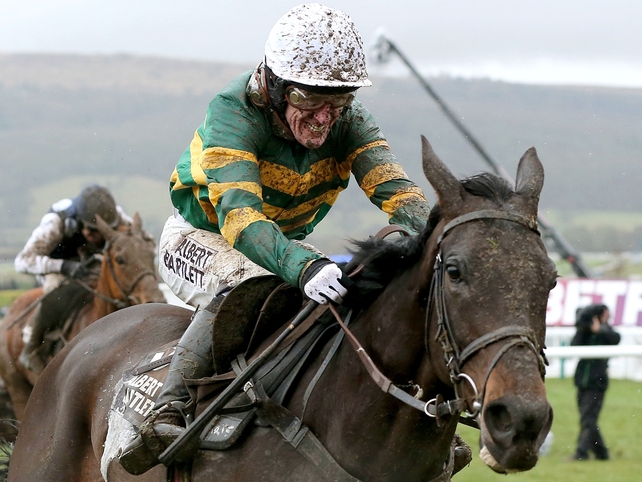 It may be written in the stars that Carlingford Lough can provide him with another Cheltenham Gold Cup winner, while it is not too difficult to make a case for last year's winner Jezki defending his crown in the Champion Hurdle.
The jockey has already virtually ruled out calling it a day at Prestbury Park, but is there any chance whatsoever a big-race victory could cause him to reconsider his decision and ride on for another season?
McCoy is unequivocal in his response: "Once I've made my mind up it is very difficult to change it. I won't be one to retire and do a U-turn.
"Probably not riding 300 winners in a season, that's the biggest thing I will regret. You need a lot of luck. If I hadn't got injured I do think this season I could have ridden 300 winners."
So what next? He admits moving on will not be easy.
"Probably not riding 300 winners in a season, that's the biggest thing I will regret"
"I worry about it as I've not known any other way of life for the last 20 years. The regime has been pretty repetitive, seven days a week, so it will be a big shock to the system.
"There will be a lot of things missing in my life, but I am not the first sportsman to retire and it is about being a realist and coping with it best I can," said McCoy.
"I am still going to ride out. I might go and school a few of JP's horses. There are a few things I've never done before that I might get to do, so that is one of the plusses about retirement.
"I was a little bit wrapped up in myself. It was always about riding horses and nothing else was important. I know that racing has been very important and if I can give a bit back to help the sport I will."