Tony McCoy's friend and rival Ruby Walsh has paid tribute to the 19-time champion jockey following the news that the Moneyglass man is to retire from the saddle at the end of the season.
Walsh has had many battles with McCoy down the years, with the pair dominating the National Hunt game.
He said: "The biggest decisions are the hardest decisions, and AP is the biggest man who had to do it.
"It is wonderful that you could have the career AP has had, but it was a big call and only he could have known that the time was right.
"He is the consummate professional and has done everything that is good for racing.
"It will be a strange old place without him being part of it."
Trainer Nicky Henderson regularly calls on the services of McCoy, and among their biggest successes together was Binocular's triumph in the 2010 Champion Hurdle at Cheltenham.
Henderson said: "We have had some great times with a lot of very good horses, mostly for JP (McManus) but some others as well.
"It's absolutely incredible that he has managed to win 19 championships when you take that in the context of all other sports - it's right out there on its own. It couldn't happen in another discipline.
"What you have to remember is that this isn't ping pong, it is a tough, rough, exhausting and gruelling sport.
"He is a credit to racing and I am very sad that his career is going to come to an end."
Richard Johnson has long had to play second-fiddle to McCoy in the jockeys' championship in Britain, and he said: "It wasn't the biggest shock in the world I suppose, but it's more set in concrete now.
"There'll be a few people relieved and will have a few more chances, but it's a great loss to lose him from the weighing room.
"We all know we'll get to that point sometime. It will be an even bigger shock after Sandown (end of the season) I suppose, but I'm sure we'll still see him around the racecourse and his achievements will live on for a long time."
Champion trainer Paul Nicholls said: "It's a pleasure to have had anything to do with him.
"He's been a great ambassador for the sport and no one can say enough about him.
"It doesn't surprise me totally as one day you have to make a decision. He's probably decided that's the right one, and everyone knows where they are. Everyone will miss him riding as he's been such a legend, but you can't go on forever.
"He's still riding as well as he's ever ridden and it's probably the right time to go out.
"Toby Balding once told me to use him as claimer, that he was the best he ever had. I always remember those words.
"We didn't have enough horses to keep him at the time and he went and rode all those winners for Martin Pipe. He's just been fantastic.
"He's a great guy to deal with and a brilliant jockey."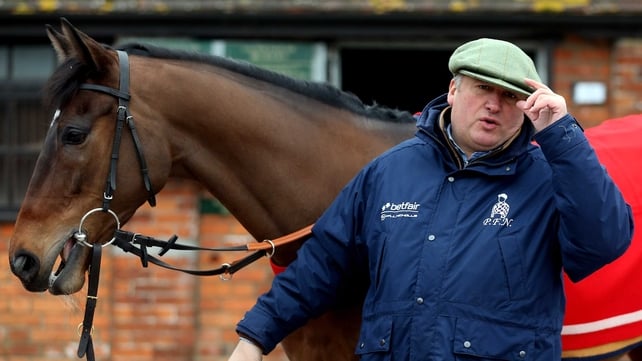 McCoy will always be associated with former champion trainer Martin Pipe, with the pair teaming up for many famous days, even beating the career record of his old boss when he booted home his 4,192nd winner.
Pipe said: "What a shock. I just said to him 'about time!'.
"He was a man who never admitted defeat, and one who possesses a great attention to detail.
"He was a great judge and on one occasion won a race and assured me the horse would never win again. Of course he was right.
"Another time he schooled 30 horse and I kept the smallest one back until last. He made it look easy as they sailed over five fences. The horse was Northern Starlight, who won over the National fences.
"Tony was so brave and it was a privilege to work so closely with him for so many years.
"He's been an absolute legend for racing, he'll never be surpassed in anyone's lifetime. He's the best we've ever seen.
"His dedication to winning, it's what it's all about. He's just so thorough and so competitive.
"We had a great time together, there's so many great moments - Unsinkable Boxer and all the winners he's ridden."
Master Irish trainer Willie Mullins told At The Races: "We might have been expecting this the last three years, I'm shocked it hasn't happened until now, really.
"He's an iron man and obviously enjoys it and I'm happy for him that he has retired on his own terms.
"He can get on with enjoying the rest of the season."
McCoy rides for Mullins at Leopardstown on Sunday when he partners Cheltenham gamble Alvisio Ville in the Deloitte Novice Hurdle, and he added: "He looks a real better than average horse."
Top Irish rider Paul Townend said: "All good things have to come to an end, but he's an incredible man. He's definitely someone for us all to look up to. He is a great role model."
Trainer Philip Hobbs said: "Very few jockeys ride 20 seasons, let alone win the championship 20 times. It's been great having him around, but it will be a big loss to racing when he goes."