Henry Cecil has died at the age of 70 after a long battle with stomach cancer.
Responsible for 25 British Classic winners and crowned champion trainer 10 times, the master of Warren Place was also the leading handler by some way at Royal Ascot with a record 75 successes.
Knighted in 2011, his later years were illuminated by the great Frankel, officially the best horse in the world and unbeaten in 14 starts before retirement.
Former stable jockey Steve Cauthen enjoyed six memorable and highly successful years as stable jockey, including many Classic triumphs and the Triple Crown success of the filly Oh So Sharp in 1985.
"It's a great loss to the sport and to everybody who knew him," Cuathen said.
"He was such a great guy - different, special, a genius."
"We had six great years together. The first year we had an amazing run when Slip Anchor won the Derby and Oh So Sharp won the Triple Crown for fillies.
"There were many others - Old Vic who won the French and Irish Derby, Reference Point, Indian Skimmer - there were so many of them.
"He had a great sense of humour. He was a super intelligent guy and really knew how to place his horses.
"He tried to have fun. The atmosphere during most of the time I was up at Warren Place was just fantastic.
"It was all due to him. It was a team effort but everyone looked to him. He was the one making decisions about where to run the horses.
"The way he trained was great and the way he placed them was fantastic. He was a special trainer.
"He went through a rough patch but he came back. To have a horse like Frankel and finish off his career when he wasn't in great health was incredible.
"He did a perfect job in making Frankel the horse he was."
Racing remembered Cecil with a minute's silence before each of the four British meetings today.
"Every other trainer aspires to be like him and no other trainer will come close" - Tom Queally on Henry Cecil
Cecil enjoyed immense success at his home track in Newmarket, saddling no less than nine Guineas winners at the circuit during his career.
A statement read: "Everyone at Newmarket Racecourses is hugely saddened to hear the news that Sir Henry has passed away and our thoughts are very much with Lady Cecil and all of the family.
"He was a much-loved gentleman of our sport and his winners were always hugely well received at both the Rowley Mile and the July Course.
"In total, he had no less than nine 2000 and 1000 Guineas winners - more than any other trainer from the modern era.
"These successes, along with the many others he had at the highest level, will ensure he is remembered as one of the greats of his profession.
"Those of us at Newmarket Racecourses were lucky enough to regularly come into contact with Sir Henry and his kindness and willingness to help were greatly appreciated by us all.
"Only earlier this spring, he attended a meeting to offer his thoughts and advice regarding our race programme.
"We, like so many others, will miss him very much and will never forget just how much he contributed to the sport of racing, not least here at Newmarket Racecourses."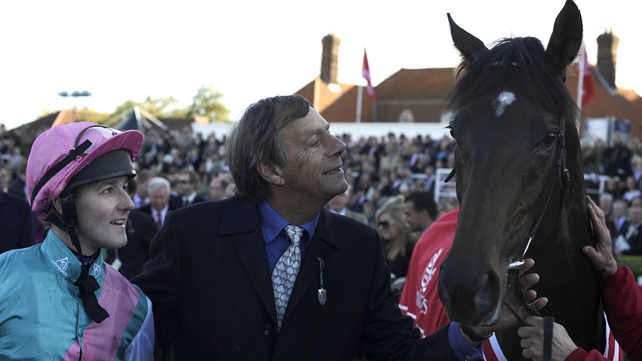 Tom Queally has been Cecil's first jockey in recent years and was aboard Frankel for each of his wins.
He told Racing UK: "Everybody in racing will be saddened to hear of his passing away.
"This is going to affect an awful lot of people.
"I'm gutted to hear it. His illness got the better of him - it's a dreadful shame.
"He was very easy to ride for. He was a great trainer and an even greater person.
"Everything he did was class - he was just class, everything about him.
"Every other trainer aspires to be like him and no other trainer will come close.
"He had a great empathy with horses and was a people person as well.
"He made a serious business feel like fun - I'm sure any member of his staff will tell you the same.
"Simplicity wins, and he kept things simple.
"They don't make people like him anymore. He was a brilliant, brilliant trainer and a great man.
"We'll never see another trainer like him again."
Queally believes Frankel's career admirably demonstrated Cecil's training skills.
He added: "He really really excelled with him (Frankel). He made all the right calls and all the right choices with him.
"He retired unbeaten and that was his (Cecil's) jewel in the crown.
"Racing has lost a real gentleman."
Mick Kinane rode several big race winners for Cecil, including the 1993 Derby aboard Commander In Chief, and was fulsome in his praise.
"He was a lovely man to ride for and had a great way of making you feel at ease even when the stakes were high," Kinane told At The Races.
"I have to say he was very instrumental in launching my international career as in 1989 he gave me the spare ride in the Irish Oaks on Alydaress and things never looked back from there.
"I won a couple of King Georges for him (Belmez and King's Theatre) and the Derby (Commander In Chief) afterwards so I had some great success with him.
"The first time you win a big race you never forget and Commander In Chief was my first Derby. He was the second string on the day but he wasn't really as he was unexposed.
"His horses were always like the man himself, straightforward and easy to deal with, they were always very genuine and would do their utmost for you, just like he would.
"It was fitting the he ended up with a horse like Frankel when he faced his biggest battle himself, it was great he gave him so much pleasure.
"As a trainer he gave you all the confidence in the world going out, he was a lovely man to ride for.
"Breakfast at Warren Place was a lovely place to be, he had a big family and I'm sure he'll be sorely missed."
Current champion jockey Richard Hughes was linked to Cecil as he once held the role as owner Khalid Abdullah's retained rider.
"It's very sad, I'd only said a few weeks ago when I saw him saddling his horses that he looked very weak, god rest him, but that was his love for his horses," said Hughes.
"He'd have 100 people to saddle his horses but he just loved being there.
"I remember the first time I went to his yard, I wanted to see all the horses and he showed me all his roses! When I went in for breakfast he asked if I wanted soldiers with my egg!
"He was great fun to be around and his record as a trainer speaks for itself.
"His strength was he didn't get too technical. Some read speed figures and form books, but he wasn't like that. He trained his horse, he didn't mind what was in the race as if they were good enough, they would win.
"We've lost probably one of the greatest trainers of all time. Frankel was a brilliant horse but he got him up to his potential."
An emotional Pat Eddery remembered his time riding for the master of Warren Place.
"He was a great trainer, he was a genius and I was very fortunate to have ridden for him and it's just really sad," he told At The Races.
"He was never overpowering. He was quite an easy person to get on with.
"He just trained some great horses. He's gone through some bad times, came back and did it again.
"I rode Bosra Sham for him. She was wonderful and gave me a first 1000 Guineas success.
"I just loved riding for him. His horses were amazing. You could you do whatever you liked on them. He worked them hard but they always produced.
"He gave me some good horses to ride. I was very fortunate and it's a very sad day."
Six-times champion Kieren Fallon, one of an elite band of Cecil stable jockeys, described him as a "legend".
"He was a legend. My first year with him, I was champion jockey. We had a great rapport and he will be sadly missed," he told Sky Sports News.
"We won the Derby with Oath, the Guineas with Sleepytime, we had a lot of great success.
"I think Frankel will be on everybody's mind, the way he trained that horse, one of the greatest horses we've ever seen - we'll not see another one like him I don't think. To the end, I think he was the one that (helped) him last so long I think.
"It's a very sad day, he will be fondly missed."
Frankie Dettori's father Gianfranco was another to ride for Cecil, winning successive 2000 Guineas at Newmarket with Bolkonski and Wollow in the 1970s.
"My father won the Guineas for him in 1975 and '76. He's been a fantastic trainer, a great human being," he told Sky Sports News.
"He's been battling with cancer for a long time and it's sad news. It makes you reflect on life and what a wonderful person he was. It's very sad."
Michael Stoute, champion Flat trainer on 10 occasions, paid Cecil the ultimate tribute by describing him as the best trainer the UK has ever had.
"I do not believe this country has ever produced a better trainer than Henry," said the Freemason Lodge handler.
"I know there has never been one so loved.
"And then there was his toughness and courage which had to be seen to be believed as he continued to supervise the training of his horses. Some man."