Calidoscopio became the oldest horse to win a Breeders' Cup race when the nine-year-old duly outstayed the opposition in the Marathon at Santa Anita.
Irish raiders Fame And Glory and Sense Of Purpose were out of sorts on the dirt surface and were among the first beaten as the Argentinian entire landed the spoils.
Frankie Dettori made a brave bid for glory on Juniper Pass but had to settle for fourth place behind the 14-1 chance trained by Guillermo Frenkel Santillan and ridden by Aaron Gryder. Grassy was second and Atigun third.
Grydon said: "It's been a privilege to get on this horse. These people were great to bring this horse in and kept him for this race."
The winning trainer said: "I'm so grateful we got the invitation to run in the Breeders' Cup Marathon and this is for all the people who have helped me."
Trainer Aidan O'Brien revealed that Fame And Glory, winner of the 2011 Gold Cup at Royal Ascot, has been retired.
He said: "The race was there in the book and we gave it a try. We took a chance and it didn't come off, so he will be retired now.
"He just showed us that he didn't like it and he wanted to go home."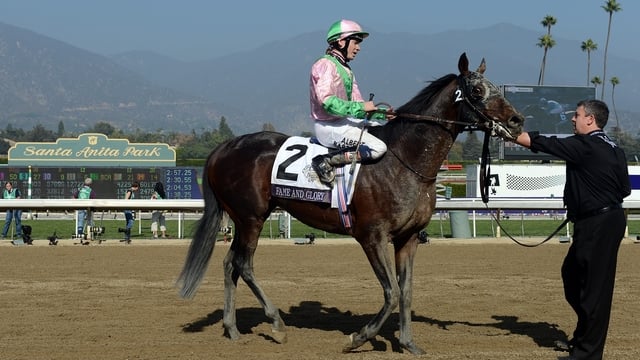 The six-year-old's jockey Jamie Spencer said: "I was exactly where I wanted to be in the stretch first time, but then all of a sudden he just didn't want to know."
Sense Of Purpose's trainer Dermot Weld said: "My mare didn't handle it and that's it. There's nothing you can do. She didn't like the dirt coming up into her face."