Frankel, the world's greatest racehorse, won his 14th consecutive race in the Qipco Champion Stakes at Ascot before retiring to stud.
PA Sport gauged reaction, in the racing world and beyond, to his startling achievements:
Frankie Dettori, jockey
"He's been an amazing story and an amazing horse. He doesn't just win, he destroys the field every time. He's not only got a great physique, he's got that will to win. I've never seen anything like it, and I probably won't for a long time. To have such a beautiful creature in our sport is fantastic."
Pat Eddery, former champion jockey and rider of Dancing Brave
"He's a very, very exciting horse, he's unbeaten and has won a lot of Group Ones - he has to be there with the very best."
Aidan O'Brien, trainer
"One word describes him - incredible. He's the most incredible horse we have ever seen. He's just unbelievable."
Johnny Murtagh, jockey
"He just kills horses, he wins Group Ones by six or seven lengths - it's hard to win a maiden like that. He's just the ultimate champion."
"He just kills horses, he wins Group Ones by six or seven lengths - it's hard to win a maiden like that. He's just the ultimate champion." - Johnny Murtagh
Paul Nicholls, trainer
"He's the best of his generation. He's by far and away the best we have seen recently."
Michael Hills, former jockey
"I was meant to make the running in the Guineas for him. I've ridden in a lot of Guineas but I've never seen a performance like that, it was breathtaking. He's gone on and done it again and again. He's an amazing horse, probably as good as I've ever seen."
Andre Fabre, trainer
"I don't know what else you can say about him. He's probably the best horse who has ever been bred, he's a combination of power and charm. He has a great personality. He's extraordinary. The best I had seen before was Mill Reef, but Frankel is probably better."
Richard Hughes, jockey
"He's the best horse in the flesh I've ever seen. I've not seen anything quite like him."
Michael Stoute, trainer
"Henry and his team have handled Frankel impeccably. When he accelerates he destroys the opposition in about 100 yards. He is a magnificent racing machine."
Simon Bazalgette, Jockey Club chief executive
"Frankel has been fantastic for British racing. He has given racing fans performances to get really excited about and helped our sport head news bulletins and go beyond the racing pages."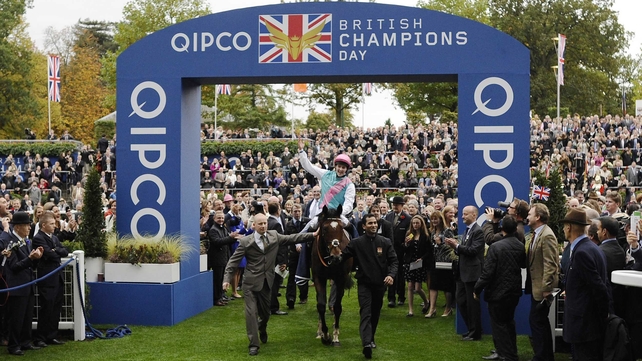 Clare Balding, presenter
"Every sport needs a jaw-dropper. The kind of athlete who makes you stop and stare. Frankel is racing's Usain Bolt. He makes it look so easy, it's almost ridiculous. I feel privileged to have seen him race and I have certainly never seen a better horse in my lifetime."
Anthony McPartlin and Declan Donnelly (Ant & Dec), TV presenters
"Having seen Frankel performing live at British Champions Day last year, we really appreciate what a magnificent animal he is - a true great of the sport who has reached the consciousness of the wider public."
Michael Owen, footballer
"Like all athletic greats, Frankel has a knack of making exceptional opposition look inferior, or in his case, proper Group One horses shape like mere handicappers. His talent transcends our sport, like no other horse I can remember during my lifetime."
Tom Cleverley, footballer
"It's not often you get a sporting legend that's not human, and even less often for something or someone to be unbeaten throughout a career. In football terms, Frankel reminds me of Ronaldo - big, strong, tall, imposing and most of all very fast. An incredible horse."
Harry Redknapp, football manager
"It's amazing to have such an incredible horse as Frankel. He's better than anything else out there, so we've all been really lucky to have the chance to see him. It's also been absolutely brilliant for Sir Henry Cecil - he's not been in the best of health lately, so I'm really pleased he's had Frankel to keep his spirits up."
Robbie Savage, BBC football pundit
"Frankel's achievements are the equivalent of Arsenal's 2003-04 Invincibles side when they won every single one of their matches. Even people with no interest in the sport know all about Frankel as he is a total one-off - and a great tribute to his trainer Sir Henry Cecil."
Jeremy Kyle, presenter
"The world's best racehorse trained by the greatest trainer I've seen, Frankel and Sir Henry Cecil really are the perfect combination, and in what has been the most remarkable sporting year, their achievements will live long in the memory of all race fans."
Mark Evans, Channel 4's 'Inside Nature's Giants'
"I've been lucky enough to travel the world to study the anatomy of some of the most extraordinary animals on earth - from polar bears in the Arctic to hippos in Zambia. But, as a scientist, the one animal I would love to get my hands on is Frankel. With their huge hearts, cavernous lungs, self-doping spleens, built-in biceps catapults and light, long pogo-stick legs, all champion race horses are extraordinary biological machines. But, as an equine athlete, Frankel is clearly in a class of his own."
Nick Skelton, Olympic gold medallist
"I think Frankel is a freak; he has to be the best Flat horse of all time."
"I think Frankel is a freak; he has to be the best Flat horse of all time." - Nick Skelton
Carl Froch, champion boxer
"When you are the best, it's harder to stay on top as rivals go at you that extra bit harder so they can be the one to say they beat you. So when you measure Frankel's success and consider that, like a boxer, he's had to take the hardest shots any of his rivals could muster, he's a true sporting great."
Alex Hammond, presenter
"Frankel is a phenomenon, a once in a lifetime horse who has made the difficult leap from a star of our sport to a superstar that has transcended racing."
Scott Brash, Olympic gold medallist
"Every time I've see him he just looks like he's playing with the field - he's in an absolute league of his own. I think he's the best of all time and it's a privilege to be around when he's racing."
Alan Brazil, radio presenter
"Quite simply the best horse I've ever seen in the flesh. Truly magnificent and I'm delighted for Sir Henry Cecil."