Hand-cyclist Gary O'Reilly claimed Paralympic Games bronze for Ireland in the early hours of Tuesday morning after a brilliant performance in the H5 Time Trial final.
The 28-year-old crossed the line in 39:36.46 under the shadow of Mount Fuji as the medals kept coming for Team Ireland. This is his first appearance at a Games.
In sweltering heat and drenching humidity Dutch rider Mitch Valize took the win with 38:12.94 while French rider 39:15.16 earned silver.
"I'm completely shocked to be honest – didn't expect to get the medal. I'm just absolutely delighted," said Portlaoise man O'Reilly.
"I am so happy to have done it for everyone at home - I did it for them.
"All my family, my wife Hazel, are up watching it, I'm sure they're as happy as I am.
"I think I was 20 seconds down on podium on first lap but I had Neill (Delahaye, his coach) in my ear telling me to stick to the plan.
"I realised we just needed to stay with the plan, I came back up on time then with the second lap - started putting time into them. Thankfully it worked."
O'Reilly will line out in the road race tomorrow morning and he is anxious to recover as he pursues his second medal of the Games.
"I just want to go in and try and recover as best I can. We're up early in the morning, so I'll try and stick with it and do my best and see what happens at the end of the race.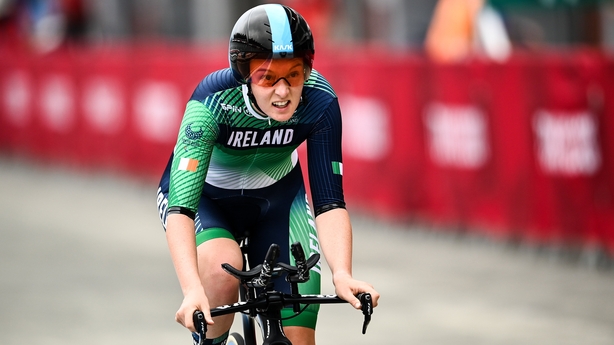 Earlier, Richael Timothy recorded a time of 30:55.24 to finish in 14th place overall in the C1-3 Time Trial.
"It was really hard to be honest," she said. "I found it so tough, not even the hilly parts but the technical parts. For me my right side is so much weaker, so when I'm going I kind of, not panicked, but I went to use my right hand the way I used to use it to and it caused a bit of a slip.
"I had to slow down a bit in the bends, just be cautious going into them to keep upright. It is the hardest TT I have ever done. I pushed so hard today, and that's what I wanted to do - just leave it all out there - I feel like I did that."
Timothy will be in action again on Friday in the road race.
Ronan Grimes was sixth in his C4-5 Time Trial final, clocking a time of 47:40.06.
The Galway man was in contention throughout the event but in a world-class field he was eventually squeezed out of the medal positions with gold and silver going to Slovakia and bronze to George Peasgood from Great Britain.
Grimes said: "I prepared as well as I could, couldn't have prepared any harder today, I mean what ever result you get out of that you have to take it and be happy with it."
Follow all the action from the Paralympic Games with our coverage on RTÉ.ie/sport and the RTÉ News app, watch live on RTÉ2 and the RTÉ Player or listen to updates and live commentaries on RTÉ Radio.