Britney Arendse has three words tattooed on the inside of her right forearm: faith, hope and love.
Faith helped her through a life-changing car accident when she was nine, a head-on collision that left her in a wheelchair for the rest of her life.
Hope is what her parents clung to as Arendse came perilously close to losing her life "three times" in the days after the accident.
And love is the love she has for God for giving her "this fourth chance of life".
Girl power! Britney fought to live after a car accident. Now she's a world record holder. pic.twitter.com/vynECM0lDU

— RTÉ News (@rtenews) October 3, 2018
On Monday the 21-year-old was given a hearty send-off from family, friends and neighbours in the small town of Mullagh in Co Cavan as she headed for the Paralympics in Tokyo.
She is now a world record holder in para powerlifting and is on a mission to bring a medal back to her proud parish.
"The journey here was exhausting!" she said from Team Ireland''s Tokyo base on Thursday.
"[The departure from Mullagh] was very emotional. I was honoured. They're very excited for me. It really did make me emotional getting on the plane. I wasn't expecting that big of a send-off, but to see the town and county behind me is amazing."
Arendse - who came to Ireland with her family from Cape Town when she was five - had been a sporting all-rounder prior to the accident, playing soccer, table tennis and swimming, but her journey into para lifting actually began on the basketball court.
Aged 16, she was taking part in a wheelchair basketball blitz when she caught the eye of para powerlifting coach Ken Hurley .
"I was shooting hoops, playing with a team. He approached my granny thinking she was my mother and asked could he speak to her daughter. My granny went and got my mam! Ken was like, 'you're not the one I'm looking for'.
"So they called me over and he asked me if I'd ever thought of trying powerlifting because he said I had the physique for it. I said I'd try it. I went up to Dublin, there was a showcase up there. I tried it out and started at 60kg. I really liked it. It felt very competitive."
21-year-old Britney Arendse from Mullagh Co Cavan is jetting off to Tokyo to represent Ireland in Powerlifting at the the 2020 Paralympics ??‍?????‍?? #teamireland #Paralympics pic.twitter.com/Hc0q88xywa

— RTÉ News (@rtenews) August 13, 2021
Arendse was a natural, and her improvement was swift.
In 2018 at the World Para Powerlifting Fazaa Championships, she won 67kg gold in the junior division and bronze in the senior category. A year later she claimed gold in the 73kg category.
The landmarks kept coming in 2018 when she set a new 73kg junior world record, becoming the first ever Irish powerlifter to do so and in 2019, Arendse raised the bar again with a 100kg lift.
Last March she won bronze at the WPP World Cup in Manchester in the 67kg category with a 102kg lift. She is up against it at these Games but don't put it past the Cavan woman to do something special when her competition starts on 29 August.
Right now one of the toughest things she's dealing with is being away from her family for three weeks.
'Spartacus', as her mother calls her, is in constant contact with her biggest supporters.
"Mammy and my coach started calling me Spartacus and I was like, 'what's that? I know it's from somewhere'," she laughed.
"I'd be on the stage and Mammy would be screaming, 'Go Spartacus!'.
"I have to ring Mammy at least twice a day now that I'm so far away from her. It's a huge milestone but a great experience at the same time.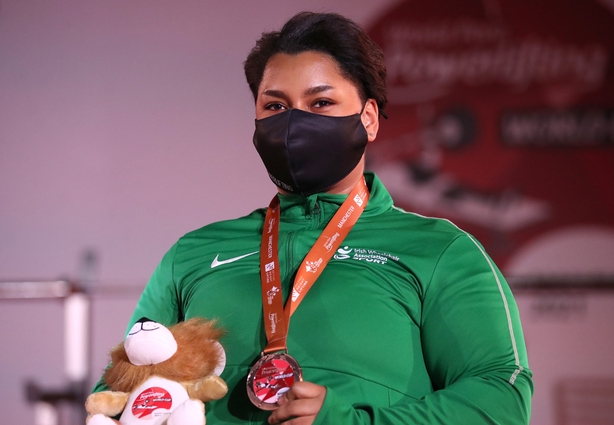 "Family support is a big thing. To not have it and be so far away from home is very hard for me. I'm used to my parents sharing a room with me while we're away at a competition. Unfortunately I don't have that now but we're still keeping in contact every day.
"My mam said she knows I'll do great no matter what is put in my way. I'll overcome and persevere, they're her words. My dad was just like, 'good luck, be good, be safe!'.
Arendse qualified for two weight categories - the 67kg and 73kg - but she'll focus solely on the latter and reckons she will require a clean lift of around 107kg to get into medal contention.
That will be a new personal best for the Irishwoman, but who would write off the powerlifter from Mullagh whose mantra is as defiant as it is ambitious: "Never give up, there's always something you can do, and always follow your dreams of being whatever you want to be. There are no limits."