Jordan Lee says that he owes some of his sporting success to fellow Paralympian Jason Smyth.
Lee, who won bronze at the 2018 European Para- Athletics Championships, is hoping to qualify for the Tokyo Games later this summer. Although his first love was basketball, and he became the first one-handed person to ever be selected for an Irish side back in 2015, he had an interest in lots of different sports.
The Kerry para-high-jumper met Smyth, who has five Paralympic gold medals, in late 2016 and he advised him to attend a Paralympic Expo which was due to take place the following month.
"He encouraged me to go up and try out the various different sports that were there," Lee told RTÉ's Game On.
"I said I'd go up for the craic and see what it was like. To my delight four different disciplines saw potential in my ability to take on their sport to a serious level.
"So then I had decisions to make. I had to decide whether I was willing to take on a new sport, and if I was I then had to decide which sport it was going to be.
"With my involvement with basketball I always had a very decent jump. So with some thought and consideration I decided that I would pick the High Jump as it would be the sport that I would enjoy the most.
"And I thought it would be the sport that I would be best at."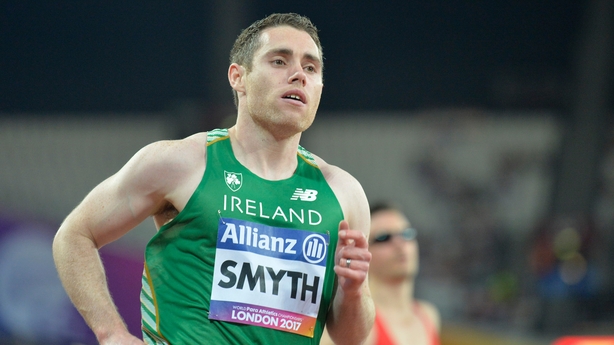 While that expo provided an introduction to the high jump Lee admits that he didn't really take the sport seriously until January of 2018.
"I was training at the track in Castleisland with my step-father Dermot and we had no knowledge of high jump really - we were just doing our own thing.
"I remember seeing one of the local athletes training at the track. His name was Tomás Griffin and he offered, if you'll excuse the pun, to give me a hand for the remainder of the session.
"I definitely felt that I learned a lot from him, even just in that first session. He told me that he'd be there at the same time the next week and that he was willing to give me a hand again.
"The weeks just kept on rolling from there really until he told me that saw some real potential in me to be a world-class high jumper.
"But he said that I had to give him 100% or nothing, and that's a message I've taken with me in everything I do.
"It was at that stage that I knew that I was going to really starting progressing and make my mark at international level."
Lee was one of six athletes included in the Irish team heading for the World Para Athletics European Championships which are due to start next week in Bydgoszcz, Poland.