In the balance of probabilities, Jason Smyth would likely have his sixth Paralympic gold medal for Ireland already in the bag.
The Co Derry sprinter has been unstoppable on the grandest stage since storming out of the blocks at the 2008 Games in Beijing where he won the 100 metres T13 and the 200 T13, before going on to repeat that double in 2012. A further gold followed in Rio four years later in the 100 with no possibility to defend the 200 after the event was dropped from the schedule.
Tokyo 2020 was set to be another success for the world record holder. But like much of the world, activity ground to a shuddering halt due to the Covid-19 pandemic.
Last summer's Paralympics will now run this year from 24 August to 5 September but despite the upheaval, Smyth is taking things in his stride as he recalibrates for 2021's shot at glory.
"I'm not worried at all. I think for me either way, happening or not, I just want to have clarity and know what's going on and then you change," he says of last year's decision to push back the Games.
"There's no point worrying about something you can't control. Once I knew it wasn't happening, I still prepared and acted as if I was going to be competing throughout the summer and trying to keep the season normal.
"I nearly think there's opportunities. You've another year of learning of things you might change and do so that possibly has a positive impact going into the Games this year."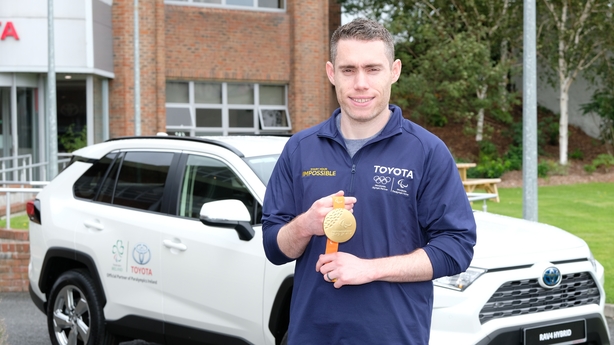 The biggest challenge however due to the lockdowns and restrictions that have been put in place to mitigate the spread of Covid-19 at times has been access to track facilities locally for Smyth.
"Very difficult," he tells RTÉ Sport.
"I know for us the track was open for a little bit, then it was closed and you're trying to adapt. I'm pretty sure that was still the point last year when the Games were still happening, I can't remember, but there's only so long you can adapt before it starts having a negative impact in your performance and preparation.
"When Covid came along, there were so many unknowns and everything literally stopped whereas at least we're in a situation where it's about trying to find solutions and trying to find answers and how do we work within the current environment."
Unlike 2008 and 2012, Rio saw Smyth restricted to the 100 but the absence of the 200 metres at Paralympic Games level has not led to a major shake-up in his prep.
"There's just slightly more an element of speed endurance," he explains.
"It changes it a little bit where you can focus a little bit more on just the one event. But in terms of the preparation, the bigger issue is trying to get your preparation right rather than the events you're preparing for because everything is so different now."
Now August is the target and like this time last year, Smyth feels like he's in a good place heading into the showpiece, not that he is getting ahead of himself on that front.
"As much as we're looking where we want to be in August, really it's about, 'Where am I now and where do I need to be in March?'" he says.
"Which leads to, Where do I need to be in April?' As much as you're looking down the track, as in August, you need to know where you want to be now."
Jason Smyth, Toyota ambassador and world's fastest Paralympian, was speaking as Toyota Ireland looks forward to the Paralympic Games in Tokyo. Toyota is an official partner to Paralympics Ireland and worldwide mobility partner to the Olympic and Paralympic Games. Toyota's Start Your Impossible campaign celebrates the best of human performance and can be viewed on www.toyota.ie