A common theme of the pandemic postponement of the Tokyo Games to 2021 has been athletes putting on a brave face and declaring that they will be in even better shape next year.
For sprinter Orla Comerford though, a double bronze medallist at the World Para Athletics European Championships in Berlin in 2018, the relief is real.
The 22-year-old Dubliner is still on the way back to full fitness after a career-threatening ankle injury and would have been struggling to make it to the Paralympics, which were due to begin at the end of August.
"I know it sounds awful to say but it's definitely a silver lining for me," she tells RTÉ Sport. "For me, the extra year is such a blessing. I feel I have a genuine shot at it now.
"I've had an ongoing ankle injury for a number of years and as a result of it, I stress fractured my other foot.
"Last January, I had ankle surgery (on her left foot), which went quite well, but the return after was quite difficult. I am having issues with the right foot, which was compensating, but the ankle seems to be doing quite well.
"I have a little bit of a new team and a little bit of a new direction. I'm pretty excited, I think it's going to stick this time.
"The hope for when I get back is to not be where I was before but further on. My hope is that the surgery will give me the opportunity to go further."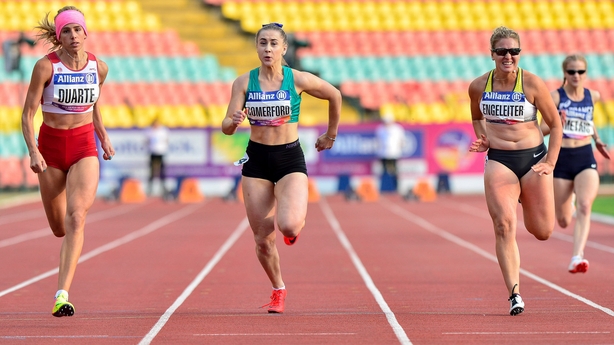 Comerford was disappointed to finish eighth in the 100m final at the 2016 Rio Games, despite it being her first Paralympics at just 18 years of age.
Although the temptation would have been to push herself to make it to Japan, the Howth native thinks she would have struggled to do herself justice and could have risked longer-term issues. She now plans to wait until next year to race competitively.
"Making a team this year would have been a huge, huge push this year for me," she admits.
"I was facing into the reality that if I was to make a team, I was looking at a pretty similar situation to Rio, going in carrying an injury and ultimately being quite disappointed with my performance.
"We were just going to push through it, and possibly leave myself in a worse off way after it.
"As soon as we found out that Tokyo had been postponed, our whole schedule and training changed dramatically.
"It's so hard when you are in it and have competitions coming up to say no or to think 'I'll wait till the next one'. But it's been nice to take the time it actually needs, which is long and tedious and boring but has to be done.
"It seems so long, four years, but the past four years have flown in. I'm lucky enough to be young enough at this point that hopefully there are a few more (Games) in me."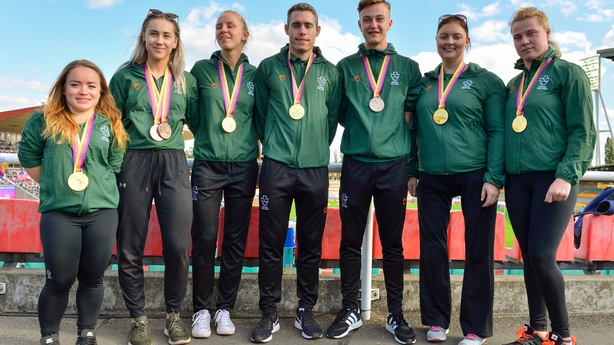 At the age of 11, Comerford was diagnosed with Stargardt disease, a degenerative eye condition affecting central vision, which also affects fellow Irish sprinter Jason Smyth.
Like Comerford, the 20-time Paralympic gold medallist runs in the T13 category for moderate visual impairment.
"We speak more about the sprinting world and where we are with training than our eyesight," she says.
"When it comes to running in a straight line, getting to a line and dipping on time, it's so much the feel and the habit of it that it's not something I dwell on.
"It's a part of me and has given me some amazing opportunities, and certain challenges in other aspects of my life.
"Often people ask me 'What if it gets this much worse?' but glass half-empty is a terrible way to live, as opposed to just appreciating the sight that I have now."
The education, media and art student, who started the athletics team at NCAD, embraced the extra recovery time lockdown offered with the help of some gym equipment loaned by the Sport Ireland Institute and a training bike she purchased with now superfluous holiday savings.
Since the easing of restrictions she is also now back running two days a week in Abbotstown.
"I went into the lockdown with such a new lease of motivation because I had felt like I really had this new opportunity," she says.
"I've unfortunately been injured for a while so most of the stuff I do is gym-based work and stuff on bikes, so I was set up with a pretty regular routine here at home, which was such a blessing.
"It's slow progress but it's nice to be back on the track with the training group and getting into the flow of things."
Comerford, who was speaking as part of the 20x20 Lidl Moves campaign, also took up sea-swimming over lockdown, and says it was "the first time in a really long time I picked up a sport just to enjoy it".
"It's been really really nice to get something in just for the mental health."