Jason Smyth is quite content to wait another year to add to his large haul of Paralympic medals and he believes that the right decision was made to delay the Tokyo Games until 2021.
The world champion sprinter admitted that he felt mixed emotions in relation to the moving of the games, but the reality of the coronavirus pandemic meant that it did not come as a shock.
Smyth, who has won five Paralympic gold medals, has no fears about qualifying for next year's Games, but his only real concern is that he will peak at the right time during the 2021 season.
"Like a lot of athletes, it's mixed emotions," said Smyth. 
"First and foremost, it was the right decision and if you asked any athlete they would have told you that they saw it coming.
"I had already run the qualifying time so I didn't have to worry about that, I wasn't chasing or forcing anything. 
"When you're ahead of where you need to be, it's always easier, but it's much more difficult for those that were chasing it.
"Qualification for [2021] isn't a huge issue because I run that standard in most of my races anyway. For me it's about peaking at the right time."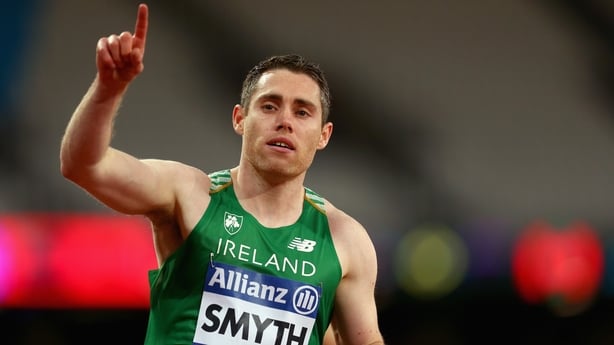 Smyth said that preparations for Tokyo began shortly after the Rio Games in 2016, where he won the 100m gold medal, but now realises that things must change as that four-year cycle has morphed into five as a result of the Covid-19 threat.
"Preparations started almost straight after Rio. 2017 was about setting the foundations and then working towards getting to the highest standard, it's a four-year cycle and I am right where I wanted to be. 
"The whole thing has to change now. You have all that planning in terms of time, training, finance, and that all has to change just when all of that should be coming towards a single point. That's now not happening, and that's a challenge."
And while Smyth will, no doubt, face that challenge head on, he acknowledges that the immediate concern is his training regime and access to facilities that he requires for maintaining his programme.
"The Sport Institute (of Northern Ireland -SINI) is closed because people are working from home and I need people-to-people contact. 
"If I don't get access to treatment, the longer it goes on, it increases the risk that I'll get injured. 
"There's funding – will this have an impact on next year? There are huge questions and unknowns. Answers will come as time goes on and it's all out of our control."
Smyth is still focused on remaining in top shape for the summer season, although he is aware that more than the Olympics may be postponed, the longer the pandemic remains a threat.
And psychologically, it will be important for Smyth to run championship-level times this year, to put him in a good place mentally at the start of the actual Olympic year in January.
"You can't put the feet up," said Smyth. "What you do this year sets the foundations for next year. 
"Training-wise, I plan to still be able to run fast this summer even though there are no guarantees that there'll be races. I need to be in that shape and then later in the year look to build through winter training just like a normal season.
"In my sport, we're preparing to run fast during the summer so if I decide to take a break, by the time next year comes around I'll be looking back and thinking 'when was the last time I ran really fast?'. 
"The answer would be the summer of 2019 – that's far too far away."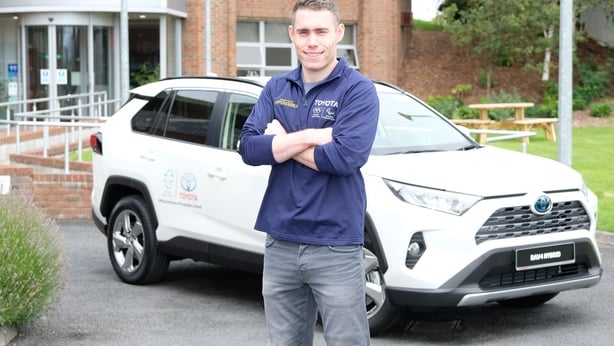 Smyth, who is visually impaired and runs in the T13 class at the Paralympics, due to Stargardt disease, a genetic syndrome that causes degeneration in sight, has previously attempted to qualify for the Olympic Games, and just missed out on the qualifying time for London in 2012.
And while the County Derry native admits that he is currently well short of reaching the standard for the Tokyo Olympics, he is not ruling the possibility out completely at this stage.
"I haven't been close to that standard for a few years. 
"In 2012 I went close and then got injured in 2013 and ended up needing an operation. I have been improving ever since, but I haven't gotten back to that level. 
"Personally, I have to get back to that level before I could even think about getting to the next step, which would be qualifying for the Olympics. 
"I wouldn't rule anything out, but I have to be realistic and take it one year at a time. I ran 10:51 last year, 10:54 in November towards the end of the season so I probably could have run 10:40.
I would need to be running 10:20 to think about making that jump. Do I have the ability to do it? Absolutely. I'd have to be very close to my potential and I would need everything going in my favour. 
"The faster I run at the moment, the more I'd be thinking of Paris in 2024, rather than the Olympics in Tokyo."
Now into his thirties, Smyth admits that the plan was always to reassess after the Tokyo Games, but with the games delayed a year, he feels as though it will be a lot easier to look towards Paris in 2024 once the 2020 edition finally takes place, at some stage in 2021.
"My plan was all about Tokyo and then reassessing after. 
"It's a four-year cycle and as you get older and closer to the end of your career it's harder to plan four years ahead, but Paris 2024 is only three years on from Tokyo now. 
"I am in better shape than I have been in six or seven years; I'm in a good place. 
"Being in a good place increases my longevity so the delay doesn't change anything for me going into next year."
Jason Smyth is a Toyota ambassador and the world's fastest Paralympian. Toyota is an official partner to Paralympics Ireland and worldwide mobility partner to the Olympic and Paralympic Games.