Irish para-cyclists Katie-George Dunlevy and Eve McCrystal are cranking up their preparations for Tokyo 2020, but first they have the small matter of securing sponsorship for the tandems they hope will carry them to more Paralympic glory.
The duo struck gold at Rio 2016 in the time trial and claimed silver in the road race.
Despite their success at world and Paralympic level, raising funds to purchase the two customised bikes needed to compete internationally remains a challenge.
Basic models start at €10,000, but altered bikes can skyrocket to even more eye-watering sums.
"It's a very expensive sport, so it is a challenge we have, but it's vital that we have that because we are up against the top nations, who have the best equipment, and we want the best equipment as well," Dunlevy told RTÉ Sport.
"Both bikes would have to be custom-made. And we need a couple of months practice on them.
"I am seeking sponsorship towards that, but I'm hopeful."
Dunlevy and McCrystal won a third consecutive gold in the time trial at the Paracycling World Championships in the Netherlands in September and also finished second in the road race.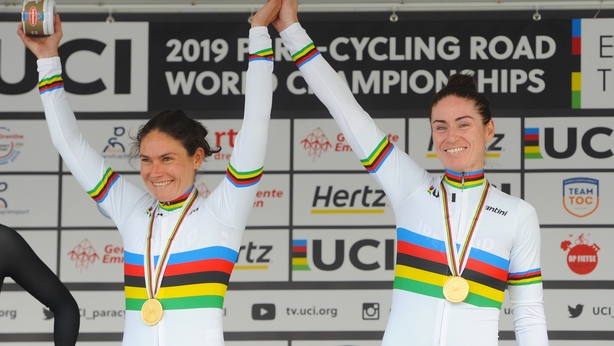 The pair's next target is the Paracycling Track World Championships at the end of January, but Dunlevy wasn't shy about expressing her lofty aspirations for Tokyo 2020.
Myself and Eve are aiming for gold," the 37-year-old added.
"And we're not aiming for one gold, we're aiming for more than one gold.
"I believe we can do it and we're confident and we believe in ourselves, but we're not complacent either.
"We know we've got a lot of hard work ahead of us, but we're ready for it and we're really excited about the year ahead.
"We're in a different place to where we were before Rio. So it is a different mentality, but we just want it as much and we still have that drive."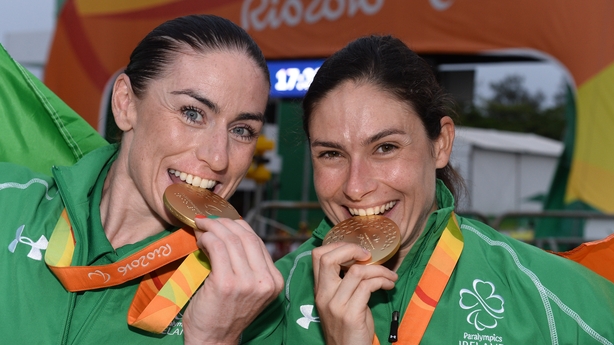 McCrystal echoed those sentiments, saying: "Winning is a habit and we want to win every race that we go into, but obviously you can't do that.
"We'd a silver medal in the worlds and we're very, very proud of ourselves that we did that, but it's the gold medal that we want."
The fact their targets are so closely aligned is hardly surprising, given the symbiotic nature of the relationship between non-sighted rider and pilot.
Expanding on the subject, McCrystal, who does the steering said: "Communication is key for myself and Katie.
"You want the bike to move in the one direction.
"We know one another so well at this stage that I'd know if Katie was having an off day and she would know if I was having an off day, and you do tend to find that sixth gear if you feel the other was is off a bit."